Kim, Khloe, and Kourtney Launch Kardashian Lingerie at Sears—Would You Wear It?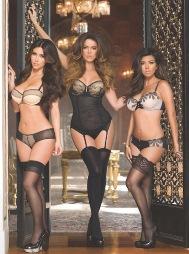 By Danica Lo, Glamour Magazine

Whether or not you're a fan of Kim Kardashian, Khloe Kardashian, and Kourtney Kardashian, it's pretty clear that these ladies are in possession of some killer curves.

Now, with the launch of their Kardashian Kollection Intimates product range—hellooooo smokin' hot lingerie!—the sisters are bringing their sexy bedroom style to the masses, via Sears.

Related: Best Spring Dresses for Your Body Shape

Check out this just-released photo from the Kardashian Kollection Intimates campaign. What do you think? Khloe's looking pretty tan-tastic, no?

Related: Cute Haircut Ideas for Midlength Hair

Tell us on Facebook:  Would you try and/or buy Kardashian Kollection lingerie?
beauty tips and style advice
Monday's New Zealand itinerary brought Kate and William to the cricket field.

We put a slew of new formulas to the test, and these are the ones making us look younger and fresher.

From the coolest chestnut to the deepest mahogany, these stars show how to unleash your inner brunette bombshell.

In a girl's life, there are a select few occasions when it's considered completely appropriate to go all out with a truly spectacular dress. Her wedding day comes to mind, of course, and maybe her Sweet 16. Prom night, however, is certainly at the tip-top of that short list of special events.

When I was a teenager, I wouldn't be caught dead without my lip gloss, blush, eyeshadow and eyeliner at all times. Now, even though I'm older, I'll admit I still don't feel 100 percent confident leaving the house without at least some of my "face" on—plus, my obsession with beauty products doesn't encourage me to go makeup-free very often.

Good magazine covers grab your attention and make you want to look inside. Controversial covers and photo shoots, like the 14 that follow, often become a part of history.