Kim, Khloe, and Kourtney Launch Kardashian Lingerie at Sears—Would You Wear It?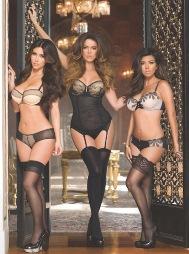 By Danica Lo, Glamour Magazine

Whether or not you're a fan of Kim Kardashian, Khloe Kardashian, and Kourtney Kardashian, it's pretty clear that these ladies are in possession of some killer curves.

Now, with the launch of their Kardashian Kollection Intimates product range—hellooooo smokin' hot lingerie!—the sisters are bringing their sexy bedroom style to the masses, via Sears.

Related: Best Spring Dresses for Your Body Shape

Check out this just-released photo from the Kardashian Kollection Intimates campaign. What do you think? Khloe's looking pretty tan-tastic, no?

Related: Cute Haircut Ideas for Midlength Hair

Tell us on Facebook:  Would you try and/or buy Kardashian Kollection lingerie?
beauty tips and style advice
See 4 ways to transform your look with holiday accessories.

Click to see 6 celebrity-inspired ideas for your New Year's Eve makeup.

See how to master the classic red lip.

We've talked about a lot of wedding hair and makeup trends this year, ladies—so now that New Year's is nearing, let's predict what looks will be the most popular for brides in 2014.

If you're a celebrity, does publicly wearing an item more than once merit celebration? In Michelle Obama's most recent case, we definitely seem to think so.

Made famous by Breakfast at Tiffany's (oh, hey, Audrey Hepburn), this wardrobe must-have has become a star in its own right. In 28 moments, we visit the most memorable variations on the always-fitting, always-classic little black dress.

From crystallized to ruffled, pearl-adorned and fur embellished—these shoes are nothing short of decorative. Shop 15 pumps, boots and flats that redefine the term holiday cheer.

In early December, Warby Parker celebrated its new collaboration with stylist Leith Clark—a collection of retro-inspired, whimsical frames of which a percentage of sales will benefit the United Nations Foundation Girl Up, which works to empower adolescent American girls to become advocates for health care and education issues worldwide. Actress Zoe Kazan cohosted the dinner with Clark and also appeared in a short film, shot by photographer Pamela Hanson, in which she asked a group of girls from ages three to thirteen what they'd like to be when they grow up. Among answers that included "marine biologist" and "scientist," one particularly young charge said she'd like to be a peacock. Then she smooshed a pair of Leith x Warby Parker frames against her face and, one can only assume, went off to start ruling the world. In honor of her confidence, and the stylishness of Clark's new collection, Vogue.com presents a few of our favorite girls in glasses.

Forget Spanx! These clever pieces use color blocks and patterns to help you look thinner. Click through for 15 pieces that will ensure you won't have to hit the gym post holidays.

The top dresses, jewelry, shoes and bags to look fabulously on-trend at your New Year's Eve party.

Whether you're running errands on the weekend or heading to work, we've got you covered—literally. See five winter looks that make the most of layers.

Have you ever found yourself stuck in a snowstorm while wearing non-waterproof mascara? We know from experience that the result is not a pretty one.