Kim, Khloe, and Kourtney Launch Kardashian Lingerie at Sears—Would You Wear It?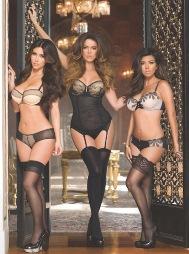 By Danica Lo, Glamour Magazine

Whether or not you're a fan of Kim Kardashian, Khloe Kardashian, and Kourtney Kardashian, it's pretty clear that these ladies are in possession of some killer curves.

Now, with the launch of their Kardashian Kollection Intimates product range—hellooooo smokin' hot lingerie!—the sisters are bringing their sexy bedroom style to the masses, via Sears.

Related: Best Spring Dresses for Your Body Shape

Check out this just-released photo from the Kardashian Kollection Intimates campaign. What do you think? Khloe's looking pretty tan-tastic, no?

Related: Cute Haircut Ideas for Midlength Hair

Tell us on Facebook:  Would you try and/or buy Kardashian Kollection lingerie?
beauty tips and style advice
She's followed by Michael Kors and Ralph Lauren.

Tis the season for gift-giving, mistletoe, snowmen – and ugly holiday sweaters. Whether you're headed to an ugly sweater party or just want to stay cozy in a festive, patterned pullover, Pinterest is chock full of joyful style inspiration this holiday season.

Be it from stress, lack of sleep or a rushed morning, we've all had those days where a glimpse in the mirror causes a minor shock. All of a sudden you find yourself faced with an unforseen beauty emergency, like a surprise zit or severe undereye circles. Luckily, these are hiccups can be fixed—and fast. Above, Nordstrom Beauty Stylist Enisa Sabovi shares her best tips on how to remedy any surprise beauty situation like a pro.

For makeup that gives you that je-ne-sais-quoi, listen to the pros and tailor your look to your eye shape. Brushes ready!

No one should have to sacrifice style when snow starts to fall. We've selected the top all-weather boots to keep you warm and chic on the streets (and indoors).

In the distant future, in a postapocalyptic universe, when aliens from faraway planets excavate Earth and cobble together a rudimentary construction of human behavior in the 20th and 21st centuries, they will surely marvel at the irrepressible, widespread, multigenerational, transcontinental prevalence of Ugg boots.

She's been going shorter for awhile now, but Reese Witherspoon finally made the transition to a full-on bob.

Deck your nails with layers of sparkle in the season's prettiest, party-ready nail lacquers—sapphire and ruby, fizzy champagne shimmer, snow white, and more.

'Tis the season… party season, that is. And while you probably have all of your social gathering outfits styled and ready to go, there's one that requires a bit more strategic planning: the office holiday bash. You want to show off your sartorial skills, but need to walk the fine line between festive and professional. (A look that efficiently transitions from desk-to-party would be appreciated, too.) So let's look to these 10 red carpet stars for some effortless office-to-holiday party outfit inspiration.

A few things are certain in life: death, taxes and the fact that a gal pretty much can't go bare legged from November to March.

December 1st marks the air date of the annual Victoria's Secret Fashion Show, a celebration of all things sexy and sparkly. Join us as we caught up with a handful of Angels backstage.

It's official: The Hunger Games: Catching Fire actresses Jennifer Lawrence, Elizabeth Banks, andJena Malone completely owned the red carpet at all of the film's premieres and press events. Let's look at the stunning gowns and glittery dresses that everyone's talking about.