Designer makes dress out of 18,000 rubber bands
Architect-turned designer reveals incredible dress made from rubber bands.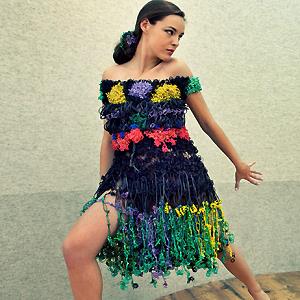 Architect Margarita Mileva has found a fashionable new use for boring office supplies. Mileva made this dress out of thousands of rubber bands—18,550 to be exact. She spent three months creating the dress from multicolored bands. 

More from Living: The craziest nail designs of all time

"I like to make pieces that are conversation openers," she told the Daily Mail of her dresses, which have been featured in art exhibitions. The architect-turned-des​igner spends around 90 hours knotting and twisting the elastic bands together for each dress, and the pieces can take months to complete. But to Mileva, it's no big deal. "I always had an eye for jewelry and love to design clothes, knit and make collages."

More from Living: The country's coolest mobile fashion trucks

And rubber bands aren't the only office supplies she uses for her creations--she has also fashioned jewelry from paperclips and business cards. We can't wait to see what she does with Post It notes!

Tell us: What do you think of this rubber band dress?
Bing: Crazy fashion trends 2012

Photo: Warren Chow/Solent News

More from Simply Chic:
The weirdest runway fashions of 2012
Red carpet moments of 2012
Hall of shame: Celeb fashion fails of 2012

beauty tips and style advice
We put a slew of new formulas to the test, and these are the ones making us look younger and fresher.

From the coolest chestnut to the deepest mahogany, these stars show how to unleash your inner brunette bombshell.

In a girl's life, there are a select few occasions when it's considered completely appropriate to go all out with a truly spectacular dress. Her wedding day comes to mind, of course, and maybe her Sweet 16. Prom night, however, is certainly at the tip-top of that short list of special events.

When I was a teenager, I wouldn't be caught dead without my lip gloss, blush, eyeshadow and eyeliner at all times. Now, even though I'm older, I'll admit I still don't feel 100 percent confident leaving the house without at least some of my "face" on—plus, my obsession with beauty products doesn't encourage me to go makeup-free very often.

Good magazine covers grab your attention and make you want to look inside. Controversial covers and photo shoots, like the 14 that follow, often become a part of history.

For those of you on official Kate Middleton Outfit Watch, here's the latest.