Designer makes dress out of 18,000 rubber bands
Architect-turned designer reveals incredible dress made from rubber bands.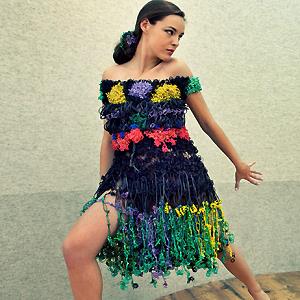 Architect Margarita Mileva has found a fashionable new use for boring office supplies. Mileva made this dress out of thousands of rubber bands—18,550 to be exact. She spent three months creating the dress from multicolored bands. 

More from Living: The craziest nail designs of all time

"I like to make pieces that are conversation openers," she told the Daily Mail of her dresses, which have been featured in art exhibitions. The architect-turned-des​igner spends around 90 hours knotting and twisting the elastic bands together for each dress, and the pieces can take months to complete. But to Mileva, it's no big deal. "I always had an eye for jewelry and love to design clothes, knit and make collages."

More from Living: The country's coolest mobile fashion trucks

And rubber bands aren't the only office supplies she uses for her creations--she has also fashioned jewelry from paperclips and business cards. We can't wait to see what she does with Post It notes!

Tell us: What do you think of this rubber band dress?
Bing: Crazy fashion trends 2012

Photo: Warren Chow/Solent News

More from Simply Chic:
The weirdest runway fashions of 2012
Red carpet moments of 2012
Hall of shame: Celeb fashion fails of 2012

beauty tips and style advice
The top tips I've picked up thanks to my obsession with blowouts, highlights, and my favorite hairstylist.

Something happens to your head when you have a kid — not to mention your body completely changes, and you can barely recognize yourself through bleary eyes, a fog of tiredness, and matted hair from sleepless nights. Sounds sexy, right? But, when that glimmering light at the end of the tunnel is in the near distance and the kid actually starts to act like a human and sleep normal hours, just like magic, you start to look like your old self again.

Ever slip into the latest summer fashion trend and then realize it's not exactly traditionally attractive? So what? Today we're speaking out on behalf of our favorite awkward fashion trends, whether they're bulky, strangely proportioned, or just at the opposite end of sexy. If there's still something magnetic about its pull on you, we say go for it. It's all in the name of fashion.

One shopper's tweet of the emaciated-looking figure forced the store to take action.

Once the summer heat kicks in, it's all we can do not to slip into the breeziest beach dresses and flip-flops for the morning commute. So trust us when we say we understand that the humidity can have a powerful effect on your wardrobe — still, there are some things you just can't wear to your place of employment, no matter how hot it gets.

Wrinkle no blouse, tangle no jewelry, leave no beauty product behind, and still have room to spare.

Hue-changing dos we absolutely love.

Why your jean size varies from store to store.

Wait a month between waxing visits? Check. Pop a preappointment Advil? Duh. We all know the basics, but here are the tricks you don't know.

What to always—and never, ever—do to keep hair in top shape.

Get inspired to try these sweet and summery looks.

Stunning wedding styles that create a statement.