Valentino Spring 2013 Couture Show
10 Oscar-worthy gowns.
by Amy Wicks

We have seen some gorgeous gowns hit the runway at the spring couture shows in Paris this week but Valentino's collection is on another level. Since these breathtaking gowns were made for the red carpet, I have decided to match each look with the actress who should wear it to the Academy Awards. Let's get started!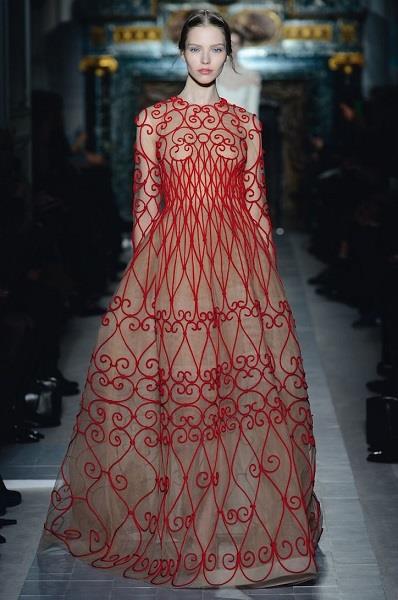 This was the first gown to hit the runway. Am I crazy, or would this look stunning on Anne Hathaway?

More from Glamour: 2013's Most Wearable Fashion Trends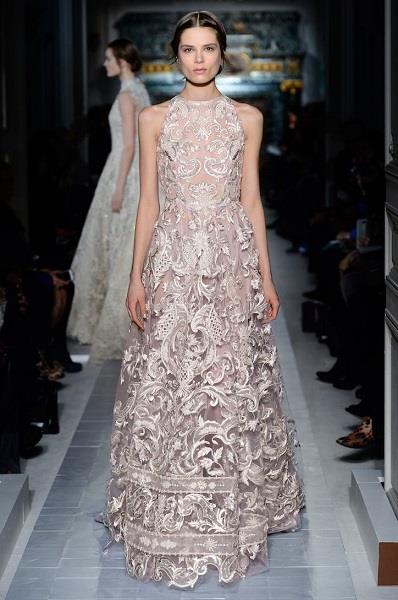 Naomi Watts: Please consider this gown!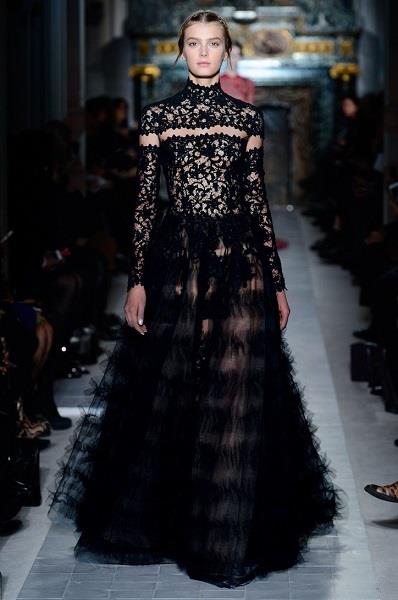 Gwyneth Paltrow isn't nominated but if she's presenting an award, she would look gorgeous in this dress.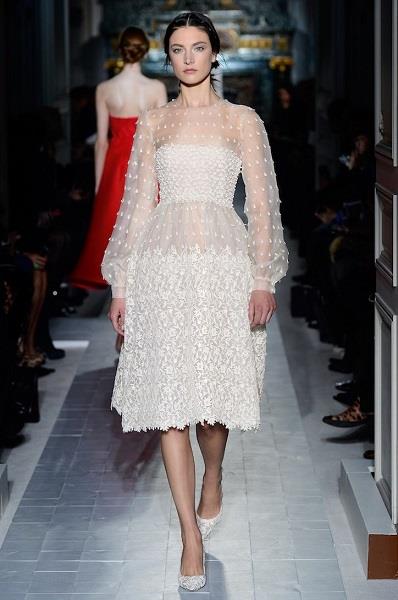 I think this gown is very sweet and Elle Fanning would look adorable in this Valentino look.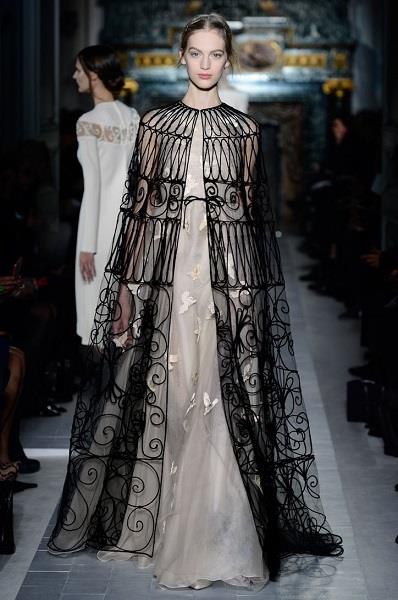 According to WWD, when this model hit the runway in this "black, birdcagelike cape," the audience started clapping. Did you catch my cape story yesterday? Capes are here to stay!

More from Glamour: 10 Beauty Tricks That Make Guys Melt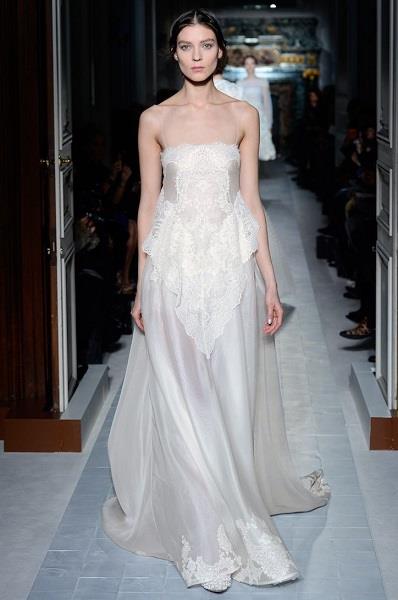 Rooney Mara should rock this dress when she heads to the Academy Awards. I hear she will be a presenter and her pale skin will look beautiful against this gown.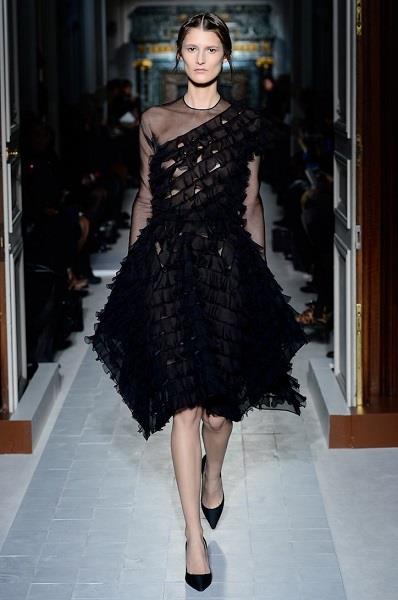 Naomi Watts likes to mix it up and I could see her trying this shorter gown at the Oscars.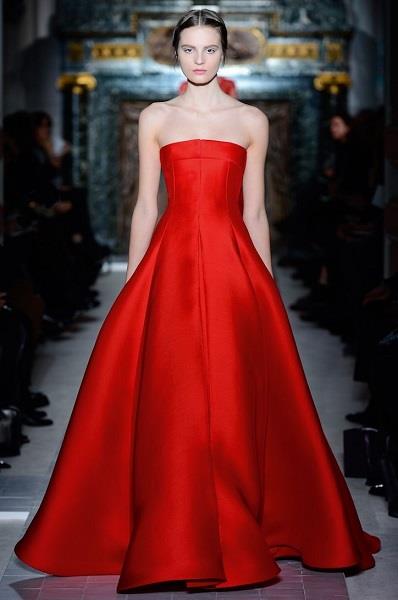 Amy Adams: please stop what you're doing and contact Valentino. You were born to wear this red dress!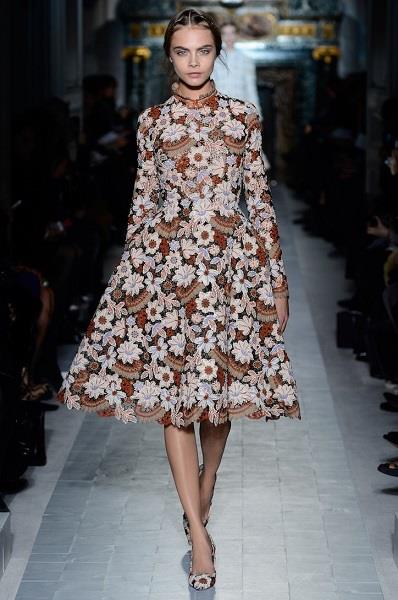 Sienna Miller, this is the fun, colorful gown for you. Now, how will you wear your hair?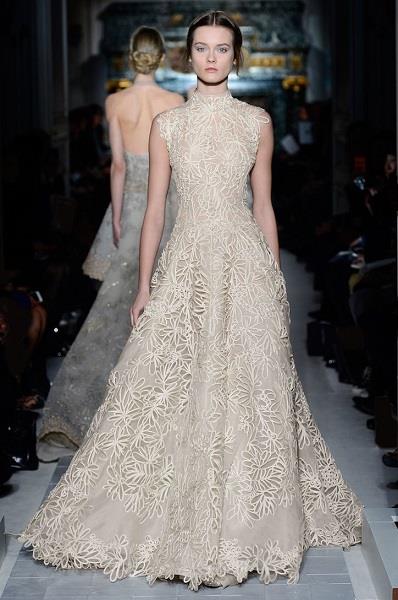 Jessica Chastain: When you're considering Oscar looks, how about this one?
WWD said that at the end of the show, Valentino Garavani rose to his feet and was visibly emotional as he embraced the designers who succeeded him at Valentino. Who could blame him: it was a ravishing collection.
What do you think Valentino's runway show? Do you agree with my dress/actress picks? Or, do you have a better idea? Discuss!

Bing: Valentino Spring 2013 Couture Show

More from Glamour:
31 January Outfit Ideas
15 Hair-Color Makeover Ideas to Try in 2013
What Your Party Outfit Says About You (According to Guys)
fashion: trends & must-haves for your wardrobe
As your face changes, so should your hair—the right cut can shave years from your appearance. And while there's no such thing as an age-appropriate length, there are age-appropriate styles. Here, the 30 most gorgeous hairstyles for every age, as seen on Mila Kunis, Jessica Biel, Jennifer Aniston, Diane Keaton, and more.

Stuck in a office-look-rut? Let some of history's most smartly dressed women inspire your everyday uniform.

Few spots are as fashionable as the Cannes Film Festival red carpet. Celebrity style stars pull out all the stops—because if you can't wear a fabulous dress at one of the film industry's biggest events, in one of the world's most glamorous locales, when can you? Here are 25 of the masterpieces we still can't stop staring at.

From demure dresses to covetable coats, the Duchess of Cambridge has a maternity wardrobe that would make any grown woman wish she could be a princess. Click through the gallery to see some of her most stylish looks while pregnant.

When it was revealed that Kim Kardashian was expecting her first child with boyfriend Kanye West, we wondered what would happen to her fondness for curve-hugging clothes and stilettos. As it turns out, nothing at all! Kardashian has been criticized for some of her attempts at adapting her everyday style to her growing belly, but we've rounded up her best bump looks, along with the lessons expectant moms can learn from them.

It's official: Bangs are back in a big way this season. Whether you have curly, wavy, or straight hair, there's flattering fringe that will work for you. Check out these celebrity haircuts for inspiration.

Hard work, talent and perseverance are the three keys to professional success—but sometimes a really great haircut helps, too.

There's no miracle cure for acne, but the products and tips below come pretty darn close.

Beauty truth: You can't buy the best makeup and body potions stars use; their makeup pros are whipping up mystery formulas. And beauty sleuth Andrea Pomerantz Lustig learned 'em!

What can make a face softer but edgier at the same time? (Don't worry, this isn't some complicated riddle.) Bangs can enhance any face shape—if you wear them the right way, that is. We've rounded up five ideas with fringe benefits, along with hairstylist Nathaniel Hawkins's tips for pulling them off.

We all know we need moisturizer. The confusing part? Picking one that works for your skin—and your budget. Well, here's your cheat sheet: Using the Allure Beauty Product Finder, we found the ten best drugstore moisturizers for every skin type, all for under $20. So whether your skin is dry, acne-prone, or you've got dark spots or fine lines, we've got you—and your wallet—covered.

Growing pains? Totally unnecessary. Getting—and keeping—long, shiny, sexy hair has never been easier.