Study: Young couples avoid marriage
Not tying the knot is becoming the new norm.
In your 20s with no marriage plans on the horizon? You're not alone. 
Researchers from California State University recently released a report, "Knot Yet: The Benefits and Costs of Delayed Marriage in America." The report details studies on unmarried 20-somethings and explores the effects of waiting to tie the knot.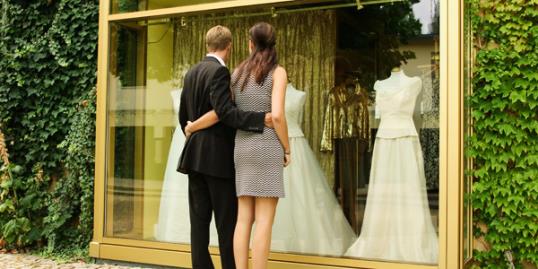 More on MSN Living: 10 rocky moments every relationship faces
"The age at which men and women marry is now at historic heights—27 for women, and 29 for men—and is still climbing," the report states. 
These stats are in line with a recent study from the Pew Research Center, which found that marriage rates are at an all-time low. Researchers from that study found that a fear of divorce causes many young couples to avoid wedlock:
More on MSN Living: High school proms: Then and now 
"The most common refrain among our respondents was their strong desire to ensure that when they wed, they 'did it right' and only married once."
But researchers in the Cal State study pointed to two more reasons: the economy and culture. 
"Culturally, young adults have increasingly come to see marriage as a 'capstone' rather than a 'cornerstone'—that is, something they do after they have all their other ducks in a row, rather than a foundation for launching into adulthood and parenthood." 
Having your ducks in a row does pay off. Women who postpone marriage until their 30s enjoy an "annual income premium" of $18,152. Another benefit to delaying wedlock? It does decrease the chance of divorce, as couples who marry young are more likely to split than those who marry later in life. 
But there's a problem: parenthood. 
"The age at which women have children is also increasing, but not nearly as quickly as the delay in marriage," the report explains. "By age 25, 44 percent of women have had a baby, while only 38 percent have married; by the time they turn 30, about two-thirds of American women have had a baby, typically out of wedlock." 
In short, couples are putting off marriage, but they're not putting off becoming parents. The report refers to this as a "crossover."  Nearly half (48 percent) of first births are to unmarried women, and most of them are in their 20s. 
The concern with the crossover is that it's happening among the "least economically privileged." Basically, it's happening mostly among women who don't have a college education. College-educated women typically become mothers more than two years after they decide to marry. Thus, the problem: 
"The crossover is cause for concern primarily because children born outside of marriage—including to cohabiting couples—are much more likely to experience family instability, school failure, and emotional problems. In fact, children born to cohabiting couples are three times more likely to see their parents break up, compared to children born to married parents." 
Keep in mind, the study was sponsored by the National Marriage Project, but it still offers an unbiased bottom line: 
"For the college-educated third of our population, [postponing marriage] has been a success. For the rest, including large swaths of Middle America, not so much."
More from The Heart Beat:
beauty tips and style advice
Stunning wedding styles that create a statement.

Hue-changing dos we absolutely love.

In case you weren't already overwhelmed enough by the daunting task of jeans shopping (or really, clothes shopping in general), our friends over at Racked published a handy little infographic today comparing the sizing of a variety of different retailers that you've likely frequented at least a handful of times in your lifetime.

I attended the Abercrombie and Fitch holiday-season press preview yesterday, and in between checking out the cute gear that will hit stores this November, I picked up a little nugget of information I just have to share.

How to wear this cool-weather staple in the summer.

See how Miranda Kerr made a pair of Birkenstocks chic.

We love how a new nail polish has the ability to instantly change your look and your mood with a simple swipe. While happy lime greens and aquas are ruling the five million #nailpolish Instagrams this summer, there are a variety of great colors to choose from—whether you want an office-appropriate neutral or a fun going-out shade that'll give your LBD a punch of color.

You already know wearing white after Labor Day is cool. But menswear is reinventing itself rapidly, leaving some long-held mandates by the wayside, not to mention a bunch of men with a lot of questions. Sure, some style laws are truly inviolable. Showing a quarter-inch of cuff will always be crucial, but with designers and dandies flaunting so many former taboos it's hard to tell what's in play these days. So we thought we'd take this opportunity to let you know which rules no longer apply.

Put down the wrinkled button-down, step away from the Crocs, and open your closet. We need to talk about the new rules of casual.

Buying a brush is like getting a new smartphone: once you learn how to use it, it's indispensable.

Surfers are the epitome of cool, laid-back American style. And if we can't be them, at least we can copy their hair.

It's time for bridal beauty to loosen up. Hair doesn't have to be tightly wound, makeup perfectly contoured, and nails French manicured (on this last point, really, please don't). You can, in fact, look gorgeously and timelessly cool at your wedding. Here's how.