Study: Young couples avoid marriage
Not tying the knot is becoming the new norm.
In your 20s with no marriage plans on the horizon? You're not alone. 
Researchers from California State University recently released a report, "Knot Yet: The Benefits and Costs of Delayed Marriage in America." The report details studies on unmarried 20-somethings and explores the effects of waiting to tie the knot.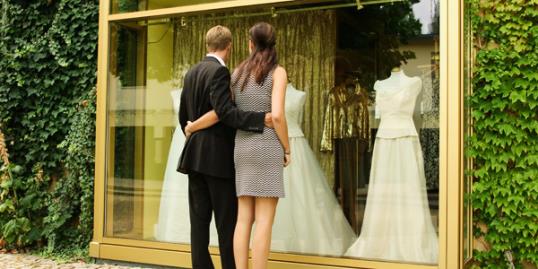 More on MSN Living: 10 rocky moments every relationship faces
"The age at which men and women marry is now at historic heights—27 for women, and 29 for men—and is still climbing," the report states. 
These stats are in line with a recent study from the Pew Research Center, which found that marriage rates are at an all-time low. Researchers from that study found that a fear of divorce causes many young couples to avoid wedlock:
More on MSN Living: High school proms: Then and now 
"The most common refrain among our respondents was their strong desire to ensure that when they wed, they 'did it right' and only married once."
But researchers in the Cal State study pointed to two more reasons: the economy and culture. 
"Culturally, young adults have increasingly come to see marriage as a 'capstone' rather than a 'cornerstone'—that is, something they do after they have all their other ducks in a row, rather than a foundation for launching into adulthood and parenthood." 
Having your ducks in a row does pay off. Women who postpone marriage until their 30s enjoy an "annual income premium" of $18,152. Another benefit to delaying wedlock? It does decrease the chance of divorce, as couples who marry young are more likely to split than those who marry later in life. 
But there's a problem: parenthood. 
"The age at which women have children is also increasing, but not nearly as quickly as the delay in marriage," the report explains. "By age 25, 44 percent of women have had a baby, while only 38 percent have married; by the time they turn 30, about two-thirds of American women have had a baby, typically out of wedlock." 
In short, couples are putting off marriage, but they're not putting off becoming parents. The report refers to this as a "crossover."  Nearly half (48 percent) of first births are to unmarried women, and most of them are in their 20s. 
The concern with the crossover is that it's happening among the "least economically privileged." Basically, it's happening mostly among women who don't have a college education. College-educated women typically become mothers more than two years after they decide to marry. Thus, the problem: 
"The crossover is cause for concern primarily because children born outside of marriage—including to cohabiting couples—are much more likely to experience family instability, school failure, and emotional problems. In fact, children born to cohabiting couples are three times more likely to see their parents break up, compared to children born to married parents." 
Keep in mind, the study was sponsored by the National Marriage Project, but it still offers an unbiased bottom line: 
"For the college-educated third of our population, [postponing marriage] has been a success. For the rest, including large swaths of Middle America, not so much."
More from The Heart Beat:
beauty tips and style advice
And before you ask, sorry, the $325 dress is SOLD OUT on Matches.com and DVF.com—you snooze, you loose.

Click through the slideshow to shop some of our spring favorites.

French braid? Been there. Fishtail? Done that. The newest styles are all about unexpected texture, major volume, and one man's wild imagination.

Long hair, don't care? Think again…

She dishes on the routine that keeps her looking polished, even when she's pulling up to the <i>Mad Men</i> set at 5 a.m. Plus, the fragrance that helps Christina get her Joan on.

For inspiration, we've rounded up gorgeous (and easy to replicate) wedding makeup looks from the red carpet.

With a few insider tricks, you can enjoy short hair 365 days of the year and have a gorgeous style on your wedding day. Wedding hairstyles for short hair do exist.

I'm beyond excited to finally ditch my winter coat and heavy layers, but I'm not so eager to ditch my tights. Let's just say my legs are not as smooth and bronzed as they were the last time I showed them off many, many months ago.

After a jam-packed week in New Zealand, Kate Middleton and Prince William finally enjoyed a day off, but as of last night (or this morning..? Ah, time change!) they're back on the road again.

These travel-sized beauty products will do double-duty while you're on the road.

Neatly sidestepping high fashion, the smiling, cheerful Kate Middleton is fast becoming the Duchess of Normcore.

This December, New Yorkers might notice something missing in the Christmas air.