Study: Young couples avoid marriage
Not tying the knot is becoming the new norm.
In your 20s with no marriage plans on the horizon? You're not alone. 
Researchers from California State University recently released a report, "Knot Yet: The Benefits and Costs of Delayed Marriage in America." The report details studies on unmarried 20-somethings and explores the effects of waiting to tie the knot.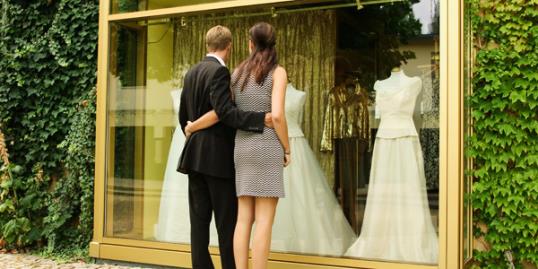 More on MSN Living: 10 rocky moments every relationship faces
"The age at which men and women marry is now at historic heights—27 for women, and 29 for men—and is still climbing," the report states. 
These stats are in line with a recent study from the Pew Research Center, which found that marriage rates are at an all-time low. Researchers from that study found that a fear of divorce causes many young couples to avoid wedlock:
More on MSN Living: High school proms: Then and now 
"The most common refrain among our respondents was their strong desire to ensure that when they wed, they 'did it right' and only married once."
But researchers in the Cal State study pointed to two more reasons: the economy and culture. 
"Culturally, young adults have increasingly come to see marriage as a 'capstone' rather than a 'cornerstone'—that is, something they do after they have all their other ducks in a row, rather than a foundation for launching into adulthood and parenthood." 
Having your ducks in a row does pay off. Women who postpone marriage until their 30s enjoy an "annual income premium" of $18,152. Another benefit to delaying wedlock? It does decrease the chance of divorce, as couples who marry young are more likely to split than those who marry later in life. 
But there's a problem: parenthood. 
"The age at which women have children is also increasing, but not nearly as quickly as the delay in marriage," the report explains. "By age 25, 44 percent of women have had a baby, while only 38 percent have married; by the time they turn 30, about two-thirds of American women have had a baby, typically out of wedlock." 
In short, couples are putting off marriage, but they're not putting off becoming parents. The report refers to this as a "crossover."  Nearly half (48 percent) of first births are to unmarried women, and most of them are in their 20s. 
The concern with the crossover is that it's happening among the "least economically privileged." Basically, it's happening mostly among women who don't have a college education. College-educated women typically become mothers more than two years after they decide to marry. Thus, the problem: 
"The crossover is cause for concern primarily because children born outside of marriage—including to cohabiting couples—are much more likely to experience family instability, school failure, and emotional problems. In fact, children born to cohabiting couples are three times more likely to see their parents break up, compared to children born to married parents." 
Keep in mind, the study was sponsored by the National Marriage Project, but it still offers an unbiased bottom line: 
"For the college-educated third of our population, [postponing marriage] has been a success. For the rest, including large swaths of Middle America, not so much."
More from The Heart Beat:
beauty tips and style advice
Every year, we look to the biggest names in bridal beauty and fashion design to pinpoint the hottest bridal hair and makeup ideas – keeping in mind of course that this is a wedding (no crazy neon mascara here). This year, bridal beauty has gone extra natural and romantic -- think messy braids, wispy hair, natural eye makeup and more.

You've got the dress. You've got the venue, date, and invitations. The last thing you need to complete your wedding day? An amazing pair of shoes to wear as you walk down the aisle!

With the dress as the main focus, you want the hair to be understated. An updo does just that. But there's a difference between understated and boring. Adding simple accessories, like a pin or flower, is just enough decoration to the hair. Let these gorgeous pins serve as inspiration for finding a simple, yet understated, wedding hairstyle.

Just when we were getting used to seeing beards everywhere, it may be time for men who enjoy the attention of the opposite sex to invest in some shaving paraphernalia. In a new University of New South Wales study, researchers found that "when people are confronted by a succession of bearded men, clean-shaven men become [...]

If your arm aches just thinking about blow-drying, take heart: These easy hair-saving tips will cut down on your mirror time and deliver salon-level results.

From designer maxi dresses by Roberto Cavalli and Temperley London to contemporary finds by Alice + Olivia and Zimmermann, there's a dress for every kind of seaside bride.

Mom jeans are back this spring.

We combed our favorite online shopping haunts to find 20 stunning options for the unconventional bride who'd rather splurge on the perfect flowers and a signature cocktail than her aisle-bound gown. These gowns and frocks from Rae Francis, Black Halo Eve and Jill By Jill Stewart €"plus one epic jumpsuit by Rachel Zoe €"are the perfect antidote to the strapless fishtail option most brides seem to favor right now. You're certainly not basic, so why would your dress be?

We've rounded up 10 red carpet inspirations for long hair wedding hairstyles that don't scream "bridal," but are perfect for a walk down the aisle.

We're not in the habit of feeling sorry for supermodels. We reserve our sympathy for a less fortunate set, namely, everyone else on planet Earth.

How to love everything in your closet

Every season, wedding dress designers unveil their latest collections, and without fail, there are a handful of designs that give us pause. We're talking about beautifully designed dresses -- not meant for the fainthearted. For the Fall 2014 and Spring 2015 collections, these are the ones.