Study: Young couples avoid marriage
Not tying the knot is becoming the new norm.
In your 20s with no marriage plans on the horizon? You're not alone. 
Researchers from California State University recently released a report, "Knot Yet: The Benefits and Costs of Delayed Marriage in America." The report details studies on unmarried 20-somethings and explores the effects of waiting to tie the knot.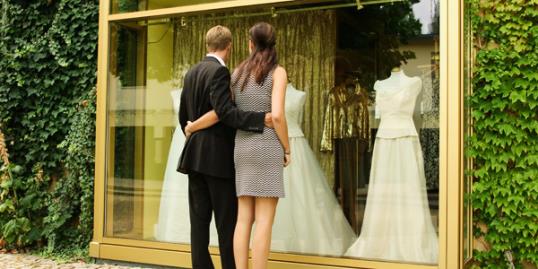 More on MSN Living: 10 rocky moments every relationship faces
"The age at which men and women marry is now at historic heights—27 for women, and 29 for men—and is still climbing," the report states. 
These stats are in line with a recent study from the Pew Research Center, which found that marriage rates are at an all-time low. Researchers from that study found that a fear of divorce causes many young couples to avoid wedlock:
More on MSN Living: High school proms: Then and now 
"The most common refrain among our respondents was their strong desire to ensure that when they wed, they 'did it right' and only married once."
But researchers in the Cal State study pointed to two more reasons: the economy and culture. 
"Culturally, young adults have increasingly come to see marriage as a 'capstone' rather than a 'cornerstone'—that is, something they do after they have all their other ducks in a row, rather than a foundation for launching into adulthood and parenthood." 
Having your ducks in a row does pay off. Women who postpone marriage until their 30s enjoy an "annual income premium" of $18,152. Another benefit to delaying wedlock? It does decrease the chance of divorce, as couples who marry young are more likely to split than those who marry later in life. 
But there's a problem: parenthood. 
"The age at which women have children is also increasing, but not nearly as quickly as the delay in marriage," the report explains. "By age 25, 44 percent of women have had a baby, while only 38 percent have married; by the time they turn 30, about two-thirds of American women have had a baby, typically out of wedlock." 
In short, couples are putting off marriage, but they're not putting off becoming parents. The report refers to this as a "crossover."  Nearly half (48 percent) of first births are to unmarried women, and most of them are in their 20s. 
The concern with the crossover is that it's happening among the "least economically privileged." Basically, it's happening mostly among women who don't have a college education. College-educated women typically become mothers more than two years after they decide to marry. Thus, the problem: 
"The crossover is cause for concern primarily because children born outside of marriage—including to cohabiting couples—are much more likely to experience family instability, school failure, and emotional problems. In fact, children born to cohabiting couples are three times more likely to see their parents break up, compared to children born to married parents." 
Keep in mind, the study was sponsored by the National Marriage Project, but it still offers an unbiased bottom line: 
"For the college-educated third of our population, [postponing marriage] has been a success. For the rest, including large swaths of Middle America, not so much."
More from The Heart Beat:
beauty tips and style advice
Celebrity beauty looks made headlines this year. Super short cuts topped the news, but that wasn't the only trend creating a buzz. Punk looks turned haute, peroxide blonde became the color of the moment, and braids reached an unprecedented level of artistry. Here, we look back at the most memorable hits and misses. For more year-end roundups, check out the Best and Worst Red Carpet Looks of 2013.

From the good, the bad, to the just plain bizarre, we've rounded up the top 13 hits and misses to grace the red carpet this year. For more year-end roundups, check out the Best Hairstyles of 2013.

=Hairdresser Rossano Ferretti can expect plenty of business following my news that the Duchess of Cambridge booked in to his luxury hair spa for a marathon six-hour session recently.

Selena Gomez with short hair? Behold the evidence at the KISS FM Jingle Ball last night.

Having a sister means stealing each other's clothes and fighting over the bathroom mirror. It also means enjoying two wardrobes and sharing new beauty-product tips and tricks. Here, our five favorite sets of celebrity sisters and the beauty lessons we've learned from them.

Most regrettable trends come with warning signs: Do your teeth set off metal detectors? Are your lashes prone to tangling? Are your shoes ugly and uncomfortable? Here is this year's crop of bad fads.

Restoring botched brows can be a major pain in the...arch.

In order to cope with the intense feelings of jealousy I experienced when seeing Jennifer Garner's flawless hairstyle last week, I decided to contact the stylist responsible for the look, Kylee Heath, and find out what exactly she did to produce these glorious results.

Apparently, every celebrity in the world decided to dye her hair over the last few days—or at least Duchess Catherine, Sienna Miller, and Pamela Anderson did.

It was the chicest family night out ever in London yesterday, as Victoria Beckham hit the red carpet, along with her ADORABLE sons, Brooklyn, little fashionisto Romeo, and Cruz, to support the premiere of the soccer football documentary Class of '92, featuring superstar dad David. And she looked perfect as always—in Victoria Beckham, of course.

There will always be a special place in our hearts for Pez—the completely absurd and impractical oblong candy that children are somehow meant to be patient enough to dispense, one by one, from a creaky plastic spring-loaded drawer contraption—and a newly minted shoe designer Camilla Elphick, a Cordwainers College graduate, has tapped into our oral fixation.

When it comes to her latest hair change, it's pretty clear that Sienna Miller was thinking pink!