Kanye West's Givenchy skirt at the 12-12-12 concert
Here's what 8 people had to say about it.
by Tracey Lomrantz Lester

YOU GUYS: Kanye West wore a Givenchy skirt last night at the 12-12-12 concert to benefit Sandy Relief. Doesn't sound like such a huge deal, right? Wrong! Here's what eight bloggers, reporters, and VIP Tweeters are saying about it.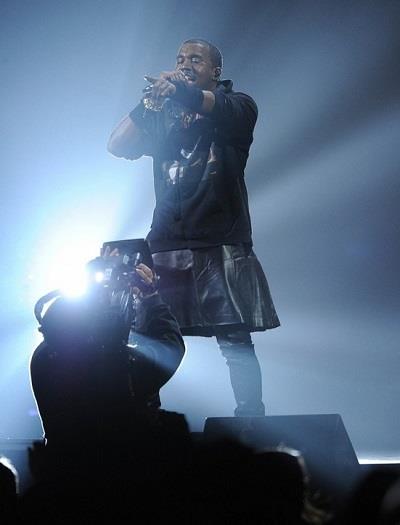 @KanyesSkirt already has 1,200 followers on Twitter (really!?), and here's what everyone else is saying:

- Cam'ron posted (then later deleted) on Instagram about the look, saying, "Pyrex and a skirt? Sh*t ain't adding up."

More from Glamour: 10 Wardrobe Essentials Every Woman Should Own

- Fox News zeroed in on a tweet that said, "Kanye must have swapped suitcases with Kim Kardashian."

- Refinery29 points out that the skirt has made plenty of prior stage appearances on the Watch the Throne tour, and it's kinda exempt from criticism because, "It's fashion, and the skirt is kind of Yeezy's thing...and it is Riccardo Tisci, anyways."

- @JaredLeto managed to poke fun at himself in his critique of the look:
More from Glamour: The Best Coat for Your Body

- The Huffington Post says West is "clearly in touch with his feminine side."  Ba dum bum.

- According to StyleCaster, "the star of the night was arguably Kanye West and his pleated leather Givenchy skirt."

- The Today Show seconds that with this headline: "Kanye West's leather skirt steals the show at Sandy benefit."

- As for the only opinion that really matters, @KimKardashian, she approved:













What do you gals think of all of this chatter about the skirt? I'm feeling kinda "really!?" about the whole thing...it's just a dude in a skirt! Haven't any of those concert watchers ever seen Marc Jacobs!? Discuss!
Bing:
Sandy benefit concert
Courtesy of Glamour

More from Glamour:

60 Winter Nail Polish Ideas
10 Turn-Ons That Aren't About Looks
Cute Boots for Every Budget
Are you sure you want to delete this comment?
beauty tips and style advice
One shopper's tweet of the emaciated-looking figure forced the store to take action.

Once the summer heat kicks in, it's all we can do not to slip into the breeziest beach dresses and flip-flops for the morning commute. So trust us when we say we understand that the humidity can have a powerful effect on your wardrobe — still, there are some things you just can't wear to your place of employment, no matter how hot it gets.

Wrinkle no blouse, tangle no jewelry, leave no beauty product behind, and still have room to spare.

Hue-changing dos we absolutely love.

Why your jean size varies from store to store.

Wait a month between waxing visits? Check. Pop a preappointment Advil? Duh. We all know the basics, but here are the tricks you don't know.

What to always—and never, ever—do to keep hair in top shape.

Get inspired to try these sweet and summery looks.

Stunning wedding styles that create a statement.

I attended the Abercrombie and Fitch holiday-season press preview yesterday, and in between checking out the cute gear that will hit stores this November, I picked up a little nugget of information I just have to share.

How to wear this cool-weather staple in the summer.

See how Miranda Kerr made a pair of Birkenstocks chic.