Women call the shots, study finds
In most couples, women are the decision-makers.
James Brown told us that it's a man's world, but this study might beg to differ. According to the Pew Research Center, it's women who have the final say on many household decisions.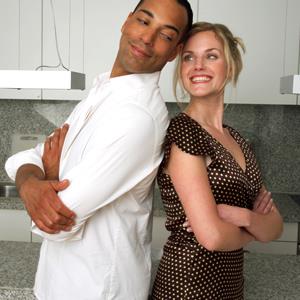 The organization interviewed over 1,000 adults who were married or living with a partner and asked them who was in charge of making the decisions in four areas of domestic life. For a whopping 43 percent of couples, women are calling the shots. Men make the decisions in only 26 percent of relationships, the study found, while 31 percent of couples say they divide the decisions equally.
More on MSN Living: 10 foolproof ways to get in the mood
So what are the four areas in which women are wearing the pants?
Weekend plans
For 46 percent of couples, weekend plans are made together. But for those couples in which one partner primarily has control, it's the woman calling the shots. Twenty-eight percent of couples said that the woman decides what to do on weekends, while only 16 percent of couples put the man in charge of those activities.
Major household purchases
Again, nearly half of couples have equal control over the decisions in this area. But in those couples with one person in control, that person is the woman. In 30 percent of couples surveyed, the woman decides on big purchases for the home. That number was 19 percent for men.
More on MSN Living: The real reasons men shut down
Managing the finances
The study found that women are more likely than men to manage the household finances (38 percent vs. 30 percent). Interestingly, couples are more likely to share decision making about weekend plans than the household budget. Only 28 percent of couples manage the finances together.
Television viewing
And finally, who controls the remote? This is the one area that was the most evenly split, with women deciding what to watch in 27 percent of relationships and men controlling the remote in 26 percent.
Overall, more women (15 percent) than men (9 percent) take the lead in making decisions in three or more of these areas.
What do you think—who calls the shots in your relationship?
Bing: 2012 divorce rate?
Photo: Stefanie Sudek-Mensch/Getty Images
More Sex & Love on MSN Living:
How to pick a wedding band that works with your engagement ring
Wedding welcome basket shopping list
7 stories of lost wedding rings with happy endings 
Most common holiday arguments—and how to avoid them
beauty tips and style advice
And before you ask, sorry, the $325 dress is SOLD OUT on Matches.com and DVF.com—you snooze, you loose.

Click through the slideshow to shop some of our spring favorites.

French braid? Been there. Fishtail? Done that. The newest styles are all about unexpected texture, major volume, and one man's wild imagination.

Long hair, don't care? Think again…

She dishes on the routine that keeps her looking polished, even when she's pulling up to the <i>Mad Men</i> set at 5 a.m. Plus, the fragrance that helps Christina get her Joan on.

For inspiration, we've rounded up gorgeous (and easy to replicate) wedding makeup looks from the red carpet.

With a few insider tricks, you can enjoy short hair 365 days of the year and have a gorgeous style on your wedding day. Wedding hairstyles for short hair do exist.

I'm beyond excited to finally ditch my winter coat and heavy layers, but I'm not so eager to ditch my tights. Let's just say my legs are not as smooth and bronzed as they were the last time I showed them off many, many months ago.

After a jam-packed week in New Zealand, Kate Middleton and Prince William finally enjoyed a day off, but as of last night (or this morning..? Ah, time change!) they're back on the road again.

These travel-sized beauty products will do double-duty while you're on the road.

Neatly sidestepping high fashion, the smiling, cheerful Kate Middleton is fast becoming the Duchess of Normcore.

This December, New Yorkers might notice something missing in the Christmas air.