Women call the shots, study finds
In most couples, women are the decision-makers.
James Brown told us that it's a man's world, but this study might beg to differ. According to the Pew Research Center, it's women who have the final say on many household decisions.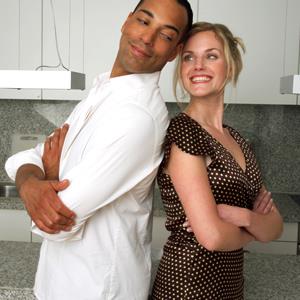 The organization interviewed over 1,000 adults who were married or living with a partner and asked them who was in charge of making the decisions in four areas of domestic life. For a whopping 43 percent of couples, women are calling the shots. Men make the decisions in only 26 percent of relationships, the study found, while 31 percent of couples say they divide the decisions equally.
More on MSN Living: 10 foolproof ways to get in the mood
So what are the four areas in which women are wearing the pants?
Weekend plans
For 46 percent of couples, weekend plans are made together. But for those couples in which one partner primarily has control, it's the woman calling the shots. Twenty-eight percent of couples said that the woman decides what to do on weekends, while only 16 percent of couples put the man in charge of those activities.
Major household purchases
Again, nearly half of couples have equal control over the decisions in this area. But in those couples with one person in control, that person is the woman. In 30 percent of couples surveyed, the woman decides on big purchases for the home. That number was 19 percent for men.
More on MSN Living: The real reasons men shut down
Managing the finances
The study found that women are more likely than men to manage the household finances (38 percent vs. 30 percent). Interestingly, couples are more likely to share decision making about weekend plans than the household budget. Only 28 percent of couples manage the finances together.
Television viewing
And finally, who controls the remote? This is the one area that was the most evenly split, with women deciding what to watch in 27 percent of relationships and men controlling the remote in 26 percent.
Overall, more women (15 percent) than men (9 percent) take the lead in making decisions in three or more of these areas.
What do you think—who calls the shots in your relationship?
Bing: 2012 divorce rate?
Photo: Stefanie Sudek-Mensch/Getty Images
More Sex & Love on MSN Living:
How to pick a wedding band that works with your engagement ring
Wedding welcome basket shopping list
7 stories of lost wedding rings with happy endings 
Most common holiday arguments—and how to avoid them
beauty tips and style advice
Neutral tones and beautiful metallics were a huge trend on the Oscars red carpet. And we saw so many dresses that would be exceptionally beautiful walking down the aisle. Here are our favorites!

Sunglasses: it may seem counterintuitive to invest in a wintertime accessory traditionally viewed as a sunny, warm-weather item. But spring is on the way and we're also currently being exposed to crazy amounts of UV rays—and then, of course, there's the reflective snow situation.

Some people look younger than they are, some look older. Even those with easy access to BOTOX and personal trainers. Can you guess the age of these celebrities?

Did anyone else hear wedding bells on the Oscars red carpet last night?

Then after the show, er, Oscars, it's the after party. Then after the party, it's the... Best Dressed List, of course. Nikki already picked her tops for the Academy Awards red carpet (did you vote yet?), so now it's time to see what the stars wore to the post-celebrations.

As I continue my personal campaign to swap out E!'s mani cam with a back-of-updo cam (and as a service to all the hardworking hairstylists who spent so much time creating beautiful hair looks for the 2014 Oscars), I'd like to point out that we miss a lot of gorgeous detail when we don't get the back view of a star's hair.

The bold new trend on the Oscars red carpet.

Trying new hairstyles is fun (have you picked up Allure Hair: The Ultimate How-To Hair Guide yet?).

When someone says "Julia Roberts," you think teeth. You think hair. But while you may not immediately think fashion, she has had a pretty consistent—and consistently pretty—style since her Mystic Pizza days: clean, classic, menswear-inspired looks that let her natural beauty—and rightly famous smile—take center stage. Here's how she has elevated that look over the years.

Lupita Nyong'o shows off the power of the pixie on the Oscars red carpet.

Walk a mile in a pair of SJP's stilettos? Well yes, we'd love to; thank you for asking.

Anti-aging doesn't have to take over your life. Here, expert tweaks to slow the clock.