Katie Holmes' beauty secrets
Sexy, tanned Katie Holmes shares her beauty routine.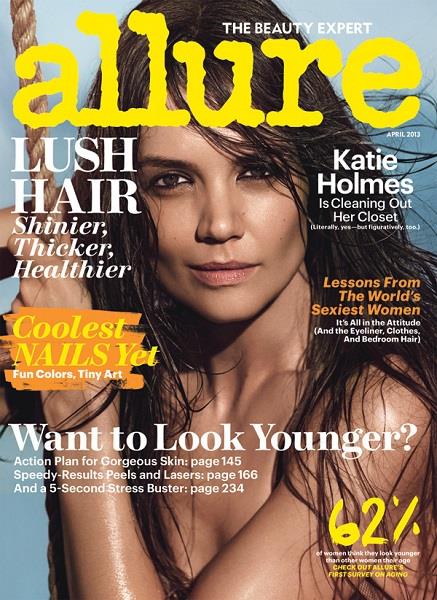 By Elizabeth Siegel,
Allure magazine
The April
Allure
is finally on newsstands and man, does (tan, sexy) Katie Holmes look amazing on the cover. It's no wonder she's got two major beauty contracts, with Bobbi Brown and Alterna Haircare (she's also a co-owner of Alterna). ("I like that her beauty is very simple," legendary makeup artist Bobbi Brown told me at her
Pretty Powerful
book party last fall. "She could throw on a little bit of makeup and go out for the evening and look amazing." No kidding.) And as a fellow brunette, I've loved her rich hair color ever since her
Dawson's Creek
days. Here are the secrets to her beauty routine, as told to writer Judith Newman:
Her desert island makeup product is blush. "As my sister would say, I look yellow without it," says Holmes. Her favorite is
Bobbi Brown Shimmer Brick Compact
, which she mixes with pale pink.
See more: 
Best Hairstyles for Spring 2013
The skin care she can't live without is the
SK-II mask
. Amen, sister. The mask (which is also a favorite of SK-II ambassador Kate Bosworth) gives you a dewy radiant complexion like nothing else (not that Holmes needs the help, or anything). "And my face cream — it changes weekly. This week I'm into cell plumping," says Holmes.
Her hair doesn't just air-dry like that. So you can feel better about your own, now. And maybe also try
Alterna Kendi Oil
. "I have hair that's a bit wavy, but not in a good way," says Holmes. "When you're blowing your own hair out, you put that oil on, and it really helps with the flyaways."
She doesn't wear extensions — but she could, if she wanted. Holmes told Allure that the best trick she's learned from a stylist is "clip in extensions. I don't do it on a daily basis — this is all me — but for a shoot," she says.
See more:
The Most Flattering Makeup Colors for Brown Eyes
Her favorite workouts are no joke. "Spinning, yoga, boot-camp classes. Boot camp is hard. When I'm in a slump, a friend will text me and ask, 'Do you want to join me?' And I'm like, 'Aaaargh, do I have to?'" No wonder she looks so amazing.
Also, there's her diet: "I try to eat a lot of vegetables. In the winter, it's hard because all I want is pasta and cookies." Me, too! Only, without the vegetables...
And this one is my favorite. When asked about her mother's best beauty advice, Holmes answered: "She said, 'You may be pretty, and you may be talented, but nobody will remember that if you're mean.'" We heart you, Holmes(es) junior and senior!
The Allure April issue is on newsstands March 26, 2013More from Allure:

The 10 Most Gorgeous Hair-Color Ideas for Brunettes
The 12 Best Eye Creams
Top 21 Drugstore Beauty Bargains
beauty tips and style advice
And before you ask, sorry, the $325 dress is SOLD OUT on Matches.com and DVF.com—you snooze, you loose.

Click through the slideshow to shop some of our spring favorites.

French braid? Been there. Fishtail? Done that. The newest styles are all about unexpected texture, major volume, and one man's wild imagination.

Long hair, don't care? Think again…

She dishes on the routine that keeps her looking polished, even when she's pulling up to the <i>Mad Men</i> set at 5 a.m. Plus, the fragrance that helps Christina get her Joan on.

For inspiration, we've rounded up gorgeous (and easy to replicate) wedding makeup looks from the red carpet.

With a few insider tricks, you can enjoy short hair 365 days of the year and have a gorgeous style on your wedding day. Wedding hairstyles for short hair do exist.

I'm beyond excited to finally ditch my winter coat and heavy layers, but I'm not so eager to ditch my tights. Let's just say my legs are not as smooth and bronzed as they were the last time I showed them off many, many months ago.

After a jam-packed week in New Zealand, Kate Middleton and Prince William finally enjoyed a day off, but as of last night (or this morning..? Ah, time change!) they're back on the road again.

These travel-sized beauty products will do double-duty while you're on the road.

Neatly sidestepping high fashion, the smiling, cheerful Kate Middleton is fast becoming the Duchess of Normcore.

This December, New Yorkers might notice something missing in the Christmas air.