Katie Holmes' beauty secrets
Sexy, tanned Katie Holmes shares her beauty routine.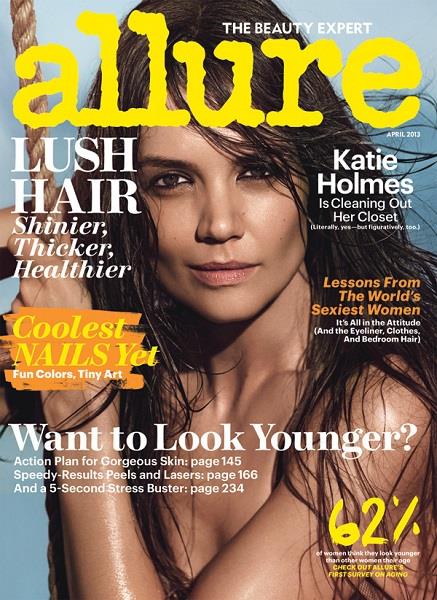 By Elizabeth Siegel,
Allure magazine
The April
Allure
is finally on newsstands and man, does (tan, sexy) Katie Holmes look amazing on the cover. It's no wonder she's got two major beauty contracts, with Bobbi Brown and Alterna Haircare (she's also a co-owner of Alterna). ("I like that her beauty is very simple," legendary makeup artist Bobbi Brown told me at her
Pretty Powerful
book party last fall. "She could throw on a little bit of makeup and go out for the evening and look amazing." No kidding.) And as a fellow brunette, I've loved her rich hair color ever since her
Dawson's Creek
days. Here are the secrets to her beauty routine, as told to writer Judith Newman:
Her desert island makeup product is blush. "As my sister would say, I look yellow without it," says Holmes. Her favorite is
Bobbi Brown Shimmer Brick Compact
, which she mixes with pale pink.
See more: 
Best Hairstyles for Spring 2013
The skin care she can't live without is the
SK-II mask
. Amen, sister. The mask (which is also a favorite of SK-II ambassador Kate Bosworth) gives you a dewy radiant complexion like nothing else (not that Holmes needs the help, or anything). "And my face cream — it changes weekly. This week I'm into cell plumping," says Holmes.
Her hair doesn't just air-dry like that. So you can feel better about your own, now. And maybe also try
Alterna Kendi Oil
. "I have hair that's a bit wavy, but not in a good way," says Holmes. "When you're blowing your own hair out, you put that oil on, and it really helps with the flyaways."
She doesn't wear extensions — but she could, if she wanted. Holmes told Allure that the best trick she's learned from a stylist is "clip in extensions. I don't do it on a daily basis — this is all me — but for a shoot," she says.
See more:
The Most Flattering Makeup Colors for Brown Eyes
Her favorite workouts are no joke. "Spinning, yoga, boot-camp classes. Boot camp is hard. When I'm in a slump, a friend will text me and ask, 'Do you want to join me?' And I'm like, 'Aaaargh, do I have to?'" No wonder she looks so amazing.
Also, there's her diet: "I try to eat a lot of vegetables. In the winter, it's hard because all I want is pasta and cookies." Me, too! Only, without the vegetables...
And this one is my favorite. When asked about her mother's best beauty advice, Holmes answered: "She said, 'You may be pretty, and you may be talented, but nobody will remember that if you're mean.'" We heart you, Holmes(es) junior and senior!
The Allure April issue is on newsstands March 26, 2013More from Allure:

The 10 Most Gorgeous Hair-Color Ideas for Brunettes
The 12 Best Eye Creams
Top 21 Drugstore Beauty Bargains
beauty tips and style advice
Once the summer heat kicks in, it's all we can do not to slip into the breeziest beach dresses and flip-flops for the morning commute. So trust us when we say we understand that the humidity can have a powerful effect on your wardrobe — still, there are some things you just can't wear to your place of employment, no matter how hot it gets.

Wrinkle no blouse, tangle no jewelry, leave no beauty product behind, and still have room to spare.

Hue-changing dos we absolutely love.

Why your jean size varies from store to store.

Wait a month between waxing visits? Check. Pop a preappointment Advil? Duh. We all know the basics, but here are the tricks you don't know.

What to always—and never, ever—do to keep hair in top shape.

Get inspired to try these sweet and summery looks.

Stunning wedding styles that create a statement.

I attended the Abercrombie and Fitch holiday-season press preview yesterday, and in between checking out the cute gear that will hit stores this November, I picked up a little nugget of information I just have to share.

How to wear this cool-weather staple in the summer.

See how Miranda Kerr made a pair of Birkenstocks chic.

We love how a new nail polish has the ability to instantly change your look and your mood with a simple swipe. While happy lime greens and aquas are ruling the five million #nailpolish Instagrams this summer, there are a variety of great colors to choose from—whether you want an office-appropriate neutral or a fun going-out shade that'll give your LBD a punch of color.