'African Queen' editorial uses white model
French fashion magazine features white teen model painted in blackface.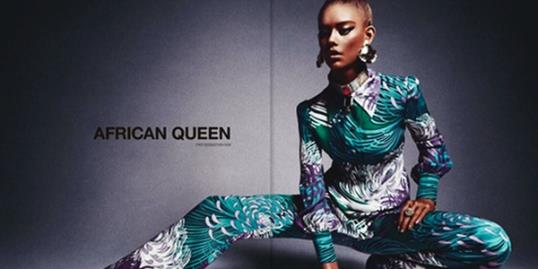 The fashion world has been known to push the boundaries of what's socially acceptable and without a doubt, stir controversy.

In the March 2013 issue of Numéro magazine, 16-year-old white model Ondria Hardin appears drenched in a very deep bronze for a fashion spread called "African Queen," reports Jezebel.com.

More from Simply Chic: Are Thin Models Going Out of Style?

Hello! This would have been the perfect opportunity to hire a black model, as there are fewer job opportunities for non-white models. Eighty-two percent of the models at New York Fashion Week this season were white, cites Jezebel.

More than 150 people have commented on author Laura Beck's article, including this one from "fashionlady"
"Can I just say as a young black model (I'm a girl) having worked my ass for the past 3 years, this hurts my soul. I'm happy for Ondria as a person but the amount of times I have been told 'oh sorry we already have a black girl that looks like you' or 'most of our clients dont hire black girls, sorry' and then I see THIS, it pisses me off! There are so many beauitful black models out there working TWICE as hard for barely half the recognition and the only time they give a shit about us is when they need our dark skin for some 'ethnic' photo shoot and in this case with Ondria, they couldn't even be bothered. Can I see a black girl do SCANDANAVIAN PRINCESS please? Hmmm?"
More from Living: How to look slimmer — instantly!

This is not the first incident a magazine has caused a cultural stir.

In 2009, Vogue was accused of racism for using photos of white model, Lara Stone, with her face and body darkened in brown make-up.

Do you think it's okay to use a white teen model in an "African Queen" spread?

Bing: Fashion advertising controversies

More from Simply Chic:
Ralph Lauren Hires First Plus-Size Model
What Would Barbie's Proportions Look Like on a Real Woman?
What makes women feel their sexiest?
beauty tips and style advice
OK, you're pushing 30 . . . don't panic! Even if you were a complete antiaging recluse in your 20s, there is still time to enter the next decade with endless grace and fewer wrinkles. And who better to steal skin care secrets from than the actresses who remain looking forever young? These Hollywood starlets may be in their 30s, but there's nary a dark spot in sight. Their beauty favorites range from drugstore classics to cult luxury elixirs and even a DIY recipe. With this shopping list under your belt, you can celebrate your 30s without a worry line in sight.

Instead of just slapping on five creams—then washing your face because, seriously, that stuff is heavy—follow the lead of the pros.

Forget about simple straightening--the flat iron is so much more versatile than that.

Assuming that you've had tons of practice doing your own makeup on a daily basis, attempting to do it yourself on your wedding day actually isn't that much more difficult. After all, no one knows your face better than you do, and chances are you have many of the tools and products that you need for the big day right at your fingertips—you just need to know how to use them.

There's a particular episode of 30 Rock ("Black Light Attack!", for all the fellow 30 Rock historians out there) in which Jane Krakowski's youth-obsessed character Jenna goes on a Gossip Girl audition. She thinks it's for the role of an Upper East Side high schooler, but as she learns in the middle of the tryout, it's for that of her mother instead. While Tina Fey's brilliant Liz Lemon later tries to talk Jenna off the cliff, she says, "You can try to fight getting older. You can be like Madonna, and cling to youth with your Gollum arms. Or you can be like Meryl Streep and embrace your age with elegance."

Save money and look great.