'African Queen' editorial uses white model
French fashion magazine features white teen model painted in blackface.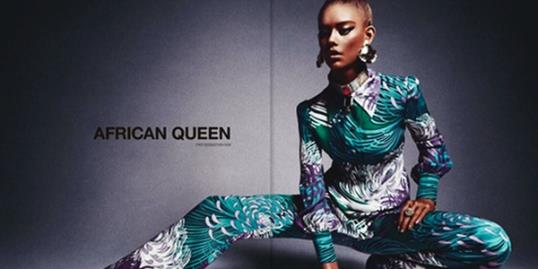 The fashion world has been known to push the boundaries of what's socially acceptable and without a doubt, stir controversy.

In the March 2013 issue of Numéro magazine, 16-year-old white model Ondria Hardin appears drenched in a very deep bronze for a fashion spread called "African Queen," reports Jezebel.com.

More from Simply Chic: Are Thin Models Going Out of Style?

Hello! This would have been the perfect opportunity to hire a black model, as there are fewer job opportunities for non-white models. Eighty-two percent of the models at New York Fashion Week this season were white, cites Jezebel.

More than 150 people have commented on author Laura Beck's article, including this one from "fashionlady"
"Can I just say as a young black model (I'm a girl) having worked my ass for the past 3 years, this hurts my soul. I'm happy for Ondria as a person but the amount of times I have been told 'oh sorry we already have a black girl that looks like you' or 'most of our clients dont hire black girls, sorry' and then I see THIS, it pisses me off! There are so many beauitful black models out there working TWICE as hard for barely half the recognition and the only time they give a shit about us is when they need our dark skin for some 'ethnic' photo shoot and in this case with Ondria, they couldn't even be bothered. Can I see a black girl do SCANDANAVIAN PRINCESS please? Hmmm?"
More from Living: How to look slimmer — instantly!

This is not the first incident a magazine has caused a cultural stir.

In 2009, Vogue was accused of racism for using photos of white model, Lara Stone, with her face and body darkened in brown make-up.

Do you think it's okay to use a white teen model in an "African Queen" spread?

Bing: Fashion advertising controversies

More from Simply Chic:
Ralph Lauren Hires First Plus-Size Model
What Would Barbie's Proportions Look Like on a Real Woman?
What makes women feel their sexiest?
beauty tips and style advice
Every flight seems to have one: that girl who, even after spending several hours enduring the same dry, cramped conditions as everybody else, deplanes looking mind-bogglingly dewy and well-rested. She leaves you too intrigued to be jealous, because who survives air travel without getting puffy eyes and dry patches? Does that mean you can as well? According to our editors, the answer is yes. As you'll see in the slideshow above, which includes their in-flight beauty routines, maintaining your skin, health and hair while traveling through the sky all comes down to the right products. Click through to see what they use, and to stock up before your next big trip—next time, you'll be the one everyone notices.

Got a destination on the horizon? Emulate any one of these 19 outfits and you'll have stylish jet-setting fashion down pat in no time.

Take a look at Jessica Alba's new blonde hair and tell us, do you like it?

Make it through the holidays without repeating an outfit! Our editors show you how.

Each year, we dust off our tree ornaments and holiday-party makeup looks (red lips, smoky eyes, and snowflake-size flecks of glitter). But not this winter. We've traded in our frequent flyer miles for bright, beachy shades and a holiday in the sun.

Holiday parties are the perfect opportunity to experiment with the most inspiring celebrity hairstyles you spend the rest of the year pining (and pinning) away for. We've rounded up a month's worth of stunning options, complete with styling tips and product recommendations straight from some of the pros who created them.