'African Queen' editorial uses white model
French fashion magazine features white teen model painted in blackface.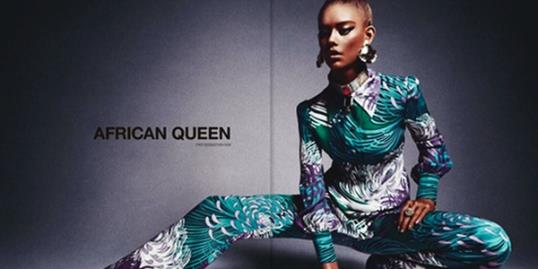 The fashion world has been known to push the boundaries of what's socially acceptable and without a doubt, stir controversy.

In the March 2013 issue of Numéro magazine, 16-year-old white model Ondria Hardin appears drenched in a very deep bronze for a fashion spread called "African Queen," reports Jezebel.com.

More from Simply Chic: Are Thin Models Going Out of Style?

Hello! This would have been the perfect opportunity to hire a black model, as there are fewer job opportunities for non-white models. Eighty-two percent of the models at New York Fashion Week this season were white, cites Jezebel.

More than 150 people have commented on author Laura Beck's article, including this one from "fashionlady"
"Can I just say as a young black model (I'm a girl) having worked my ass for the past 3 years, this hurts my soul. I'm happy for Ondria as a person but the amount of times I have been told 'oh sorry we already have a black girl that looks like you' or 'most of our clients dont hire black girls, sorry' and then I see THIS, it pisses me off! There are so many beauitful black models out there working TWICE as hard for barely half the recognition and the only time they give a shit about us is when they need our dark skin for some 'ethnic' photo shoot and in this case with Ondria, they couldn't even be bothered. Can I see a black girl do SCANDANAVIAN PRINCESS please? Hmmm?"
More from Living: How to look slimmer — instantly!

This is not the first incident a magazine has caused a cultural stir.

In 2009, Vogue was accused of racism for using photos of white model, Lara Stone, with her face and body darkened in brown make-up.

Do you think it's okay to use a white teen model in an "African Queen" spread?

Bing: Fashion advertising controversies

More from Simply Chic:
Ralph Lauren Hires First Plus-Size Model
What Would Barbie's Proportions Look Like on a Real Woman?
What makes women feel their sexiest?
beauty tips and style advice
So there are fashion mishaps. And then, there is the catastrophe known as....camel toe.

The top tips I've picked up thanks to my obsession with blowouts, highlights, and my favorite hairstylist.

Something happens to your head when you have a kid — not to mention your body completely changes, and you can barely recognize yourself through bleary eyes, a fog of tiredness, and matted hair from sleepless nights. Sounds sexy, right? But, when that glimmering light at the end of the tunnel is in the near distance and the kid actually starts to act like a human and sleep normal hours, just like magic, you start to look like your old self again.

Ever slip into the latest summer fashion trend and then realize it's not exactly traditionally attractive? So what? Today we're speaking out on behalf of our favorite awkward fashion trends, whether they're bulky, strangely proportioned, or just at the opposite end of sexy. If there's still something magnetic about its pull on you, we say go for it. It's all in the name of fashion.

One shopper's tweet of the emaciated-looking figure forced the store to take action.

Once the summer heat kicks in, it's all we can do not to slip into the breeziest beach dresses and flip-flops for the morning commute. So trust us when we say we understand that the humidity can have a powerful effect on your wardrobe — still, there are some things you just can't wear to your place of employment, no matter how hot it gets.

Wrinkle no blouse, tangle no jewelry, leave no beauty product behind, and still have room to spare.

Hue-changing dos we absolutely love.

Why your jean size varies from store to store.

Wait a month between waxing visits? Check. Pop a preappointment Advil? Duh. We all know the basics, but here are the tricks you don't know.

What to always—and never, ever—do to keep hair in top shape.

Get inspired to try these sweet and summery looks.