'African Queen' editorial uses white model
French fashion magazine features white teen model painted in blackface.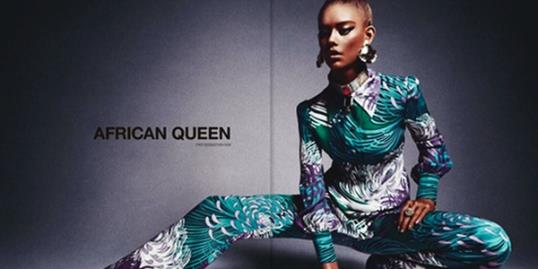 The fashion world has been known to push the boundaries of what's socially acceptable and without a doubt, stir controversy.

In the March 2013 issue of Numéro magazine, 16-year-old white model Ondria Hardin appears drenched in a very deep bronze for a fashion spread called "African Queen," reports Jezebel.com.

More from Simply Chic: Are Thin Models Going Out of Style?

Hello! This would have been the perfect opportunity to hire a black model, as there are fewer job opportunities for non-white models. Eighty-two percent of the models at New York Fashion Week this season were white, cites Jezebel.

More than 150 people have commented on author Laura Beck's article, including this one from "fashionlady"
"Can I just say as a young black model (I'm a girl) having worked my ass for the past 3 years, this hurts my soul. I'm happy for Ondria as a person but the amount of times I have been told 'oh sorry we already have a black girl that looks like you' or 'most of our clients dont hire black girls, sorry' and then I see THIS, it pisses me off! There are so many beauitful black models out there working TWICE as hard for barely half the recognition and the only time they give a shit about us is when they need our dark skin for some 'ethnic' photo shoot and in this case with Ondria, they couldn't even be bothered. Can I see a black girl do SCANDANAVIAN PRINCESS please? Hmmm?"
More from Living: How to look slimmer — instantly!

This is not the first incident a magazine has caused a cultural stir.

In 2009, Vogue was accused of racism for using photos of white model, Lara Stone, with her face and body darkened in brown make-up.

Do you think it's okay to use a white teen model in an "African Queen" spread?

Bing: Fashion advertising controversies

More from Simply Chic:
Ralph Lauren Hires First Plus-Size Model
What Would Barbie's Proportions Look Like on a Real Woman?
What makes women feel their sexiest?
beauty tips and style advice
When Madonna posted an image of herself wearing a full on Game of Thrones Khaleesi costume on Instagram last week we weren't exactly surprised—this is the woman who rolled into the Grammy Awards wearing a tuxedo and a grill earlier this winter, so why not celebrate the Jewish holiday of Purim with a leather corset and a pair of tiny dragons? Still, we were hypnotized by her white-blonde, braided Daenerys Targaryen hair. Functioning as a bleached out cultural weather vane of sorts, it tapped into multiple obsessions at once—the return of "Game of Thrones" to HBO, spring's new extreme hair lengths and, most notably, fashion's current platinum mania. Our own love of ice-blonde hair—which transforms any look from everyday to extraordinary—has been well documented of late, but last night's Game of Thrones premiere sent our platinum fever into overdrive. In celebration of fashion's favorite hair color, a look at the best platinum moments in history.

While you were sleeping, fast retail chain H&M H&M announced that its next designer collaboration is with Alexander Wang.

Formal, beachy, country club-chic or gorgeously rustic whatever the setting calls for, we've found a bevy of beautiful dresses to wear to a wedding this season.

Puffy, tired, weary no more. These tips take years off and create that "I slept great, thanks!" effect.

Top dermatologists, cosmetic chemists, makeup artists, and hairstylists reveal quick tips and tricks that can peel back years in a matter of seconds

We're all for sartorial freedom, but there are certain once-on-trend items that, when worn today, appear anything but current. Consider this your official out list.

If you're a practitioner of reselling your clothes—a good way to clear out some space in your wardrobe and make a few extra bucks—you might already be familiar with San Francisco-based thredUP.

A picture may be worth a thousand words, but emoji must be worth at least a million. Here we show you how to channel your favorites: Go ahead, express yourself!

11 earth-friendly beauty products we love.

The secret to effortlessly beautiful hair? Embracing what you're born with! Twenty celebs show you how to do it.

Last year's beauty buzz may have been all about J. Law's cropped cut, M'Obama's bangs and Miley Cyrus' pixie, but we're not even halfway through 2014 and we're pretty sure we've already topped 2013. From Margot Robbie's glossy brunette dye-job to Katie Holmes' irresistible set of bangs, we're obsessed with all these recent celebrity transformations—all of which are perfect inspiration for a new spring hairstyle. Click through above to see a round-up of our favorites!

The green coat is pretty much as Middleton as it gets.