'African Queen' editorial uses white model
French fashion magazine features white teen model painted in blackface.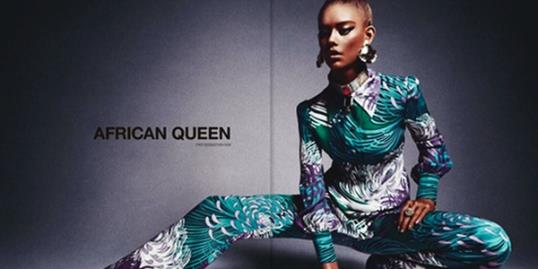 The fashion world has been known to push the boundaries of what's socially acceptable and without a doubt, stir controversy.

In the March 2013 issue of Numéro magazine, 16-year-old white model Ondria Hardin appears drenched in a very deep bronze for a fashion spread called "African Queen," reports Jezebel.com.

More from Simply Chic: Are Thin Models Going Out of Style?

Hello! This would have been the perfect opportunity to hire a black model, as there are fewer job opportunities for non-white models. Eighty-two percent of the models at New York Fashion Week this season were white, cites Jezebel.

More than 150 people have commented on author Laura Beck's article, including this one from "fashionlady"
"Can I just say as a young black model (I'm a girl) having worked my ass for the past 3 years, this hurts my soul. I'm happy for Ondria as a person but the amount of times I have been told 'oh sorry we already have a black girl that looks like you' or 'most of our clients dont hire black girls, sorry' and then I see THIS, it pisses me off! There are so many beauitful black models out there working TWICE as hard for barely half the recognition and the only time they give a shit about us is when they need our dark skin for some 'ethnic' photo shoot and in this case with Ondria, they couldn't even be bothered. Can I see a black girl do SCANDANAVIAN PRINCESS please? Hmmm?"
More from Living: How to look slimmer — instantly!

This is not the first incident a magazine has caused a cultural stir.

In 2009, Vogue was accused of racism for using photos of white model, Lara Stone, with her face and body darkened in brown make-up.

Do you think it's okay to use a white teen model in an "African Queen" spread?

Bing: Fashion advertising controversies

More from Simply Chic:
Ralph Lauren Hires First Plus-Size Model
What Would Barbie's Proportions Look Like on a Real Woman?
What makes women feel their sexiest?
beauty tips and style advice
Wide-leg pants are blowing up. Six women show us how to style a pair by Lauren Ralph Lauren.

It's the best and worst time to be a single girl in the dating world. On the one hand, past generations of women didn't have the freedom, financial independence, access to birth control (depending on your state and employer, of course), or plethora of options to meet new people—online and off—that we enjoy today. On the other hand, they also didn't have to worry about sexting, selecting the best selfie for their profile picture, or accidentally swiping right on a coworker.

If you're anything like me, you probably haven't gone anywhere near a hair accessory for years—save for the few stretched-out Goody elastics tumbling around at the bottom of your handbag, the slightly rusty bobby pins gathering dust at the back of your medicine cabinet or that scrunchie you use to pull your hair back when washing your face in the morning. For as long as I can remember, hair adornments have been slapped with somewhat of a childish reputation; when's the last time you saw a girl over the age of 11 wearing a barrette or witnessed a woman past her teen years sporting a headband?

When it's hot and humid, pulling your hair into a ponytail is practical. But it can also be fun, easy, unexpected, and mind-blowingly gorgeous. Here, stunning summer hair ideas inspired by our favorite runway and red-carpet looks of the moment—plus expert tips on how to re-create them.

Sure, sunglasses protect your eyes and help you see, but they can also lend an instant, undeniable cool factor to just about anyone. Said cool factor is most apparent when sunglasses fit well, balance your features, and look like they were made for your face. Because one-size-flatters-all shades are unfortunately not a thing, we asked Bobbi Brown, makeup artist, glasses expert, and author of the new book Bobbi Brown: Everything Eyes, for her top tips for finding flattering sunglasses for every face shape.

The leading ladies who make summer beauty look effortless.