Men find these hairstyles to be the sexiest on women
A new survey reveals the hottest hair for women.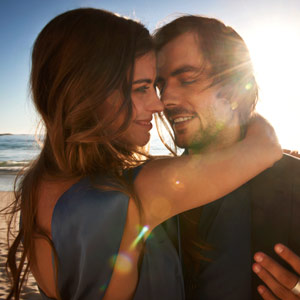 Subscribe to Simply Chic

What's the first thing a man notices about a woman? Nope, it's not her outfit or her cup size (shocking, we know). It's actually her hair.

According to a survey taken by Zoosk.com, three-quarters of men admit they are likely to compliment a woman on her hairstyle, and results show that the hairstyle they find the sexiest of all is simple — down and straight got 38 percent of the votes, while down and curly registered as a close second at 33 percent. Rounding out the favorites were a sophisticated up-do and a simple ponytail, which tied at 13 percent.

More Living Beauty: Hairstyle of the day

"Keeping hush could be a mistake: nearly one-quarter of women say that they expect to be complimented on a hairstyle they've spent time on, and while 71 per cent don't expect a new romantic interest to notice their hair, they will gladly accept the admiration," says Jane Barrett, director of marketing at Zoosk.

More Living Beauty: How to look sexy when you wake up

"You don't have to be Vidal Sassoon to pay a woman a compliment, so guys, stop stressing over tresses and let the compliments fly!"

But as vocal as men are about what they like on a woman, they are equally opinionated about what they don't like. Greasy hair and too much product were men's top pet peeves when it came to hair turn-offs.

On MSN Now: Favorite hairstyle for women

Tell us: What's your favorite hairstyle to wear?
More Simply Chic:
Jennifer Aniston's bold beauty move
Jennifer Lopez gets the award for sexiest ponytail ever
The real reason prom costs the average girl $1,139
beauty tips and style advice
Sunglasses: it may seem counterintuitive to invest in a wintertime accessory traditionally viewed as a sunny, warm-weather item. But spring is on the way and we're also currently being exposed to crazy amounts of UV rays—and then, of course, there's the reflective snow situation.

Some people look younger than they are, some look older. Even those with easy access to BOTOX and personal trainers. Can you guess the age of these celebrities?

Did anyone else hear wedding bells on the Oscars red carpet last night?

Then after the show, er, Oscars, it's the after party. Then after the party, it's the... Best Dressed List, of course. Nikki already picked her tops for the Academy Awards red carpet (did you vote yet?), so now it's time to see what the stars wore to the post-celebrations.

As I continue my personal campaign to swap out E!'s mani cam with a back-of-updo cam (and as a service to all the hardworking hairstylists who spent so much time creating beautiful hair looks for the 2014 Oscars), I'd like to point out that we miss a lot of gorgeous detail when we don't get the back view of a star's hair.

The bold new trend on the Oscars red carpet.

Trying new hairstyles is fun (have you picked up Allure Hair: The Ultimate How-To Hair Guide yet?).

When someone says "Julia Roberts," you think teeth. You think hair. But while you may not immediately think fashion, she has had a pretty consistent—and consistently pretty—style since her Mystic Pizza days: clean, classic, menswear-inspired looks that let her natural beauty—and rightly famous smile—take center stage. Here's how she has elevated that look over the years.

Lupita Nyong'o shows off the power of the pixie on the Oscars red carpet.

Walk a mile in a pair of SJP's stilettos? Well yes, we'd love to; thank you for asking.

Anti-aging doesn't have to take over your life. Here, expert tweaks to slow the clock.

We're at the tail end of a jam-packed awards season, with the grand finale—the Oscars, duh—just a few days away. We can't wait to see what our favorite nominees wear—we already know Jennifer Lawrence will step out in a breathtaking Dior, while we hope to see Lupita Nyong'o pick another brilliantly bold monochromatic gown. As for which designer she'll select—Gucci? Ralph Lauren?—that's anyone's guess.