Glam-mas Face Aging in Style: 'Every Era Builds Character'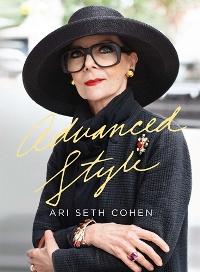 By Rina Raphael,
The Look on TODAY Style
Like fine wine, the world's most fearless
fashionistas
(
and well, maybe Queen Elizabeth
) only seem to get better — and fiercer — with age. Photographer Ari Seth Cohen, of the popular blog
Advanced Style
, has beautifully celebrated senior style mavens over the past few years, chronicling their fun, outlandish and glamorous fashion he's spotted on the street.
Advanced Style by Ari Seth Cohen / powerHouse Books
Watch the video on TODAY.
"They dress for themselves rather than trying to impress others," Cohen, 30, told TODAY.com of his interest in older — versus younger — ladies' fashion. "I am fascinated by their energy, vitality and determination. They refuse to give up."
Cohen immortalizes his subjects' chic ensembles and candid thoughts on aging in his new book. Here's a sneak peek at some of the fashionable characters he features in "Advanced Style":

Advanced Style by Ari Seth Cohen / powerHouse Books

Carol Markel and Richard Cramer: "We are minimal in our living but extravagantly exuberant in our art."
Advanced Style by Ari Seth Cohen / powerHouse Books

Alice Carey: "You don't want to look crazy. The object is to look a chic as you can — but your average person in the street would never wear this."
Advanced Style by Ari Seth Cohen / powerHouse Books.

Debra Rapaport: "I don't believe in age-appropriate dress; just make your personal statement and feel confident about it. Tomorrow is another day and another look."
Advanced Style by Ari Seth Cohen / powerHouse Books

Ilona Royce Smithkin: "Feel beautiful inside, and you will be beautiful outside."

Advanced Style by Ari Seth Cohen / powerHouse Books

Joyce: "Style is about the right jewelry, the right know-how, the right neckline, and above all, the right attitude."

Advanced Style by Ari Seth Cohen / powerHouse Books

Lubi: "Some might see it as gray hair, age, genetics, stress, etc. I see it differently. I see it as platinum elegance."
Advanced Style by Ari Seth Cohen / powerHouse Books

Mary: "Sunglasses are better than a facelift. They hide the ravages of time and let you spy."
Advanced Style by Ari Seth Cohen / powerHouse Books

Jacquie Tajah Murdock: "I thought I'd be an old lady with a cane who keeps dancing, and it looks like this has come true."
Advanced Style by Ari Seth Cohen / powerHouse Books

The Idiosyncratic Fashionistas: "Young women, you're gonna be an old woman someday. Don't worry about it, don't sweat it. Don't worry about getting older. Every era builds character."

For more great photos of stylish seniors, visit Advanced Style. You can also order Ari's book on Amazon.


More from The Look on TODAY Style:
Age-defying style secrets from fearless 'glam-mas'
DIY: Color-blocked summer moccasins
Rhubarb? Pistachios? Our 12 favorite beauty ingredients


beauty tips and style advice
Kate Middleton's Temperley London gown resurfaced on the red carpet for the third time. Do you love it, or is it one time too many?

See 14 holiday dresses you'll love under $100.

This season, let your nails be as merry—and bright—as your mood.

A few things are certain in life: death, taxes and the fact that a gal pretty much can't go bare legged from November to March.

See 15 fragrances for every personality on your holiday list.

Click to see 15 dog-walking outfits inspired by celebrities.

We're sure this enigmatic purple shade will be everywhere next year, from fashion and beauty to home, and we're pumped for its impending takeover. We've rounded up some of our favorite celebrity looks in Radiant Orchid, including Jessica Paré, Kristen Bell, Amy Adams, and Krysten Ritter, to give you a preview of what you can expect to see in 2014. Commit Radiant Orchid to memory—you're going to be spotting much more of it in the coming months.

What do you wear to a holiday party? Whether you're heading to a family shindig or an after-work office soiree, crib these style tips and lessons learned from some of our favorite celebrity dos and don'ts of the festive season.

We caught up with the new mommy to find out the trick to keeping her makeup on point—even when she's not in front of the cameras.

Kristen Stewart is known for her casual style, both on and off the red carpet

You can rent a couture dress or a designer bag, but would you rent hair extensions?

To get the scoop on quick office party beauty tricks, we turned to Landy Dean, celebrity makeup artist at Marie Robinson salon. His simple tutorial requires only a handful of products, starting with the darkest, inkiest eyeliner you can find. Dean swears by the Nars Larger Than Life liners smudged over the waterline and lashline, topped off with a few coats of Maybelline The Falsies mascara. Before you dash off to apply product, there's one small step that involves removing makeup. "If your foundation and concealer have caked or creased, I recommend a quick removal with a cleansing towelette and a redo to avoid heavy looking skin," he cautions. For those who would prefer to go the easy route, apply a hydrating moisturizer using a stippling motion and a sponge. Finish the look with a dusting of BareMinerals Mineral Veil—"this will even out discolorations and give a reflective finish that still looks natural"—swap your work bag for a chic clutch, and get ready to ring in the season.