Glam-mas Face Aging in Style: 'Every Era Builds Character'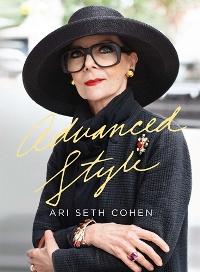 By Rina Raphael,
The Look on TODAY Style
Like fine wine, the world's most fearless
fashionistas
(
and well, maybe Queen Elizabeth
) only seem to get better — and fiercer — with age. Photographer Ari Seth Cohen, of the popular blog
Advanced Style
, has beautifully celebrated senior style mavens over the past few years, chronicling their fun, outlandish and glamorous fashion he's spotted on the street.
Advanced Style by Ari Seth Cohen / powerHouse Books
Watch the video on TODAY.
"They dress for themselves rather than trying to impress others," Cohen, 30, told TODAY.com of his interest in older — versus younger — ladies' fashion. "I am fascinated by their energy, vitality and determination. They refuse to give up."
Cohen immortalizes his subjects' chic ensembles and candid thoughts on aging in his new book. Here's a sneak peek at some of the fashionable characters he features in "Advanced Style":

Advanced Style by Ari Seth Cohen / powerHouse Books

Carol Markel and Richard Cramer: "We are minimal in our living but extravagantly exuberant in our art."
Advanced Style by Ari Seth Cohen / powerHouse Books

Alice Carey: "You don't want to look crazy. The object is to look a chic as you can — but your average person in the street would never wear this."
Advanced Style by Ari Seth Cohen / powerHouse Books.

Debra Rapaport: "I don't believe in age-appropriate dress; just make your personal statement and feel confident about it. Tomorrow is another day and another look."
Advanced Style by Ari Seth Cohen / powerHouse Books

Ilona Royce Smithkin: "Feel beautiful inside, and you will be beautiful outside."

Advanced Style by Ari Seth Cohen / powerHouse Books

Joyce: "Style is about the right jewelry, the right know-how, the right neckline, and above all, the right attitude."

Advanced Style by Ari Seth Cohen / powerHouse Books

Lubi: "Some might see it as gray hair, age, genetics, stress, etc. I see it differently. I see it as platinum elegance."
Advanced Style by Ari Seth Cohen / powerHouse Books

Mary: "Sunglasses are better than a facelift. They hide the ravages of time and let you spy."
Advanced Style by Ari Seth Cohen / powerHouse Books

Jacquie Tajah Murdock: "I thought I'd be an old lady with a cane who keeps dancing, and it looks like this has come true."
Advanced Style by Ari Seth Cohen / powerHouse Books

The Idiosyncratic Fashionistas: "Young women, you're gonna be an old woman someday. Don't worry about it, don't sweat it. Don't worry about getting older. Every era builds character."

For more great photos of stylish seniors, visit Advanced Style. You can also order Ari's book on Amazon.


More from The Look on TODAY Style:
Age-defying style secrets from fearless 'glam-mas'
DIY: Color-blocked summer moccasins
Rhubarb? Pistachios? Our 12 favorite beauty ingredients


beauty tips and style advice
Every year, we look to the biggest names in bridal beauty and fashion design to pinpoint the hottest bridal hair and makeup ideas – keeping in mind of course that this is a wedding (no crazy neon mascara here). This year, bridal beauty has gone extra natural and romantic -- think messy braids, wispy hair, natural eye makeup and more.

You've got the dress. You've got the venue, date, and invitations. The last thing you need to complete your wedding day? An amazing pair of shoes to wear as you walk down the aisle!

With the dress as the main focus, you want the hair to be understated. An updo does just that. But there's a difference between understated and boring. Adding simple accessories, like a pin or flower, is just enough decoration to the hair. Let these gorgeous pins serve as inspiration for finding a simple, yet understated, wedding hairstyle.

Just when we were getting used to seeing beards everywhere, it may be time for men who enjoy the attention of the opposite sex to invest in some shaving paraphernalia. In a new University of New South Wales study, researchers found that "when people are confronted by a succession of bearded men, clean-shaven men become [...]

If your arm aches just thinking about blow-drying, take heart: These easy hair-saving tips will cut down on your mirror time and deliver salon-level results.

From designer maxi dresses by Roberto Cavalli and Temperley London to contemporary finds by Alice + Olivia and Zimmermann, there's a dress for every kind of seaside bride.

Mom jeans are back this spring.

We combed our favorite online shopping haunts to find 20 stunning options for the unconventional bride who'd rather splurge on the perfect flowers and a signature cocktail than her aisle-bound gown. These gowns and frocks from Rae Francis, Black Halo Eve and Jill By Jill Stewart €"plus one epic jumpsuit by Rachel Zoe €"are the perfect antidote to the strapless fishtail option most brides seem to favor right now. You're certainly not basic, so why would your dress be?

We've rounded up 10 red carpet inspirations for long hair wedding hairstyles that don't scream "bridal," but are perfect for a walk down the aisle.

We're not in the habit of feeling sorry for supermodels. We reserve our sympathy for a less fortunate set, namely, everyone else on planet Earth.

How to love everything in your closet

Every season, wedding dress designers unveil their latest collections, and without fail, there are a handful of designs that give us pause. We're talking about beautifully designed dresses -- not meant for the fainthearted. For the Fall 2014 and Spring 2015 collections, these are the ones.