Glam-mas Face Aging in Style: 'Every Era Builds Character'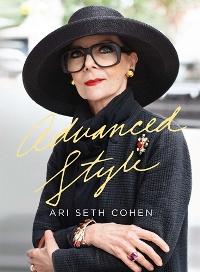 By Rina Raphael,
The Look on TODAY Style
Like fine wine, the world's most fearless
fashionistas
(
and well, maybe Queen Elizabeth
) only seem to get better — and fiercer — with age. Photographer Ari Seth Cohen, of the popular blog
Advanced Style
, has beautifully celebrated senior style mavens over the past few years, chronicling their fun, outlandish and glamorous fashion he's spotted on the street.
Advanced Style by Ari Seth Cohen / powerHouse Books
Watch the video on TODAY.
"They dress for themselves rather than trying to impress others," Cohen, 30, told TODAY.com of his interest in older — versus younger — ladies' fashion. "I am fascinated by their energy, vitality and determination. They refuse to give up."
Cohen immortalizes his subjects' chic ensembles and candid thoughts on aging in his new book. Here's a sneak peek at some of the fashionable characters he features in "Advanced Style":

Advanced Style by Ari Seth Cohen / powerHouse Books

Carol Markel and Richard Cramer: "We are minimal in our living but extravagantly exuberant in our art."
Advanced Style by Ari Seth Cohen / powerHouse Books

Alice Carey: "You don't want to look crazy. The object is to look a chic as you can — but your average person in the street would never wear this."
Advanced Style by Ari Seth Cohen / powerHouse Books.

Debra Rapaport: "I don't believe in age-appropriate dress; just make your personal statement and feel confident about it. Tomorrow is another day and another look."
Advanced Style by Ari Seth Cohen / powerHouse Books

Ilona Royce Smithkin: "Feel beautiful inside, and you will be beautiful outside."

Advanced Style by Ari Seth Cohen / powerHouse Books

Joyce: "Style is about the right jewelry, the right know-how, the right neckline, and above all, the right attitude."

Advanced Style by Ari Seth Cohen / powerHouse Books

Lubi: "Some might see it as gray hair, age, genetics, stress, etc. I see it differently. I see it as platinum elegance."
Advanced Style by Ari Seth Cohen / powerHouse Books

Mary: "Sunglasses are better than a facelift. They hide the ravages of time and let you spy."
Advanced Style by Ari Seth Cohen / powerHouse Books

Jacquie Tajah Murdock: "I thought I'd be an old lady with a cane who keeps dancing, and it looks like this has come true."
Advanced Style by Ari Seth Cohen / powerHouse Books

The Idiosyncratic Fashionistas: "Young women, you're gonna be an old woman someday. Don't worry about it, don't sweat it. Don't worry about getting older. Every era builds character."

For more great photos of stylish seniors, visit Advanced Style. You can also order Ari's book on Amazon.


More from The Look on TODAY Style:
Age-defying style secrets from fearless 'glam-mas'
DIY: Color-blocked summer moccasins
Rhubarb? Pistachios? Our 12 favorite beauty ingredients


fashion: trends & must-haves for your wardrobe
As your face changes, so should your hair—the right cut can shave years from your appearance. And while there's no such thing as an age-appropriate length, there are age-appropriate styles. Here, the 30 most gorgeous hairstyles for every age, as seen on Mila Kunis, Jessica Biel, Jennifer Aniston, Diane Keaton, and more.

Stuck in a office-look-rut? Let some of history's most smartly dressed women inspire your everyday uniform.

Few spots are as fashionable as the Cannes Film Festival red carpet. Celebrity style stars pull out all the stops—because if you can't wear a fabulous dress at one of the film industry's biggest events, in one of the world's most glamorous locales, when can you? Here are 25 of the masterpieces we still can't stop staring at.

From demure dresses to covetable coats, the Duchess of Cambridge has a maternity wardrobe that would make any grown woman wish she could be a princess. Click through the gallery to see some of her most stylish looks while pregnant.

When it was revealed that Kim Kardashian was expecting her first child with boyfriend Kanye West, we wondered what would happen to her fondness for curve-hugging clothes and stilettos. As it turns out, nothing at all! Kardashian has been criticized for some of her attempts at adapting her everyday style to her growing belly, but we've rounded up her best bump looks, along with the lessons expectant moms can learn from them.

It's official: Bangs are back in a big way this season. Whether you have curly, wavy, or straight hair, there's flattering fringe that will work for you. Check out these celebrity haircuts for inspiration.

Hard work, talent and perseverance are the three keys to professional success—but sometimes a really great haircut helps, too.

There's no miracle cure for acne, but the products and tips below come pretty darn close.

Beauty truth: You can't buy the best makeup and body potions stars use; their makeup pros are whipping up mystery formulas. And beauty sleuth Andrea Pomerantz Lustig learned 'em!

What can make a face softer but edgier at the same time? (Don't worry, this isn't some complicated riddle.) Bangs can enhance any face shape—if you wear them the right way, that is. We've rounded up five ideas with fringe benefits, along with hairstylist Nathaniel Hawkins's tips for pulling them off.

We all know we need moisturizer. The confusing part? Picking one that works for your skin—and your budget. Well, here's your cheat sheet: Using the Allure Beauty Product Finder, we found the ten best drugstore moisturizers for every skin type, all for under $20. So whether your skin is dry, acne-prone, or you've got dark spots or fine lines, we've got you—and your wallet—covered.

Growing pains? Totally unnecessary. Getting—and keeping—long, shiny, sexy hair has never been easier.