Glam-mas Face Aging in Style: 'Every Era Builds Character'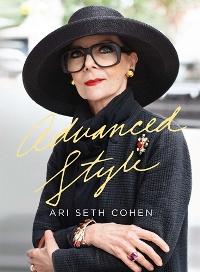 By Rina Raphael,
The Look on TODAY Style
Like fine wine, the world's most fearless
fashionistas
(
and well, maybe Queen Elizabeth
) only seem to get better — and fiercer — with age. Photographer Ari Seth Cohen, of the popular blog
Advanced Style
, has beautifully celebrated senior style mavens over the past few years, chronicling their fun, outlandish and glamorous fashion he's spotted on the street.
Advanced Style by Ari Seth Cohen / powerHouse Books
Watch the video on TODAY.
"They dress for themselves rather than trying to impress others," Cohen, 30, told TODAY.com of his interest in older — versus younger — ladies' fashion. "I am fascinated by their energy, vitality and determination. They refuse to give up."
Cohen immortalizes his subjects' chic ensembles and candid thoughts on aging in his new book. Here's a sneak peek at some of the fashionable characters he features in "Advanced Style":

Advanced Style by Ari Seth Cohen / powerHouse Books

Carol Markel and Richard Cramer: "We are minimal in our living but extravagantly exuberant in our art."
Advanced Style by Ari Seth Cohen / powerHouse Books

Alice Carey: "You don't want to look crazy. The object is to look a chic as you can — but your average person in the street would never wear this."
Advanced Style by Ari Seth Cohen / powerHouse Books.

Debra Rapaport: "I don't believe in age-appropriate dress; just make your personal statement and feel confident about it. Tomorrow is another day and another look."
Advanced Style by Ari Seth Cohen / powerHouse Books

Ilona Royce Smithkin: "Feel beautiful inside, and you will be beautiful outside."

Advanced Style by Ari Seth Cohen / powerHouse Books

Joyce: "Style is about the right jewelry, the right know-how, the right neckline, and above all, the right attitude."

Advanced Style by Ari Seth Cohen / powerHouse Books

Lubi: "Some might see it as gray hair, age, genetics, stress, etc. I see it differently. I see it as platinum elegance."
Advanced Style by Ari Seth Cohen / powerHouse Books

Mary: "Sunglasses are better than a facelift. They hide the ravages of time and let you spy."
Advanced Style by Ari Seth Cohen / powerHouse Books

Jacquie Tajah Murdock: "I thought I'd be an old lady with a cane who keeps dancing, and it looks like this has come true."
Advanced Style by Ari Seth Cohen / powerHouse Books

The Idiosyncratic Fashionistas: "Young women, you're gonna be an old woman someday. Don't worry about it, don't sweat it. Don't worry about getting older. Every era builds character."

For more great photos of stylish seniors, visit Advanced Style. You can also order Ari's book on Amazon.


More from The Look on TODAY Style:
Age-defying style secrets from fearless 'glam-mas'
DIY: Color-blocked summer moccasins
Rhubarb? Pistachios? Our 12 favorite beauty ingredients


beauty tips and style advice
Let's face it: winter's bitter cold left us feeling disillusioned with our wardrobes. So with warmer days ahead, it's time to shop for must-have pieces that'll keep your look fresh for months to come.

Every bride deserves to look flawless on her wedding day. So we say: Indulge a little. Book a facial (or six!) and invest in a great waterproof mascara. With this guide, getting ready for your big day has never been easier.

I can't tell you how many times one ill-timed sneeze ruined all of my hard work with a mascara wand. #allergyproblems.

While we're not averse to shelling out upwards of $30 for an amazing lipstick, many of our standby lip colors cost a whole lot less than that. The drugstore is full of high-quality, long-lasting lipsticks in gorgeous shades that—wait for it!—ring in under $10. Click through above to shop our favorites!

What's the perfect add-on to your beauty look? A hair accessory, of course! Just when you think you've seen it all, every year there seems to be a new "it" hair piece that rules the moment. In the '50s, a dainty bow-tied head scarf was perfectly housewife-chic. In the '60s and '70s, real flower crowns officially became the epitome of boho style—your outfit simply wasn't complete without a daisy topper. Fast-forward to the '90s and you had a bevy of creative hair charms and baubles, including butterfly clips, hair wraps and those infamous bra strap headbands (shudder).

The right blush can warm up your complexion, create the illusion of cheekbones, and even make you look younger. (Yes, really!) Here, the most flattering shades for fair, medium, olive, and dark skin.

Think you can't put a price on looking younger? Well, we did—and it's $25. We challenged dermatologists to find great products that don't cost even one cent over that amount.

You want to dress in a way that's young and cool but that doesn't suggest you're on your way to a One Direction concert. "The trick to looking younger is adding one fashionable piece to a classic outfit," says stylist Cher Coulter. Here's how to nail it.

Hair color is one of the most effective anti-aging tools we have—except when it isn't. Take your dye job too far (or inky, or frosty) and you can add years to your appearance. Three top colorists weigh in on what to avoid.

News flash: Your youth fix doesn't have to come in a bottle—or a needle. Your hairstyle could actually take years off (or add them to) your look. Don't believe us? Check out these celebrities—each one gorgeous, of course, but also looking older due to certain overly perfect hairdos. Anti-aging tip number one? Mess it up a little.

In feel-good fashion news of the day: Victoria Beckham will design a set of mommy-daughter dresses to benefit Born Free Africa, a non-profit with the mission to end mother-to-child HIV transmission by 2015.

See Duchess Catherin's perfect beach look.