Would you wear eyelash jewelry?
Etsy designer makes bling for your lashes.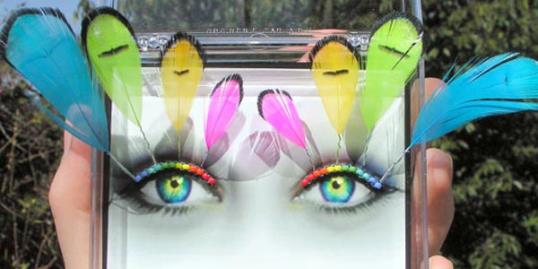 These days, there seems to be an obsession with bringing attention to the eyelashes. In the midst of a growing trend geared towards longer, more luscious lashes via eyelash extensions and the use of lash-enhancing products like Latisse, there's a lot of options out there for getting notice-me eyes. But this option may top the rest.

Etsy seller Natalie Russo is making a line of jewelry for your eyelashes—and it will definitely turn heads. The eyelash jewelry comes in a variety of themes, including neon rainbow feathers, snowflakes, and even googly-eye varieties. There's also a design called the "bubble bath," featuring a mini rubber ducky.

More from Living: The craziest nail designs of all time

According to the seller's Etsy site, the jewelry is created by hand-weaving tiny glass beads onto ultra thin wire to create a super light band that shapes to your eye. To apply these intricate designs, just bend your "jewelry" into the correct shape, apply eyelash glue and adhere the piece to your eyelid, just like you would for any other false eyelashes. 

"The beads used in this shop are primarily Japanese Toho brand seed beads. Their smooth shape provides maximum flexibility and comfort," says the designer on her web site. "Japanese Delica brand seed beads are also used for their superior shine and smaller size. Some designs also include 2mm Swarovski crystals and genuine gem stone beads." 

More from Living: Best & worst style & beauty trends of the year

Something about the concept of applying wire to our eyelids seems terrifying, but never fear, this isn't just any old wire. "The wire used is 34 gauge jewelry wire consisting of either silver or copper. This wire is so extremely thin and light, a single strand of it can be difficult to see."

With lashes like these, we won't even have to work at batting them—they definitely get attention all on their own. Check out more pics of the lashes below. 
Fish in the Sea Lashes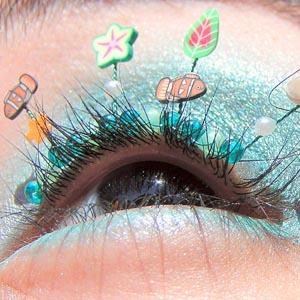 Cupcake Lashes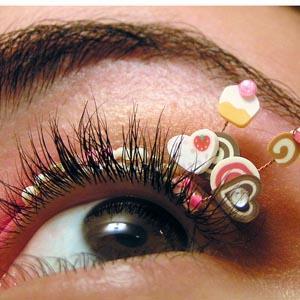 Snowflake Lashes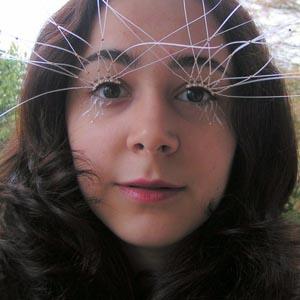 Tell us: Would you wear jewelry on your eyelashes?
beauty tips and style advice
Click to see 10 must-have hair tools to streamline your beauty routine.

See 9 of the prettiest holiday hair accessories for the holidays.

Here's how to choose the neckline style that looks best on you.

This season, let your nails be as merry—and bright—as your mood.

Sure, a little black dress or le smoking is always on par for the party scene, but who says holiday dressing has to be so cut and dry? We have 15 ideas for switching it up this season—getting festive just got a whole lot more fun.

Super-fast (and easy) hair, makeup, and nail ideas that'll make you party-ready in minutes. Sorry, no more last-minute bailing because you're running late.

From straight and sleek to intricate braids and sky high topknots, some celebs just know how to do party hair

From a structured blazer to that awe-inducing statement clutch, Rachel Zoe shares her picks for December dressing with InStyle.com exclusively.

Simple style tricks to help your hair look better in an instant.

7 hairstyles to try this holiday season.

You know that classic nightmare where you walk into school or work completely naked? That's how I feel when I'm having a bad hair day. Like I don't want anyone to look at me and it takes everything I have not to immediately turn around and run back home.

Victoria Beckham will share her fashion story and give inside access to her brand via The Skype Collaboration Project in January 2014.