4 more years...of Michelle Obama's awesome outfit recycling
Barack Obama's victory in yesterday's presidential election doesn't just mean four more years of Democratic leadership in the White House. It means four more years of wardrobe remixes from the first lady!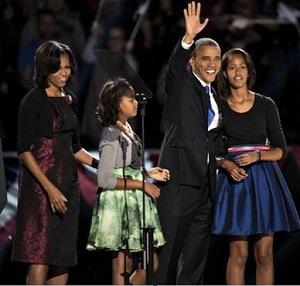 by
Tracey Lomrantz Lester
,
Glamour Magazine
When the president took the stage with his family after the announcement of last night's victory, you may have noticed that
Michelle Obama
's look was a bit familiar. The burgundy silk brocade dress, by
Michael Kors
, was in fact a repeat.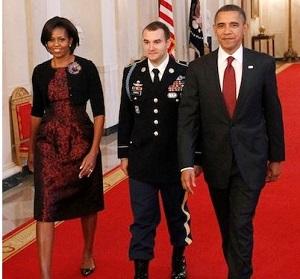 She wore it in 2010, at a ceremony honoring Army Staff Sergeant Salvatore Giunta, with a cropped black cardigan and a pin by Alexis Bittar. But that wasn't even the first time we'd seen it.

Related: 10 Wardrobe Essentials Every Woman Should Own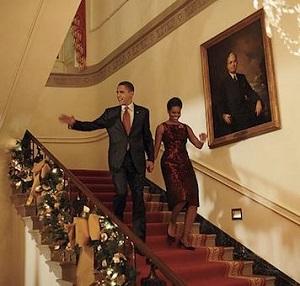 She was photographed in the same dress in 2009, descending the White House steps with her husband.

Related: The Dos and Don'ts of Fall 2012 Fashion Trends

Whether last night's outfit choice was a nod to economic austerity in the president's next term or just another chance to shop her closet, we're as thrilled as ever that the first lady is keeping it real with her wardrobe. We can't wait for four more years of cutting-edge fashion ... and inspiration to mix things up with our own favorite pieces! Bravo, Mrs. O, for making outfit repeats not just kosher, but cool.

Photos: AFP/Getty Images; White House Flickr

More from Glamour:
15 Gorgeous Hair Updates to Try
35 New Ways to Wear Your Jeans
30 Reasons Being a Woman Is Awesome
beauty tips and style advice
And before you ask, sorry, the $325 dress is SOLD OUT on Matches.com and DVF.com—you snooze, you loose.

Click through the slideshow to shop some of our spring favorites.

French braid? Been there. Fishtail? Done that. The newest styles are all about unexpected texture, major volume, and one man's wild imagination.

Long hair, don't care? Think again…

She dishes on the routine that keeps her looking polished, even when she's pulling up to the <i>Mad Men</i> set at 5 a.m. Plus, the fragrance that helps Christina get her Joan on.

For inspiration, we've rounded up gorgeous (and easy to replicate) wedding makeup looks from the red carpet.

With a few insider tricks, you can enjoy short hair 365 days of the year and have a gorgeous style on your wedding day. Wedding hairstyles for short hair do exist.

I'm beyond excited to finally ditch my winter coat and heavy layers, but I'm not so eager to ditch my tights. Let's just say my legs are not as smooth and bronzed as they were the last time I showed them off many, many months ago.

After a jam-packed week in New Zealand, Kate Middleton and Prince William finally enjoyed a day off, but as of last night (or this morning..? Ah, time change!) they're back on the road again.

These travel-sized beauty products will do double-duty while you're on the road.

Neatly sidestepping high fashion, the smiling, cheerful Kate Middleton is fast becoming the Duchess of Normcore.

This December, New Yorkers might notice something missing in the Christmas air.