Study: Men Like Cuddling, Women Prefer Sex
As relationships grow, are gender roles reversed?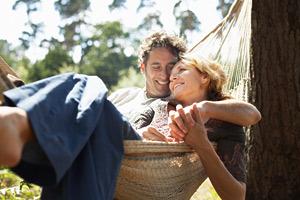 You know the old stereotype that the guy falls asleep right after sex, while the women wants to stay up and cuddle and talk? Well, according to a new study, that's a bunch of bull.
Okay, so researchers put it more eloquently in their 13-page study, titled, "Sexual Satisfaction and Relationship Happiness in Midlife and Older Couples in Five Countries."
Researchers at the Kinsey Institute found that, in long-term relationships, women are more interested in sex, while their male counterparts prefer to cuddle. The five countries targeted in the study were Brazil, Germany, Japan, Spain and the United States and 1,009 couples were studied in the final sample.
The study found that men's relationship satisfaction "depended on health, physical intimacy, and sexual function." But for women, "only sexual functioning predicted relationship satisfaction."
If you consider yourself a fairly progressive person but are somewhat baffled by these findings, you're not alone. It's not surprising that women in relationships enjoy sex, but isn't it a little surprising that they only enjoy sex? Psychologist Dr. Leahcim Semaj was also puzzled by the stats. He told the Jamaica Observer:
"My awareness is that women are the ones who are generally more attracted to cuddling and just being close and want to hug and so on…"
But counselor David Anderson says the study makes sense.
"Once they settle in, and realize the woman is in for the long haul, then the macho guard drops," he told the Observer. "[The man] suddenly becomes the needy baby, the one who can't bear to be in pain; the one who needs comfort when he has a boo-boo; the one who can't stand the sight of blood…"
Wow, okay, I think we get the point, Anderson. As the relationship progresses, men become more comfortable with their sensitive sides; therefore, they might need a little cuddle wuddle time. Totally understandable.
His explanation for the study is that, as the man in the relationship becomes more emotional, "the woman, who has never had an issue with expressing herself emotionally, will want to explore more sexually."
Cuddling? Been there, done that!
Photo: Paul Bradbury/Getty Images
fashion: trends & must-haves for your wardrobe
Ready to refresh your hair and makeup for spring? Well, look no further for your latest batch of inspiration. These ladies are bringing the beauty brilliance with megawatt lipstick shades, sleek haircuts, and must-try hair colors. Get ready to play copycat.

Long, layered, medium or wavy – we're sharing our favorite hairstyles of 2013 with a new 'do each day. Stuck in a hair rut? Check back daily for snappy new looks that are sure to give your locks some beauty inspiration.

Step into spring with style in June Ambrose's new shoe line for HSN.

Revamp your corporate look with graphic prints and bold color.

If you have only five makeup tools in your kit, make sure these are them. They do much more than just look cute on your vanity!

Think all it can do is shellac everything down, helmet-head style? So wrong! A can of whatever's in your cabinet is your secret beauty weapon. Try it like this.

You may not get wrinkles on your hair, but it ages all the same. Grays, dullness, thinning strands, and frizz are all (unfortunately) part of the hair's aging process, which starts happening in your 30s. The good news is that you don't need Botox to fix these problems. Here are six tips for hair that's shiny, bouncy, healthy—and, yes, younger looking.

Our fashion-savvy FLOTUS shows us she is truly a master at mixing high- and low-end designs.

Get ready for summer with these cute and easy to DIY nail art designs.

Brides, it's your big day and you want to look special. Please, whatever you do, don't wear one of these wedding dresses. These are truly the worst.

Even if you're the best friend of all time, no bridesmaid should ever have to wear these worst-ever bridesmaid dresses. Lace, ruffles and satin overload!

As your face changes, so should your hair—the right cut can shave years from your appearance. And while there's no such thing as an age-appropriate length, there are age-appropriate styles. Here, the 30 most gorgeous hairstyles for every age, as seen on Mila Kunis, Jessica Biel, Jennifer Aniston, Diane Keaton, and more.