Study: Men Like Cuddling, Women Prefer Sex
As relationships grow, are gender roles reversed?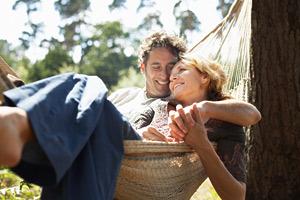 You know the old stereotype that the guy falls asleep right after sex, while the women wants to stay up and cuddle and talk? Well, according to a new study, that's a bunch of bull.
Okay, so researchers put it more eloquently in their 13-page study, titled, "Sexual Satisfaction and Relationship Happiness in Midlife and Older Couples in Five Countries."
Researchers at the Kinsey Institute found that, in long-term relationships, women are more interested in sex, while their male counterparts prefer to cuddle. The five countries targeted in the study were Brazil, Germany, Japan, Spain and the United States and 1,009 couples were studied in the final sample.
The study found that men's relationship satisfaction "depended on health, physical intimacy, and sexual function." But for women, "only sexual functioning predicted relationship satisfaction."
If you consider yourself a fairly progressive person but are somewhat baffled by these findings, you're not alone. It's not surprising that women in relationships enjoy sex, but isn't it a little surprising that they only enjoy sex? Psychologist Dr. Leahcim Semaj was also puzzled by the stats. He told the Jamaica Observer:
"My awareness is that women are the ones who are generally more attracted to cuddling and just being close and want to hug and so on…"
But counselor David Anderson says the study makes sense.
"Once they settle in, and realize the woman is in for the long haul, then the macho guard drops," he told the Observer. "[The man] suddenly becomes the needy baby, the one who can't bear to be in pain; the one who needs comfort when he has a boo-boo; the one who can't stand the sight of blood…"
Wow, okay, I think we get the point, Anderson. As the relationship progresses, men become more comfortable with their sensitive sides; therefore, they might need a little cuddle wuddle time. Totally understandable.
His explanation for the study is that, as the man in the relationship becomes more emotional, "the woman, who has never had an issue with expressing herself emotionally, will want to explore more sexually."
Cuddling? Been there, done that!
Photo: Paul Bradbury/Getty Images
beauty tips and style advice
OK, you're pushing 30 . . . don't panic! Even if you were a complete antiaging recluse in your 20s, there is still time to enter the next decade with endless grace and fewer wrinkles. And who better to steal skin care secrets from than the actresses who remain looking forever young? These Hollywood starlets may be in their 30s, but there's nary a dark spot in sight. Their beauty favorites range from drugstore classics to cult luxury elixirs and even a DIY recipe. With this shopping list under your belt, you can celebrate your 30s without a worry line in sight.

Instead of just slapping on five creams—then washing your face because, seriously, that stuff is heavy—follow the lead of the pros.

Forget about simple straightening--the flat iron is so much more versatile than that.

Assuming that you've had tons of practice doing your own makeup on a daily basis, attempting to do it yourself on your wedding day actually isn't that much more difficult. After all, no one knows your face better than you do, and chances are you have many of the tools and products that you need for the big day right at your fingertips—you just need to know how to use them.

There's a particular episode of 30 Rock ("Black Light Attack!", for all the fellow 30 Rock historians out there) in which Jane Krakowski's youth-obsessed character Jenna goes on a Gossip Girl audition. She thinks it's for the role of an Upper East Side high schooler, but as she learns in the middle of the tryout, it's for that of her mother instead. While Tina Fey's brilliant Liz Lemon later tries to talk Jenna off the cliff, she says, "You can try to fight getting older. You can be like Madonna, and cling to youth with your Gollum arms. Or you can be like Meryl Streep and embrace your age with elegance."

Save money and look great.