Study: Men Like Cuddling, Women Prefer Sex
As relationships grow, are gender roles reversed?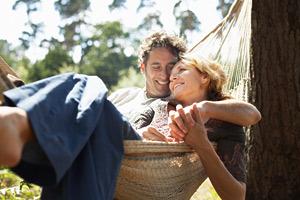 You know the old stereotype that the guy falls asleep right after sex, while the women wants to stay up and cuddle and talk? Well, according to a new study, that's a bunch of bull.
Okay, so researchers put it more eloquently in their 13-page study, titled, "Sexual Satisfaction and Relationship Happiness in Midlife and Older Couples in Five Countries."
Researchers at the Kinsey Institute found that, in long-term relationships, women are more interested in sex, while their male counterparts prefer to cuddle. The five countries targeted in the study were Brazil, Germany, Japan, Spain and the United States and 1,009 couples were studied in the final sample.
The study found that men's relationship satisfaction "depended on health, physical intimacy, and sexual function." But for women, "only sexual functioning predicted relationship satisfaction."
If you consider yourself a fairly progressive person but are somewhat baffled by these findings, you're not alone. It's not surprising that women in relationships enjoy sex, but isn't it a little surprising that they only enjoy sex? Psychologist Dr. Leahcim Semaj was also puzzled by the stats. He told the Jamaica Observer:
"My awareness is that women are the ones who are generally more attracted to cuddling and just being close and want to hug and so on…"
But counselor David Anderson says the study makes sense.
"Once they settle in, and realize the woman is in for the long haul, then the macho guard drops," he told the Observer. "[The man] suddenly becomes the needy baby, the one who can't bear to be in pain; the one who needs comfort when he has a boo-boo; the one who can't stand the sight of blood…"
Wow, okay, I think we get the point, Anderson. As the relationship progresses, men become more comfortable with their sensitive sides; therefore, they might need a little cuddle wuddle time. Totally understandable.
His explanation for the study is that, as the man in the relationship becomes more emotional, "the woman, who has never had an issue with expressing herself emotionally, will want to explore more sexually."
Cuddling? Been there, done that!
Photo: Paul Bradbury/Getty Images
beauty tips and style advice
Squeeze days out of your style with smart tricks from blowout queen Alli Webb, founder of Drybar.

Our favorite freckle-faced models and actresses.

Still searching for your dream wedding dress? You'll get a kick out of these fun facts about your most important wedding-day purchase.

From detachable tulle overskirts to romantic off-the-shoulder necklines, check out these emerging trends from the Spring 2015 bridal runways.

Who says you have to wear white on your wedding day? Get some colorful inspiration from these seven wedding dresses.

Since its inception in 1940, the International Best-Dressed List—revealed in Vanity Fair for the last decade—has lauded the most polished, eclectic, and stylish of dressers. From royalty to politicians, athletes to fashion designers, the poll is comprehensive in the personalities it celebrates. Those appearing multiple times over the years are considered for induction into the Hall of Fame—the List's highest honor.