Study: Men Like Cuddling, Women Prefer Sex
As relationships grow, are gender roles reversed?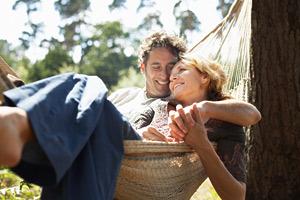 You know the old stereotype that the guy falls asleep right after sex, while the women wants to stay up and cuddle and talk? Well, according to a new study, that's a bunch of bull.
Okay, so researchers put it more eloquently in their 13-page study, titled, "Sexual Satisfaction and Relationship Happiness in Midlife and Older Couples in Five Countries."
Researchers at the Kinsey Institute found that, in long-term relationships, women are more interested in sex, while their male counterparts prefer to cuddle. The five countries targeted in the study were Brazil, Germany, Japan, Spain and the United States and 1,009 couples were studied in the final sample.
The study found that men's relationship satisfaction "depended on health, physical intimacy, and sexual function." But for women, "only sexual functioning predicted relationship satisfaction."
If you consider yourself a fairly progressive person but are somewhat baffled by these findings, you're not alone. It's not surprising that women in relationships enjoy sex, but isn't it a little surprising that they only enjoy sex? Psychologist Dr. Leahcim Semaj was also puzzled by the stats. He told the Jamaica Observer:
"My awareness is that women are the ones who are generally more attracted to cuddling and just being close and want to hug and so on…"
But counselor David Anderson says the study makes sense.
"Once they settle in, and realize the woman is in for the long haul, then the macho guard drops," he told the Observer. "[The man] suddenly becomes the needy baby, the one who can't bear to be in pain; the one who needs comfort when he has a boo-boo; the one who can't stand the sight of blood…"
Wow, okay, I think we get the point, Anderson. As the relationship progresses, men become more comfortable with their sensitive sides; therefore, they might need a little cuddle wuddle time. Totally understandable.
His explanation for the study is that, as the man in the relationship becomes more emotional, "the woman, who has never had an issue with expressing herself emotionally, will want to explore more sexually."
Cuddling? Been there, done that!
Photo: Paul Bradbury/Getty Images
beauty tips and style advice
Neatly sidestepping high fashion, the smiling, cheerful Kate Middleton is fast becoming the Duchess of Normcore.

This December, New Yorkers might notice something missing in the Christmas air.

When Madonna posted an image of herself wearing a full on Game of Thrones Khaleesi costume on Instagram last week we weren't exactly surprised—this is the woman who rolled into the Grammy Awards wearing a tuxedo and a grill earlier this winter, so why not celebrate the Jewish holiday of Purim with a leather corset and a pair of tiny dragons? Still, we were hypnotized by her white-blonde, braided Daenerys Targaryen hair. Functioning as a bleached out cultural weather vane of sorts, it tapped into multiple obsessions at once—the return of "Game of Thrones" to HBO, spring's new extreme hair lengths and, most notably, fashion's current platinum mania. Our own love of ice-blonde hair—which transforms any look from everyday to extraordinary—has been well documented of late, but last night's Game of Thrones premiere sent our platinum fever into overdrive. In celebration of fashion's favorite hair color, a look at the best platinum moments in history.

While you were sleeping, fast retail chain H&M H&M announced that its next designer collaboration is with Alexander Wang.

Formal, beachy, country club-chic or gorgeously rustic whatever the setting calls for, we've found a bevy of beautiful dresses to wear to a wedding this season.

Puffy, tired, weary no more. These tips take years off and create that "I slept great, thanks!" effect.