Study: Men Like Cuddling, Women Prefer Sex
As relationships grow, are gender roles reversed?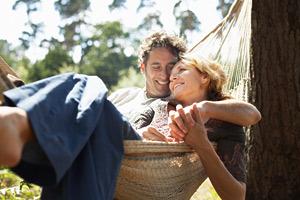 You know the old stereotype that the guy falls asleep right after sex, while the women wants to stay up and cuddle and talk? Well, according to a new study, that's a bunch of bull.
Okay, so researchers put it more eloquently in their 13-page study, titled, "Sexual Satisfaction and Relationship Happiness in Midlife and Older Couples in Five Countries."
Researchers at the Kinsey Institute found that, in long-term relationships, women are more interested in sex, while their male counterparts prefer to cuddle. The five countries targeted in the study were Brazil, Germany, Japan, Spain and the United States and 1,009 couples were studied in the final sample.
The study found that men's relationship satisfaction "depended on health, physical intimacy, and sexual function." But for women, "only sexual functioning predicted relationship satisfaction."
If you consider yourself a fairly progressive person but are somewhat baffled by these findings, you're not alone. It's not surprising that women in relationships enjoy sex, but isn't it a little surprising that they only enjoy sex? Psychologist Dr. Leahcim Semaj was also puzzled by the stats. He told the Jamaica Observer:
"My awareness is that women are the ones who are generally more attracted to cuddling and just being close and want to hug and so on…"
But counselor David Anderson says the study makes sense.
"Once they settle in, and realize the woman is in for the long haul, then the macho guard drops," he told the Observer. "[The man] suddenly becomes the needy baby, the one who can't bear to be in pain; the one who needs comfort when he has a boo-boo; the one who can't stand the sight of blood…"
Wow, okay, I think we get the point, Anderson. As the relationship progresses, men become more comfortable with their sensitive sides; therefore, they might need a little cuddle wuddle time. Totally understandable.
His explanation for the study is that, as the man in the relationship becomes more emotional, "the woman, who has never had an issue with expressing herself emotionally, will want to explore more sexually."
Cuddling? Been there, done that!
Photo: Paul Bradbury/Getty Images
beauty tips and style advice
For any trade, it's totally counterintuitive that an industry could so obviously not cater to the largest demographic out there — but that's exactly how the plus-size world is.

Sorry, Kate Upton. You may be having a moment now, but the lovely supermodels of the '90s (and '80s) have been going strong for decades, and their careers and stunning looks are showing no signs of slowing down. In fact, we think they've only gotten sexier throughout the years.

Look stylish, even when you have absolutely no idea what to wear, with these totally amazing style hacks.

Your strands are saying more than you think. Not only can your facial features tell you a thing or two about yourself, "your hairstyle can also reveal things about you," Jean Haner, an expert in face reading and author of The Wisdom of Your Face, says. Here, Haner tells what your strands most likely are saying about you, based on her studies in 3,000-year-old face reading derived from Chinese medicine.

Realized that pixie or bob haircut isn't for you? Luckily, it is possible to make a graceful transition back to long.

Not everyone was pleased with free copy of 'GQ" featuring Emily Ratajkowski.

Not everyone was pleased with free copy of 'GQ" featuring Emily Ratajkowski.

Could you go that long without using cosmetics?

Controversial.... Or empowering?

From a young age, little girls learn the word "pretty," but in the last few years, everything has been changing — for the better.

If you want to look picture-perfect in your beautiful wedding dress, you have to invest in the proper undergarments. From comfy shapewear to no-slip strapless bras, we've got answers to every burning question you have about what you need to wear beneath that gown. Your next dress fitting just got way easier. Q: I'm plus-size. [...]

You've seen many a star hit the red carpet in glamorous curls. But, most of the time, these coiled updos come courtesy of a curling iron, which leaves us craving some all-natural inspiration.