Did you hear? Victoria's Secret saved the day for the National Guard (really!)
The National Guard came to the rescue of many victims of Hurricane Sandy during the past week, but they couldn't have done it without help from Victoria's Secret.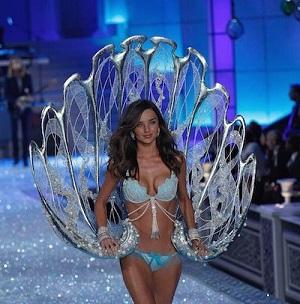 by
Amy Wicks
,
Glamour Magazine
Yes, you read that correctly!
When the hurricane hit the armory of the New York Army National Guard's 69th Infantry Regiment, leaving soldiers without power, Internet or hot water, the officers reached out to Victoria's Secret. The lingerie brand had already begun the setup for its annual fashion show (which will take place at the armory in New York City on Wednesday).

Related: 10 Wardrobe Essentials Every Woman Should Own

According to
Wired
, via The Cut, the fashion show setup included eight generators, and producers turned the lights on early to help the National Guard. "We were dead in the water until Victoria's Secret showed up," Capt. Brendan Gendron, the Regiment's operations officer, told Wired.
Related: 30 Reasons Being a Woman Is Awesome
Victoria's Secret provided not only heat and light to the National Guard. It also activated its T1 line, so with the help of a few routers, the soldiers were able to get back online.
Finally, Victoria's Secret provided use of its forklift to help load pallets of food into trucks from the Federal Emergency Management Agency that had been delivered to the armory so that it could be sent to shelters and distribution areas around the city
There have been countless examples of people coming together to help victims of Hurricane Sandy, but it's nice to see how quickly Victoria's Secret moved to make sure the National Guard was able to do its job.

Were you affected by Hurricane Sandy? Share your stories here.

Photo: Getty Images

More from Glamour:
18 Inspiring Quotes From Dangerous Women
DOs and DON'Ts for Female Entrepreneurs
10 Things Girls Always Do in Movies and Never Do in Real Life
beauty tips and style advice
Sunglasses: it may seem counterintuitive to invest in a wintertime accessory traditionally viewed as a sunny, warm-weather item. But spring is on the way and we're also currently being exposed to crazy amounts of UV rays—and then, of course, there's the reflective snow situation.

Some people look younger than they are, some look older. Even those with easy access to BOTOX and personal trainers. Can you guess the age of these celebrities?

Did anyone else hear wedding bells on the Oscars red carpet last night?

Then after the show, er, Oscars, it's the after party. Then after the party, it's the... Best Dressed List, of course. Nikki already picked her tops for the Academy Awards red carpet (did you vote yet?), so now it's time to see what the stars wore to the post-celebrations.

As I continue my personal campaign to swap out E!'s mani cam with a back-of-updo cam (and as a service to all the hardworking hairstylists who spent so much time creating beautiful hair looks for the 2014 Oscars), I'd like to point out that we miss a lot of gorgeous detail when we don't get the back view of a star's hair.

The bold new trend on the Oscars red carpet.

Trying new hairstyles is fun (have you picked up Allure Hair: The Ultimate How-To Hair Guide yet?).

When someone says "Julia Roberts," you think teeth. You think hair. But while you may not immediately think fashion, she has had a pretty consistent—and consistently pretty—style since her Mystic Pizza days: clean, classic, menswear-inspired looks that let her natural beauty—and rightly famous smile—take center stage. Here's how she has elevated that look over the years.

Lupita Nyong'o shows off the power of the pixie on the Oscars red carpet.

Walk a mile in a pair of SJP's stilettos? Well yes, we'd love to; thank you for asking.

Anti-aging doesn't have to take over your life. Here, expert tweaks to slow the clock.

We're at the tail end of a jam-packed awards season, with the grand finale—the Oscars, duh—just a few days away. We can't wait to see what our favorite nominees wear—we already know Jennifer Lawrence will step out in a breathtaking Dior, while we hope to see Lupita Nyong'o pick another brilliantly bold monochromatic gown. As for which designer she'll select—Gucci? Ralph Lauren?—that's anyone's guess.