Do You Like McDonald's New "Mad Men"-Inspired Uniforms?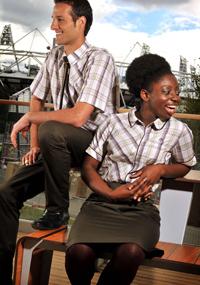 We're not the only ones obsessed with the life (and the wardrobe) of Don Draper and the rest of the Mad Men crew. McDonald's is hopping on the 60's fashion trend with their Mad Men-inspired uniforms.

The fast food restaurant chain hired designer Wayne Hemingway to help update the uniforms of United Kingdom McDonalds employees.

"There's just a little bit of Mad Men," Hemingway told the Telegraph, "harking back to a day of really classy air travel."

The new duds include pencil skirts and piped button downs with Peter Pan collars for women, and skinny ties for men, all fashioned in mustard, gherkin green and light plaid. "We wanted classic design. A narrow tie will always be fashionable," Hemingway said. "There is a very subtle hint to the mod look, which has never gone out of fashion."

Now, if only we could get Jon Hamm to serve us our fries.

Tell us: Do you like the new uniforms?

Photo: Courtesy of McDonalds


Eugh, I am not wearing that. Yes, I work for McDonald's and I'd just like to start by saying that the colour scheme is hideous. I mean, have you even thought about the practicality of that? I believe we will be wearing our hats and hair nets, as stated by our food and hygiene practice. The ties, well managers already wear ties. I believe they tuck them into their shirt. I refuse to wear a skirt, I don't care if I'm a customer care assistant, I'm not wearing it. The shirt looks uncomfortable, the skirt even more so but the trouser option looks way too manly. So we can't win here? Guess I'll be leaving pretty damn soon. I am just hoping to high heavens that this abomination doesn't come to our school. Look, the trousers and black polo shirt do me fine. Rant over.

Where are the hats? I don't like or want hair in my food thanks. Also , ties? Where's your health and safety savvy? Fried tie will be on the menu soon then will it? 99p special I hope? And you're really going to subject your female staff to sexual abuse by drunken louts when they are clearing the dining area by having them wear skirts? Glad I don't work for McDonalds.
maybe you should learn to spell properly before you talk about mcdonalds employees keith scott, people who work there would rather work for a living than sit on benefits or post ridiculous and offensive comments on a blog post, also if you dont like the food, maybe you should go to burger king or kfc, you sound like an ad campaign for a lesser known brand

Are you sure you want to delete this comment?
beauty tips and style advice
Squeeze days out of your style with smart tricks from blowout queen Alli Webb, founder of Drybar.

Our favorite freckle-faced models and actresses.

Still searching for your dream wedding dress? You'll get a kick out of these fun facts about your most important wedding-day purchase.

From detachable tulle overskirts to romantic off-the-shoulder necklines, check out these emerging trends from the Spring 2015 bridal runways.

Who says you have to wear white on your wedding day? Get some colorful inspiration from these seven wedding dresses.

Since its inception in 1940, the International Best-Dressed List—revealed in Vanity Fair for the last decade—has lauded the most polished, eclectic, and stylish of dressers. From royalty to politicians, athletes to fashion designers, the poll is comprehensive in the personalities it celebrates. Those appearing multiple times over the years are considered for induction into the Hall of Fame—the List's highest honor.