Do You Like McDonald's New "Mad Men"-Inspired Uniforms?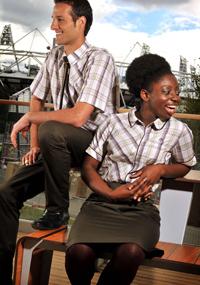 We're not the only ones obsessed with the life (and the wardrobe) of Don Draper and the rest of the Mad Men crew. McDonald's is hopping on the 60's fashion trend with their Mad Men-inspired uniforms.

The fast food restaurant chain hired designer Wayne Hemingway to help update the uniforms of United Kingdom McDonalds employees.

"There's just a little bit of Mad Men," Hemingway told the Telegraph, "harking back to a day of really classy air travel."

The new duds include pencil skirts and piped button downs with Peter Pan collars for women, and skinny ties for men, all fashioned in mustard, gherkin green and light plaid. "We wanted classic design. A narrow tie will always be fashionable," Hemingway said. "There is a very subtle hint to the mod look, which has never gone out of fashion."

Now, if only we could get Jon Hamm to serve us our fries.

Tell us: Do you like the new uniforms?

Photo: Courtesy of McDonalds


Eugh, I am not wearing that. Yes, I work for McDonald's and I'd just like to start by saying that the colour scheme is hideous. I mean, have you even thought about the practicality of that? I believe we will be wearing our hats and hair nets, as stated by our food and hygiene practice. The ties, well managers already wear ties. I believe they tuck them into their shirt. I refuse to wear a skirt, I don't care if I'm a customer care assistant, I'm not wearing it. The shirt looks uncomfortable, the skirt even more so but the trouser option looks way too manly. So we can't win here? Guess I'll be leaving pretty damn soon. I am just hoping to high heavens that this abomination doesn't come to our school. Look, the trousers and black polo shirt do me fine. Rant over.

Where are the hats? I don't like or want hair in my food thanks. Also , ties? Where's your health and safety savvy? Fried tie will be on the menu soon then will it? 99p special I hope? And you're really going to subject your female staff to sexual abuse by drunken louts when they are clearing the dining area by having them wear skirts? Glad I don't work for McDonalds.
maybe you should learn to spell properly before you talk about mcdonalds employees keith scott, people who work there would rather work for a living than sit on benefits or post ridiculous and offensive comments on a blog post, also if you dont like the food, maybe you should go to burger king or kfc, you sound like an ad campaign for a lesser known brand

Are you sure you want to delete this comment?
beauty tips and style advice
Check out these mind-blowing runway photos.

Click to see 10 must-have hair tools to streamline your beauty routine.

See 9 of the prettiest holiday hair accessories for the holidays.

Here's how to choose the neckline style that looks best on you.

Sure, a little black dress or le smoking is always on par for the party scene, but who says holiday dressing has to be so cut and dry? We have 15 ideas for switching it up this season—getting festive just got a whole lot more fun.

Super-fast (and easy) hair, makeup, and nail ideas that'll make you party-ready in minutes. Sorry, no more last-minute bailing because you're running late.

From straight and sleek to intricate braids and sky high topknots, some celebs just know how to do party hair

From a structured blazer to that awe-inducing statement clutch, Rachel Zoe shares her picks for December dressing with InStyle.com exclusively.

Simple style tricks to help your hair look better in an instant.

7 hairstyles to try this holiday season.

You know that classic nightmare where you walk into school or work completely naked? That's how I feel when I'm having a bad hair day. Like I don't want anyone to look at me and it takes everything I have not to immediately turn around and run back home.

Victoria Beckham will share her fashion story and give inside access to her brand via The Skype Collaboration Project in January 2014.