The 90s Are Now Officially "Vintage" According to the People Who Deem Things Vintage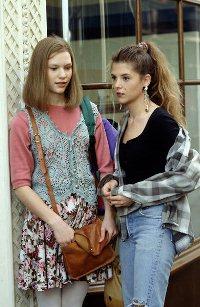 by Danica Lo, Glamour Magazine

Today in things that may or may not make you feel old: according to the people who officially deem things "vintage"—turns out, "vintage" isn't just synonymous with "really old"—clothes and accessories from the 1990s can now officially be deemed vintage.

My favorite 90s show: My So Called Life

A few months ago, we told you about how LA's Decades co-founder Cameron Silver was on the hunt for vintage 90s items, and today, Catwalk Queen reports that Patricia Dillon, the Divisional Leader of Design and Applied Arts at the University of Wolverhampton, has decreed:
For something to be classed as Vintage it needs to be of sufficient quality of design and creative execution for it to stand the test of time and be relevant and desirable to future discerning generations. The 90s are now officially classified as Vintage because we are two decades on and a new generation is starting to discover and enjoy the creative fruits of musicians, designers, artists and film makers who delivered their ideas 20 years ago.
What does this mean? Well, things that were popular in the 90s—like grunge, big shoes, neon, babydoll dresses, neo-preppy, and Euro-designer monograms (everywhere, on everything)—are back in a big way. What do you think about that?

Related: 10 Shoes Every Woman Should Own

What trends from the 90s are you excited to see come back? What trends from the 90s do you hope will never rear their ugly heads? I'm totally into the big shoe + grunge trend. Heck, I'm even kind of in the mood for big Euro monograms to make their comebacks. Babydoll dresses, though? Hm.

Related: The 25 Hottest Celebs of 2012

Photo: Courtesy Photo

More from Glamour:
57 Jaw-Dropping Gorgeous Wedding Gowns
Beautiful Engagement Rings, All Less Than $1,000
Best Spring Dresses for Your Body Shape

beauty tips and style advice
One shopper's tweet of the emaciated-looking figure forced the store to take action.

Once the summer heat kicks in, it's all we can do not to slip into the breeziest beach dresses and flip-flops for the morning commute. So trust us when we say we understand that the humidity can have a powerful effect on your wardrobe — still, there are some things you just can't wear to your place of employment, no matter how hot it gets.

Wrinkle no blouse, tangle no jewelry, leave no beauty product behind, and still have room to spare.

Hue-changing dos we absolutely love.

Why your jean size varies from store to store.

Wait a month between waxing visits? Check. Pop a preappointment Advil? Duh. We all know the basics, but here are the tricks you don't know.

What to always—and never, ever—do to keep hair in top shape.

Get inspired to try these sweet and summery looks.

Stunning wedding styles that create a statement.

I attended the Abercrombie and Fitch holiday-season press preview yesterday, and in between checking out the cute gear that will hit stores this November, I picked up a little nugget of information I just have to share.

How to wear this cool-weather staple in the summer.

See how Miranda Kerr made a pair of Birkenstocks chic.