The 90s Are Now Officially "Vintage" According to the People Who Deem Things Vintage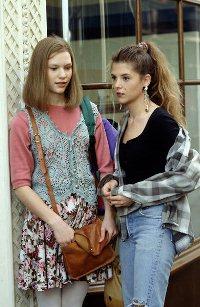 by Danica Lo, Glamour Magazine

Today in things that may or may not make you feel old: according to the people who officially deem things "vintage"—turns out, "vintage" isn't just synonymous with "really old"—clothes and accessories from the 1990s can now officially be deemed vintage.

My favorite 90s show: My So Called Life

A few months ago, we told you about how LA's Decades co-founder Cameron Silver was on the hunt for vintage 90s items, and today, Catwalk Queen reports that Patricia Dillon, the Divisional Leader of Design and Applied Arts at the University of Wolverhampton, has decreed:
For something to be classed as Vintage it needs to be of sufficient quality of design and creative execution for it to stand the test of time and be relevant and desirable to future discerning generations. The 90s are now officially classified as Vintage because we are two decades on and a new generation is starting to discover and enjoy the creative fruits of musicians, designers, artists and film makers who delivered their ideas 20 years ago.
What does this mean? Well, things that were popular in the 90s—like grunge, big shoes, neon, babydoll dresses, neo-preppy, and Euro-designer monograms (everywhere, on everything)—are back in a big way. What do you think about that?

Related: 10 Shoes Every Woman Should Own

What trends from the 90s are you excited to see come back? What trends from the 90s do you hope will never rear their ugly heads? I'm totally into the big shoe + grunge trend. Heck, I'm even kind of in the mood for big Euro monograms to make their comebacks. Babydoll dresses, though? Hm.

Related: The 25 Hottest Celebs of 2012

Photo: Courtesy Photo

More from Glamour:
57 Jaw-Dropping Gorgeous Wedding Gowns
Beautiful Engagement Rings, All Less Than $1,000
Best Spring Dresses for Your Body Shape

fashion: trends & must-haves for your wardrobe
Step into spring with style in June Ambrose's new shoe line for HSN.

Revamp your corporate look with graphic prints and bold color.

You may not get wrinkles on your hair, but it ages all the same. Grays, dullness, thinning strands, and frizz are all (unfortunately) part of the hair's aging process, which starts happening in your 30s. The good news is that you don't need Botox to fix these problems. Here are six tips for hair that's shiny, bouncy, healthy—and, yes, younger looking.

Our fashion-savvy FLOTUS shows us she is truly a master at mixing high- and low-end designs.

Long, layered, medium or wavy – we're sharing our favorite hairstyles of 2013 with a new 'do each day. Stuck in a hair rut? Check back daily for snappy new looks that are sure to give your locks some beauty inspiration.

Get ready for summer with these cute and easy to DIY nail art designs.

Brides, it's your big day and you want to look special. Please, whatever you do, don't wear one of these wedding dresses. These are truly the worst.

Even if you're the best friend of all time, no bridesmaid should ever have to wear these worst-ever bridesmaid dresses. Lace, ruffles and satin overload!

As your face changes, so should your hair—the right cut can shave years from your appearance. And while there's no such thing as an age-appropriate length, there are age-appropriate styles. Here, the 30 most gorgeous hairstyles for every age, as seen on Mila Kunis, Jessica Biel, Jennifer Aniston, Diane Keaton, and more.

Stuck in a office-look-rut? Let some of history's most smartly dressed women inspire your everyday uniform.

Few spots are as fashionable as the Cannes Film Festival red carpet. Celebrity style stars pull out all the stops—because if you can't wear a fabulous dress at one of the film industry's biggest events, in one of the world's most glamorous locales, when can you? Here are 25 of the masterpieces we still can't stop staring at.

From demure dresses to covetable coats, the Duchess of Cambridge has a maternity wardrobe that would make any grown woman wish she could be a princess. Click through the gallery to see some of her most stylish looks while pregnant.