The 90s Are Now Officially "Vintage" According to the People Who Deem Things Vintage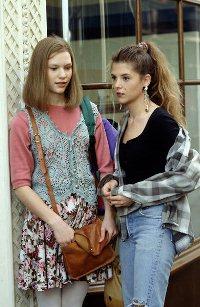 by Danica Lo, Glamour Magazine

Today in things that may or may not make you feel old: according to the people who officially deem things "vintage"—turns out, "vintage" isn't just synonymous with "really old"—clothes and accessories from the 1990s can now officially be deemed vintage.

My favorite 90s show: My So Called Life

A few months ago, we told you about how LA's Decades co-founder Cameron Silver was on the hunt for vintage 90s items, and today, Catwalk Queen reports that Patricia Dillon, the Divisional Leader of Design and Applied Arts at the University of Wolverhampton, has decreed:
For something to be classed as Vintage it needs to be of sufficient quality of design and creative execution for it to stand the test of time and be relevant and desirable to future discerning generations. The 90s are now officially classified as Vintage because we are two decades on and a new generation is starting to discover and enjoy the creative fruits of musicians, designers, artists and film makers who delivered their ideas 20 years ago.
What does this mean? Well, things that were popular in the 90s—like grunge, big shoes, neon, babydoll dresses, neo-preppy, and Euro-designer monograms (everywhere, on everything)—are back in a big way. What do you think about that?

Related: 10 Shoes Every Woman Should Own

What trends from the 90s are you excited to see come back? What trends from the 90s do you hope will never rear their ugly heads? I'm totally into the big shoe + grunge trend. Heck, I'm even kind of in the mood for big Euro monograms to make their comebacks. Babydoll dresses, though? Hm.

Related: The 25 Hottest Celebs of 2012

Photo: Courtesy Photo

More from Glamour:
57 Jaw-Dropping Gorgeous Wedding Gowns
Beautiful Engagement Rings, All Less Than $1,000
Best Spring Dresses for Your Body Shape

beauty tips and style advice
These travel-sized beauty products will do double-duty while you're on the road.

And before you ask, sorry, the $325 dress is SOLD OUT on Matches.com and DVF.com—you snooze, you loose.

Click through the slideshow to shop some of our spring favorites.

French braid? Been there. Fishtail? Done that. The newest styles are all about unexpected texture, major volume, and one man's wild imagination.

Long hair, don't care? Think again…

She dishes on the routine that keeps her looking polished, even when she's pulling up to the <i>Mad Men</i> set at 5 a.m. Plus, the fragrance that helps Christina get her Joan on.

For inspiration, we've rounded up gorgeous (and easy to replicate) wedding makeup looks from the red carpet.

With a few insider tricks, you can enjoy short hair 365 days of the year and have a gorgeous style on your wedding day. Wedding hairstyles for short hair do exist.

I'm beyond excited to finally ditch my winter coat and heavy layers, but I'm not so eager to ditch my tights. Let's just say my legs are not as smooth and bronzed as they were the last time I showed them off many, many months ago.

After a jam-packed week in New Zealand, Kate Middleton and Prince William finally enjoyed a day off, but as of last night (or this morning..? Ah, time change!) they're back on the road again.

Neatly sidestepping high fashion, the smiling, cheerful Kate Middleton is fast becoming the Duchess of Normcore.

This December, New Yorkers might notice something missing in the Christmas air.