The 90s Are Now Officially "Vintage" According to the People Who Deem Things Vintage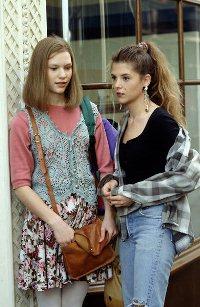 by Danica Lo, Glamour Magazine

Today in things that may or may not make you feel old: according to the people who officially deem things "vintage"—turns out, "vintage" isn't just synonymous with "really old"—clothes and accessories from the 1990s can now officially be deemed vintage.

My favorite 90s show: My So Called Life

A few months ago, we told you about how LA's Decades co-founder Cameron Silver was on the hunt for vintage 90s items, and today, Catwalk Queen reports that Patricia Dillon, the Divisional Leader of Design and Applied Arts at the University of Wolverhampton, has decreed:
For something to be classed as Vintage it needs to be of sufficient quality of design and creative execution for it to stand the test of time and be relevant and desirable to future discerning generations. The 90s are now officially classified as Vintage because we are two decades on and a new generation is starting to discover and enjoy the creative fruits of musicians, designers, artists and film makers who delivered their ideas 20 years ago.
What does this mean? Well, things that were popular in the 90s—like grunge, big shoes, neon, babydoll dresses, neo-preppy, and Euro-designer monograms (everywhere, on everything)—are back in a big way. What do you think about that?

Related: 10 Shoes Every Woman Should Own

What trends from the 90s are you excited to see come back? What trends from the 90s do you hope will never rear their ugly heads? I'm totally into the big shoe + grunge trend. Heck, I'm even kind of in the mood for big Euro monograms to make their comebacks. Babydoll dresses, though? Hm.

Related: The 25 Hottest Celebs of 2012

Photo: Courtesy Photo

More from Glamour:
57 Jaw-Dropping Gorgeous Wedding Gowns
Beautiful Engagement Rings, All Less Than $1,000
Best Spring Dresses for Your Body Shape

beauty tips and style advice
If you're one of the lucky ones heading out of town for spring break, anticipating warm weather and sun-filled days (seriously, will it ever get above 50 degrees here in NYC?), make sure you pack all the essentials. I picked the best spring break must-haves so you can focus on the important things in life— like figuring out which boardwalk bar serves the best margaritas.

Men, get it together! First, facial hair transplants; now, monocles?!?!

As Fashion Month winds to a close and we bid adieu to awards season, the time has come to embrace yet another several month-long string of entertainment and celebrity-studded events: festival season. Ahead of Coachella's flower crowns, South by Southwest hit Austin, Texas this weekend for its annual week of music, film and interactive (read: technology) shows, panels and performances.

Famous brides may have access to elite designers that most of us can only dream of, but we can all delight in the statements they make on their big days. In honor of the pending nuptials of Kim Kardashian and Kanye West, let's take a look at some recent and past famous gorgeous gowns.

From pretty pastels to bold brights and cool textures, up your #ManicureMonday game with spring's top nail polish trends!

Even if everyone at school will be rocking their most festive shades of emerald on March 17, you don't want to end up looking like a Leprechaun in head-to-toe green.

Neutral tones and beautiful metallics were a huge trend on the Oscars red carpet. And we saw so many dresses that would be exceptionally beautiful walking down the aisle. Here are our favorites!

Sorry, winter, we're way over you. It's time to refresh your look for spring with bold lippies, fun nail art and major brows—here's how to rock the hottest new trends, just like these stylish celebs!

Time to say buh-bye to the same old, played-out 'dos. Celebrity stylist Jen Atkin tells you how to update these 7 classic hairstyles for spring.

How to dress your baby bump.

Things we learned backstage at the fall 2014 runway shows: Bold brows aren't going anywhere, bright green can actually look subtle, and glitter is amazing almost anywhere (within reason). Here, our favorite makeup looks of the season so far.

The fall runways showcased a broad range of hairstyles—braids, buns, ponytails, and even wigs. But there were unifying themes, too: A pervasive sense of ease; experimentation with texture; and an apparent belief that anything goes.