These Jeans Are Also a Picnic Table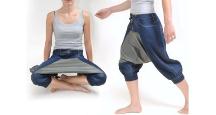 by Natalie Matthews,
Lucky Magazine
Picnicking's a quaint, lovely afternoon activity for people who toss their head back when they laugh and keep bottles of rosé perma-chilling in their fridge between wheels of exotic $20 cheeses. (See: romantic comedy stars, Gwyneth Paltrow.)
But it's also a surefire way to smear jam or dribble drinks on whatever blanket or towel you're sitting on—a minor, non-glamorous detail that's seemingly insignificant, until you go and invent
picnic table jeans
, like this Acquacalda company.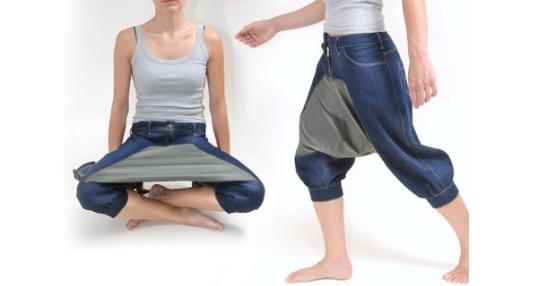 I'm pretty sure they're supposed to fall into the high-tech, multi-purpose fashion category (
pants that purify the air
,
glasses that text your friends
). Yet they don't make sense to me. I get that they serve as jeans before you sit down and a table right as you sit down. But the second food or drinks spill on that
table-pouch-lap-thin​g,
you don't have high-tech "Picnic Jeans!" anymore. You just have a dirty napkin sewn in between your pant legs.
That's not exactly ideal for running errands, so I'd imagine the multi-functional excitment ends there. And I'm not even gonna address the, uh, interesting way they look. But maybe I'm just biased since my tolerance for multi-purpose fashion starts and ends with reversible string bikinis. I don't know. Would you wear them?
More from Lucky:
beauty tips and style advice
And before you ask, sorry, the $325 dress is SOLD OUT on Matches.com and DVF.com—you snooze, you loose.

Click through the slideshow to shop some of our spring favorites.

French braid? Been there. Fishtail? Done that. The newest styles are all about unexpected texture, major volume, and one man's wild imagination.

Long hair, don't care? Think again…

She dishes on the routine that keeps her looking polished, even when she's pulling up to the <i>Mad Men</i> set at 5 a.m. Plus, the fragrance that helps Christina get her Joan on.

For inspiration, we've rounded up gorgeous (and easy to replicate) wedding makeup looks from the red carpet.

With a few insider tricks, you can enjoy short hair 365 days of the year and have a gorgeous style on your wedding day. Wedding hairstyles for short hair do exist.

I'm beyond excited to finally ditch my winter coat and heavy layers, but I'm not so eager to ditch my tights. Let's just say my legs are not as smooth and bronzed as they were the last time I showed them off many, many months ago.

After a jam-packed week in New Zealand, Kate Middleton and Prince William finally enjoyed a day off, but as of last night (or this morning..? Ah, time change!) they're back on the road again.

These travel-sized beauty products will do double-duty while you're on the road.

Neatly sidestepping high fashion, the smiling, cheerful Kate Middleton is fast becoming the Duchess of Normcore.

This December, New Yorkers might notice something missing in the Christmas air.