Victoria's Secret apologizes about American Indian outfit
The lingerie giant is apologizing after an outfit that debuted in their annual fashion show last week caused controversy.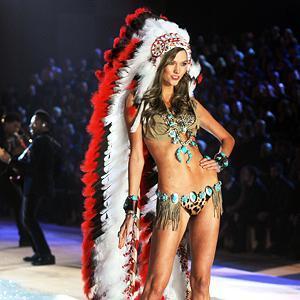 According to the Telegraph, numerous complaints arose across the globe after the lingerie company debuted an American Indian headdress look by model Karlie Kloss during their fashion show in New York last week.

The company will remove the look from their December 4th broadcast and they posted this message on their Facebook page: "We are sorry that the American Indian headdress replica used in our recent fashion show has upset individuals. We sincerely apologize as we absolutely had no intention to offend anyone. Out of respect, we will not be including the outfit in any broadcast, marketing materials nor in any other way." The apology has already received over 10,000 Likes and Karlie Kloss also apologized on her personal Twitter page.
Native Appropriations posted this on their blog: "The frustrating thing is this comes on the heels of the No Doubt "Looking Hot" controversy, where the band pulled their music video within a day of it being released because of the use of extremely stereotypical and offensive Native imagery and a huge outcry from the Native (and ally) community. That happened like last weekend. As in less than 7 days ago. And NOBODY at Victoria's Secret saw one of the hundreds of articles about No Doubt and thought, hm, maybe we shouldn't include a woman in a headdress and a fake buckskin bikini? And the bikini. Can we talk about the bikini? I love the inclusion of the leopard. Why don't we just go full-on generic "savage" while we're at it. As one of my witty FB followers reminded us, "They say Native Americans used every part of the leopard." Ha. But serious eyeroll on that choice. Not to mention the fake turquoise/Navajo/sou​thwest jewelry with a plains headdress. LOL, all indigenous pplz, they r teh samez. Snark aside, there is a bigger issue here. Besides the daily harm of these ongoing microaggressions for Native folks, the sexualization of Native women continues to be an ignored and continuing epidemic."
Bing: See more Victoria's Secret controversies

More on Simply Chic:
Would you wear jean sandal boots?
Plus-size models may boost body image 
The 5 craziest looks from the Victoria's Secret fashion show
 Tell us: Were you offended by this Victoria's Secret costume?

Photo: Jamie McCarthy/Getty Images
beauty tips and style advice
Stunning wedding styles that create a statement.

Hue-changing dos we absolutely love.

In case you weren't already overwhelmed enough by the daunting task of jeans shopping (or really, clothes shopping in general), our friends over at Racked published a handy little infographic today comparing the sizing of a variety of different retailers that you've likely frequented at least a handful of times in your lifetime.

I attended the Abercrombie and Fitch holiday-season press preview yesterday, and in between checking out the cute gear that will hit stores this November, I picked up a little nugget of information I just have to share.

How to wear this cool-weather staple in the summer.

See how Miranda Kerr made a pair of Birkenstocks chic.

We love how a new nail polish has the ability to instantly change your look and your mood with a simple swipe. While happy lime greens and aquas are ruling the five million #nailpolish Instagrams this summer, there are a variety of great colors to choose from—whether you want an office-appropriate neutral or a fun going-out shade that'll give your LBD a punch of color.

You already know wearing white after Labor Day is cool. But menswear is reinventing itself rapidly, leaving some long-held mandates by the wayside, not to mention a bunch of men with a lot of questions. Sure, some style laws are truly inviolable. Showing a quarter-inch of cuff will always be crucial, but with designers and dandies flaunting so many former taboos it's hard to tell what's in play these days. So we thought we'd take this opportunity to let you know which rules no longer apply.

Put down the wrinkled button-down, step away from the Crocs, and open your closet. We need to talk about the new rules of casual.

Buying a brush is like getting a new smartphone: once you learn how to use it, it's indispensable.

Surfers are the epitome of cool, laid-back American style. And if we can't be them, at least we can copy their hair.

It's time for bridal beauty to loosen up. Hair doesn't have to be tightly wound, makeup perfectly contoured, and nails French manicured (on this last point, really, please don't). You can, in fact, look gorgeously and timelessly cool at your wedding. Here's how.