Victoria's Secret apologizes about American Indian outfit
The lingerie giant is apologizing after an outfit that debuted in their annual fashion show last week caused controversy.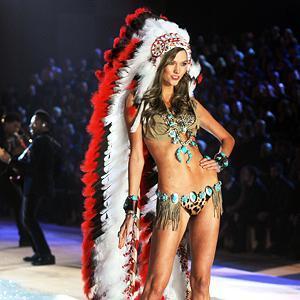 According to the Telegraph, numerous complaints arose across the globe after the lingerie company debuted an American Indian headdress look by model Karlie Kloss during their fashion show in New York last week.

The company will remove the look from their December 4th broadcast and they posted this message on their Facebook page: "We are sorry that the American Indian headdress replica used in our recent fashion show has upset individuals. We sincerely apologize as we absolutely had no intention to offend anyone. Out of respect, we will not be including the outfit in any broadcast, marketing materials nor in any other way." The apology has already received over 10,000 Likes and Karlie Kloss also apologized on her personal Twitter page.
Native Appropriations posted this on their blog: "The frustrating thing is this comes on the heels of the No Doubt "Looking Hot" controversy, where the band pulled their music video within a day of it being released because of the use of extremely stereotypical and offensive Native imagery and a huge outcry from the Native (and ally) community. That happened like last weekend. As in less than 7 days ago. And NOBODY at Victoria's Secret saw one of the hundreds of articles about No Doubt and thought, hm, maybe we shouldn't include a woman in a headdress and a fake buckskin bikini? And the bikini. Can we talk about the bikini? I love the inclusion of the leopard. Why don't we just go full-on generic "savage" while we're at it. As one of my witty FB followers reminded us, "They say Native Americans used every part of the leopard." Ha. But serious eyeroll on that choice. Not to mention the fake turquoise/Navajo/sou​thwest jewelry with a plains headdress. LOL, all indigenous pplz, they r teh samez. Snark aside, there is a bigger issue here. Besides the daily harm of these ongoing microaggressions for Native folks, the sexualization of Native women continues to be an ignored and continuing epidemic."
Bing: See more Victoria's Secret controversies

More on Simply Chic:
Would you wear jean sandal boots?
Plus-size models may boost body image 
The 5 craziest looks from the Victoria's Secret fashion show
 Tell us: Were you offended by this Victoria's Secret costume?

Photo: Jamie McCarthy/Getty Images
beauty tips and style advice
She's followed by Michael Kors and Ralph Lauren.

Tis the season for gift-giving, mistletoe, snowmen – and ugly holiday sweaters. Whether you're headed to an ugly sweater party or just want to stay cozy in a festive, patterned pullover, Pinterest is chock full of joyful style inspiration this holiday season.

Be it from stress, lack of sleep or a rushed morning, we've all had those days where a glimpse in the mirror causes a minor shock. All of a sudden you find yourself faced with an unforseen beauty emergency, like a surprise zit or severe undereye circles. Luckily, these are hiccups can be fixed—and fast. Above, Nordstrom Beauty Stylist Enisa Sabovi shares her best tips on how to remedy any surprise beauty situation like a pro.

For makeup that gives you that je-ne-sais-quoi, listen to the pros and tailor your look to your eye shape. Brushes ready!

No one should have to sacrifice style when snow starts to fall. We've selected the top all-weather boots to keep you warm and chic on the streets (and indoors).

In the distant future, in a postapocalyptic universe, when aliens from faraway planets excavate Earth and cobble together a rudimentary construction of human behavior in the 20th and 21st centuries, they will surely marvel at the irrepressible, widespread, multigenerational, transcontinental prevalence of Ugg boots.

She's been going shorter for awhile now, but Reese Witherspoon finally made the transition to a full-on bob.

Deck your nails with layers of sparkle in the season's prettiest, party-ready nail lacquers—sapphire and ruby, fizzy champagne shimmer, snow white, and more.

'Tis the season… party season, that is. And while you probably have all of your social gathering outfits styled and ready to go, there's one that requires a bit more strategic planning: the office holiday bash. You want to show off your sartorial skills, but need to walk the fine line between festive and professional. (A look that efficiently transitions from desk-to-party would be appreciated, too.) So let's look to these 10 red carpet stars for some effortless office-to-holiday party outfit inspiration.

A few things are certain in life: death, taxes and the fact that a gal pretty much can't go bare legged from November to March.

December 1st marks the air date of the annual Victoria's Secret Fashion Show, a celebration of all things sexy and sparkly. Join us as we caught up with a handful of Angels backstage.

It's official: The Hunger Games: Catching Fire actresses Jennifer Lawrence, Elizabeth Banks, andJena Malone completely owned the red carpet at all of the film's premieres and press events. Let's look at the stunning gowns and glittery dresses that everyone's talking about.