Victoria's Secret apologizes about American Indian outfit
The lingerie giant is apologizing after an outfit that debuted in their annual fashion show last week caused controversy.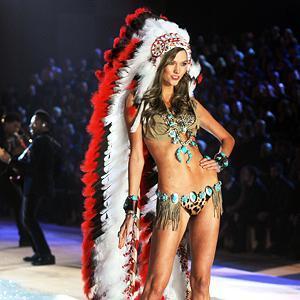 According to the Telegraph, numerous complaints arose across the globe after the lingerie company debuted an American Indian headdress look by model Karlie Kloss during their fashion show in New York last week.

The company will remove the look from their December 4th broadcast and they posted this message on their Facebook page: "We are sorry that the American Indian headdress replica used in our recent fashion show has upset individuals. We sincerely apologize as we absolutely had no intention to offend anyone. Out of respect, we will not be including the outfit in any broadcast, marketing materials nor in any other way." The apology has already received over 10,000 Likes and Karlie Kloss also apologized on her personal Twitter page.
Native Appropriations posted this on their blog: "The frustrating thing is this comes on the heels of the No Doubt "Looking Hot" controversy, where the band pulled their music video within a day of it being released because of the use of extremely stereotypical and offensive Native imagery and a huge outcry from the Native (and ally) community. That happened like last weekend. As in less than 7 days ago. And NOBODY at Victoria's Secret saw one of the hundreds of articles about No Doubt and thought, hm, maybe we shouldn't include a woman in a headdress and a fake buckskin bikini? And the bikini. Can we talk about the bikini? I love the inclusion of the leopard. Why don't we just go full-on generic "savage" while we're at it. As one of my witty FB followers reminded us, "They say Native Americans used every part of the leopard." Ha. But serious eyeroll on that choice. Not to mention the fake turquoise/Navajo/sou​thwest jewelry with a plains headdress. LOL, all indigenous pplz, they r teh samez. Snark aside, there is a bigger issue here. Besides the daily harm of these ongoing microaggressions for Native folks, the sexualization of Native women continues to be an ignored and continuing epidemic."
Bing: See more Victoria's Secret controversies

More on Simply Chic:
Would you wear jean sandal boots?
Plus-size models may boost body image 
The 5 craziest looks from the Victoria's Secret fashion show
 Tell us: Were you offended by this Victoria's Secret costume?

Photo: Jamie McCarthy/Getty Images
beauty tips and style advice
It's not always about the ladies of style. Check out these fashion icons.

Do you hear that? It's the sound of hundreds of cover bands beginning to tune their guitars and trying to remember the lyrics to "Shout." Ladies and gentlemen (but mostly ladies), it's nearly wedding season.

So, it hasn't snowed in nearly a week—does that mean it's summer yet? Well, almost. But alas, just because you're confident setting aside your trusty Sorel boots unfortunately doesn't mean you get to hop right into an itsy-bitsy-teenie-weenie yellow polka dot bikini just yet. Unless, of course, you're headed somewhere tropical in the next few weeks (lucky you!) and really do need to stock up on sexy swimsuits right now.

Getting away from it all for a bit? Your vacation wardrobe should be just like your plans: laid-back but totally fabulous. Take a cue from these celebrities, whose low-effort, high-style outfit ideas are officially on our must-copy list.

These fun and flattering vintage-style suits blend the best of the old with the best of the new.

Although it's not officially spring yet—the best time to start shopping for warm-weather clothes is now, while stores still have a good selection. Waiting until it's actually balmy enough to go bare-legged and short-sleeved leaves far too many factors to chance: what if your size sells out? Or the wrong color is left? And let's not forget about gross makeup stains from 10 other people trying it on!

From patriotic bikinis to retro two pieces, these celebs' stylish swimsuits will have you counting down to beach season! Check out your favorite stars rocking the hottest swim trends!

Sunglasses: it may seem counterintuitive to invest in a wintertime accessory traditionally viewed as a sunny, warm-weather item. But spring is on the way and we're also currently being exposed to crazy amounts of UV rays—and then, of course, there's the reflective snow situation.

As we herald a new season, the itch arrives to update one's wardrobe, and nothing cleanses a closet like a spanking-new bag, slick new pumps, or sparkling new jewels. Here, see our picks for the best investments to make this spring.

Some people look younger than they are, some look older. Even those with easy access to BOTOX and personal trainers. Can you guess the age of these celebrities?

Did anyone else hear wedding bells on the Oscars red carpet last night?

Then after the show, er, Oscars, it's the after party. Then after the party, it's the... Best Dressed List, of course. Nikki already picked her tops for the Academy Awards red carpet (did you vote yet?), so now it's time to see what the stars wore to the post-celebrations.