Victoria's Secret apologizes about American Indian outfit
The lingerie giant is apologizing after an outfit that debuted in their annual fashion show last week caused controversy.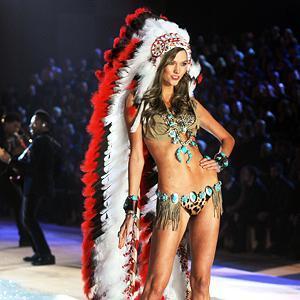 According to the Telegraph, numerous complaints arose across the globe after the lingerie company debuted an American Indian headdress look by model Karlie Kloss during their fashion show in New York last week.

The company will remove the look from their December 4th broadcast and they posted this message on their Facebook page: "We are sorry that the American Indian headdress replica used in our recent fashion show has upset individuals. We sincerely apologize as we absolutely had no intention to offend anyone. Out of respect, we will not be including the outfit in any broadcast, marketing materials nor in any other way." The apology has already received over 10,000 Likes and Karlie Kloss also apologized on her personal Twitter page.
Native Appropriations posted this on their blog: "The frustrating thing is this comes on the heels of the No Doubt "Looking Hot" controversy, where the band pulled their music video within a day of it being released because of the use of extremely stereotypical and offensive Native imagery and a huge outcry from the Native (and ally) community. That happened like last weekend. As in less than 7 days ago. And NOBODY at Victoria's Secret saw one of the hundreds of articles about No Doubt and thought, hm, maybe we shouldn't include a woman in a headdress and a fake buckskin bikini? And the bikini. Can we talk about the bikini? I love the inclusion of the leopard. Why don't we just go full-on generic "savage" while we're at it. As one of my witty FB followers reminded us, "They say Native Americans used every part of the leopard." Ha. But serious eyeroll on that choice. Not to mention the fake turquoise/Navajo/sou​thwest jewelry with a plains headdress. LOL, all indigenous pplz, they r teh samez. Snark aside, there is a bigger issue here. Besides the daily harm of these ongoing microaggressions for Native folks, the sexualization of Native women continues to be an ignored and continuing epidemic."
Bing: See more Victoria's Secret controversies

More on Simply Chic:
Would you wear jean sandal boots?
Plus-size models may boost body image 
The 5 craziest looks from the Victoria's Secret fashion show
 Tell us: Were you offended by this Victoria's Secret costume?

Photo: Jamie McCarthy/Getty Images
beauty tips and style advice
In order to cope with the intense feelings of jealousy I experienced when seeing Jennifer Garner's flawless hairstyle last week, I decided to contact the stylist responsible for the look, Kylee Heath, and find out what exactly she did to produce these glorious results.

Apparently, every celebrity in the world decided to dye her hair over the last few days—or at least Duchess Catherine, Sienna Miller, and Pamela Anderson did.

It was the chicest family night out ever in London yesterday, as Victoria Beckham hit the red carpet, along with her ADORABLE sons, Brooklyn, little fashionisto Romeo, and Cruz, to support the premiere of the soccer football documentary Class of '92, featuring superstar dad David. And she looked perfect as always—in Victoria Beckham, of course.

There will always be a special place in our hearts for Pez—the completely absurd and impractical oblong candy that children are somehow meant to be patient enough to dispense, one by one, from a creaky plastic spring-loaded drawer contraption—and a newly minted shoe designer Camilla Elphick, a Cordwainers College graduate, has tapped into our oral fixation.

When it comes to her latest hair change, it's pretty clear that Sienna Miller was thinking pink!

She's followed by Michael Kors and Ralph Lauren.