Victoria's Secret apologizes about American Indian outfit
The lingerie giant is apologizing after an outfit that debuted in their annual fashion show last week caused controversy.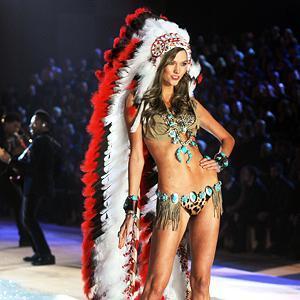 According to the Telegraph, numerous complaints arose across the globe after the lingerie company debuted an American Indian headdress look by model Karlie Kloss during their fashion show in New York last week.

The company will remove the look from their December 4th broadcast and they posted this message on their Facebook page: "We are sorry that the American Indian headdress replica used in our recent fashion show has upset individuals. We sincerely apologize as we absolutely had no intention to offend anyone. Out of respect, we will not be including the outfit in any broadcast, marketing materials nor in any other way." The apology has already received over 10,000 Likes and Karlie Kloss also apologized on her personal Twitter page.
Native Appropriations posted this on their blog: "The frustrating thing is this comes on the heels of the No Doubt "Looking Hot" controversy, where the band pulled their music video within a day of it being released because of the use of extremely stereotypical and offensive Native imagery and a huge outcry from the Native (and ally) community. That happened like last weekend. As in less than 7 days ago. And NOBODY at Victoria's Secret saw one of the hundreds of articles about No Doubt and thought, hm, maybe we shouldn't include a woman in a headdress and a fake buckskin bikini? And the bikini. Can we talk about the bikini? I love the inclusion of the leopard. Why don't we just go full-on generic "savage" while we're at it. As one of my witty FB followers reminded us, "They say Native Americans used every part of the leopard." Ha. But serious eyeroll on that choice. Not to mention the fake turquoise/Navajo/sou​thwest jewelry with a plains headdress. LOL, all indigenous pplz, they r teh samez. Snark aside, there is a bigger issue here. Besides the daily harm of these ongoing microaggressions for Native folks, the sexualization of Native women continues to be an ignored and continuing epidemic."
Bing: See more Victoria's Secret controversies

More on Simply Chic:
Would you wear jean sandal boots?
Plus-size models may boost body image 
The 5 craziest looks from the Victoria's Secret fashion show
 Tell us: Were you offended by this Victoria's Secret costume?

Photo: Jamie McCarthy/Getty Images
beauty tips and style advice
Women can be sexy and smart and successful-- all at once.

"Unfortunately like most magazines, media and images you see on here, the girls have been retouched to look, taller, thinner ... all to see a product."

The redeeming factor of summer, sadly, not being endless? New seasons require a different wardrobe, and there's no time like the present to start your fall shopping. With autumn creeping up, I already know the boots and sweaters I'll be heaving out of the stuffed containers under my bed that I think of fondly as my second closet…but there's always room for fresh blood. I quizzed Shopbop's fashion director, Elle Strauss, for help with getting the best strategy in place. Herewith, the 10 pieces she suggests picking up now (plus chic ideas for how to start incorporating them into your current closet).

These products are so great they've attained cult status among beauty insiders—yet you can find them just about anywhere without blowing your budget.

Those awesome back-to-school outfits are begging for some killer kicks! Strut down the hallway in fall's hottest shoe trends.

These stars don't sleep in a hyperbaric chamber (that we know of), yet they seem to look better with each passing year. That's because somewhere along the way, they discovered a few signature makeup tricks that make all the difference. Steal some of their game-changing moves.

Your closet update just got way easier. Sneakers, heels, boots, flats—we've got it all covered.

Dressing right gets tricky when summer turns to fall. It's too warm for tweed, but shorts just don't feel right anymore. Fortunately, Esquire's got it all figured out for you.

When you're flying in a metal tube at 30,000 feet, comfort trumps style. To help you avoid an in-flight fashion faux pas, avoid wearing the 5 items below.

In the pursuit of silky, swingy, frizz-free hair, there are a dizzying number of tempting in-salon services to choose from. We grilled chemists and stylists on what works (and what's safe). Here are the eight things you—and your hair—need to know before you commit.

Beauty products have a lot of power. Applied expertly, they can make you look vibrant, gorgeous and at least five years younger. If you aren't using them correctly, though, the same products can add a few years to your gorgeous visage. But before mothers of the bride go into panic mode, read on. We asked makeup artist Brigitte Reiss-Andersen, who's worked with the likes of Meryl Streep, Michelle Pfeiffer and Rachel Weisz, to divulge common beauty mistakes that you can nip in the bud before your daughter's wedding.

Some people apply makeup at a vanity that's crying out to be on Pinterest, and others rummage through a drawer overflowing with their 103 absolute must-have, use-daily products—but everybody can benefit from a few clever storage tricks. These are the smartest ways we've ever heard to keep your products and tools organized, accessible, and most of all, beautiful.