Victoria's Secret apologizes about American Indian outfit
The lingerie giant is apologizing after an outfit that debuted in their annual fashion show last week caused controversy.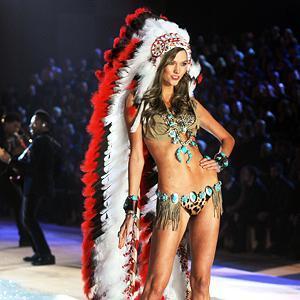 According to the Telegraph, numerous complaints arose across the globe after the lingerie company debuted an American Indian headdress look by model Karlie Kloss during their fashion show in New York last week.

The company will remove the look from their December 4th broadcast and they posted this message on their Facebook page: "We are sorry that the American Indian headdress replica used in our recent fashion show has upset individuals. We sincerely apologize as we absolutely had no intention to offend anyone. Out of respect, we will not be including the outfit in any broadcast, marketing materials nor in any other way." The apology has already received over 10,000 Likes and Karlie Kloss also apologized on her personal Twitter page.
Native Appropriations posted this on their blog: "The frustrating thing is this comes on the heels of the No Doubt "Looking Hot" controversy, where the band pulled their music video within a day of it being released because of the use of extremely stereotypical and offensive Native imagery and a huge outcry from the Native (and ally) community. That happened like last weekend. As in less than 7 days ago. And NOBODY at Victoria's Secret saw one of the hundreds of articles about No Doubt and thought, hm, maybe we shouldn't include a woman in a headdress and a fake buckskin bikini? And the bikini. Can we talk about the bikini? I love the inclusion of the leopard. Why don't we just go full-on generic "savage" while we're at it. As one of my witty FB followers reminded us, "They say Native Americans used every part of the leopard." Ha. But serious eyeroll on that choice. Not to mention the fake turquoise/Navajo/sou​thwest jewelry with a plains headdress. LOL, all indigenous pplz, they r teh samez. Snark aside, there is a bigger issue here. Besides the daily harm of these ongoing microaggressions for Native folks, the sexualization of Native women continues to be an ignored and continuing epidemic."
Bing: See more Victoria's Secret controversies

More on Simply Chic:
Would you wear jean sandal boots?
Plus-size models may boost body image 
The 5 craziest looks from the Victoria's Secret fashion show
 Tell us: Were you offended by this Victoria's Secret costume?

Photo: Jamie McCarthy/Getty Images
beauty tips and style advice
Our favorite freckle-faced models and actresses.

Still searching for your dream wedding dress? You'll get a kick out of these fun facts about your most important wedding-day purchase.

From detachable tulle overskirts to romantic off-the-shoulder necklines, check out these emerging trends from the Spring 2015 bridal runways.

Who says you have to wear white on your wedding day? Get some colorful inspiration from these seven wedding dresses.

Since its inception in 1940, the International Best-Dressed List—revealed in Vanity Fair for the last decade—has lauded the most polished, eclectic, and stylish of dressers. From royalty to politicians, athletes to fashion designers, the poll is comprehensive in the personalities it celebrates. Those appearing multiple times over the years are considered for induction into the Hall of Fame—the List's highest honor.

Most of us have a post-workout beauty routine that's basically a mad dash from locker to shower to mirror to door—with a quick swipe of lip balm and a one-minute hairstyle in between. To save time and look (and smell) better than ever, stock your gym bag with these key multitaskers and read on for surprising ways to hack them. Guarantee your get-ready sprint will go a bit smoother.

Even if you're not going back to school this season, that doesn't mean new style supplies, like a fresh haircut, aren't in order. So whether you're looking to chop it all off, add a few pieces, or finally try bangs, here are 30 red-carpet-inspired cuts worth giving a shot.

Not ready to trade in your summer hair color for a fall shade just yet? Don't worry: These 30 ideas will help you transition seamlessly

Have you ever noticed that denim ads are some of the sexiest? And most memorable? We can't tell you how many of the people featured on our site, jeanstories.com, swoon as they reminisce about the first time they watched the 1985 Levis's 501s "Laundrette" TV spot featuring the handsome Nick Kamen—who ended up , ahem, sans jeans. As for print ads, think Guess, Calvin Klein … not only sexy, but envelope-pushing and groundbreaking. If concerned mothers of America are writing angry letters to their local newspapers about the boob-baring models of your campaign, you, as a jeans brand, know you've done something right.

Most of us have heard that a dab of clear nail polish can stop a pantyhose run in its tracks, but there are lots of other quick fixes and DIY projects you can do with all those nail polish bottles you never wear anymore. Here are ten of our favorite clever and unexpected uses for nail polish—besides freshening up your fingers and toes:

Because no boyfriend's family is the same as the next, and the last thing you need getting in the way of you and Mr. Right is the bad impression you made on his mother, we've gone ahead and fool-proofed your outfit — the rest is on you.

From Monica, Rachel, and Phoebe on Friends to Blair and Serena on Gossip Girl, here are the most memorable wedding dresses to grace the small screen.