Victoria's Secret apologizes about American Indian outfit
The lingerie giant is apologizing after an outfit that debuted in their annual fashion show last week caused controversy.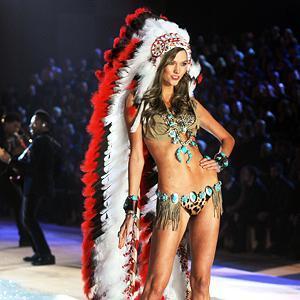 According to the Telegraph, numerous complaints arose across the globe after the lingerie company debuted an American Indian headdress look by model Karlie Kloss during their fashion show in New York last week.

The company will remove the look from their December 4th broadcast and they posted this message on their Facebook page: "We are sorry that the American Indian headdress replica used in our recent fashion show has upset individuals. We sincerely apologize as we absolutely had no intention to offend anyone. Out of respect, we will not be including the outfit in any broadcast, marketing materials nor in any other way." The apology has already received over 10,000 Likes and Karlie Kloss also apologized on her personal Twitter page.
Native Appropriations posted this on their blog: "The frustrating thing is this comes on the heels of the No Doubt "Looking Hot" controversy, where the band pulled their music video within a day of it being released because of the use of extremely stereotypical and offensive Native imagery and a huge outcry from the Native (and ally) community. That happened like last weekend. As in less than 7 days ago. And NOBODY at Victoria's Secret saw one of the hundreds of articles about No Doubt and thought, hm, maybe we shouldn't include a woman in a headdress and a fake buckskin bikini? And the bikini. Can we talk about the bikini? I love the inclusion of the leopard. Why don't we just go full-on generic "savage" while we're at it. As one of my witty FB followers reminded us, "They say Native Americans used every part of the leopard." Ha. But serious eyeroll on that choice. Not to mention the fake turquoise/Navajo/sou​thwest jewelry with a plains headdress. LOL, all indigenous pplz, they r teh samez. Snark aside, there is a bigger issue here. Besides the daily harm of these ongoing microaggressions for Native folks, the sexualization of Native women continues to be an ignored and continuing epidemic."
Bing: See more Victoria's Secret controversies

More on Simply Chic:
Would you wear jean sandal boots?
Plus-size models may boost body image 
The 5 craziest looks from the Victoria's Secret fashion show
 Tell us: Were you offended by this Victoria's Secret costume?

Photo: Jamie McCarthy/Getty Images
beauty tips and style advice
No one will ever accuse Blanchett of being boring. Gorgeous, yes. We can always count on her to wear—and say—something interesting. Here, we trace this risk taker's style evolution over the past 16 years.

Famous brides may have access to elite designers that most of us can only dream of, but we can all delight in the statements they make on their big days. In honor of the pending nuptials of Kim Kardashian and Kanye West, let's take a look at some recent and past famous gorgeous gowns.

Amy Adams has glittered in tiaras and poufy sleeves as a Disney princess, covered up in bonnets and cloaks as a nun, and gone all crop-toppy in The Fighter. Her personal style, on the other hand, has been a lot more straightforward.

Some things never change. And then there's Sandra Bullock's style. It's hard to remember a time when the actress wasn't America's sweetheart—with a closet full of Lanvin and Marchesa to match—but with more than two decades of the red-carpet game under her belt, she's tried just about everything: crop tops, plunging necklines…even frosty lipstick (it was the '90s, after all). Here, our favorite hits and misses.

Before Jennifer Lawrence was "the world's most desirable woman," she was hiding under a pile of tulle skirts, patterned shifts, and unflattering metallics. Here's how the young bombshell learned how to dress like a true A-lister.

A great haircut is just half the battle. What about how to style it each and every morning? Check out these thirteen easy hairstyle ideas from stars like Gabrielle Union, Emma Stone, and Rooney Mara and get ready to rock ponytails, buns, updos and more.

Nothing but the best of what's new for makeup, skin, and hair (nice prices, too).

The preparation is intense; the entrances are unforgettable. Here are the most spectacular, glamorous, inspiring beauty looks in the history of the Academy Awards.

Look your best this Spring with these ever-popular styles

Not everyone will go home with an Oscar at the Academy Awards on March 2, but this year's losing nominees are all guaranteed to walk away with a jammed-packed gift bag.

That was fast! After a brief stint as a brunette, Britney Spears made the switch to a bold red hue late last week.

Applying makeup might be an effective way to cope with embarrassment.