The Kardashians launch their own self-tanner
Kardashians announce the launch of new tanning products.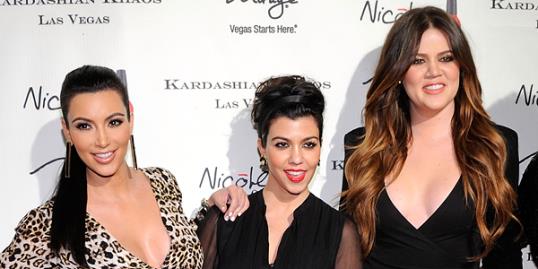 Just in case you haven't gotten enough of all the Kardashian-branded products out there (they've got their hands in just about everything, from diet pills to perfume), there's now another product on the market that can help you look like one of them. The Kardashian sisters have announced the launch of Kardashian Sun Kissed, their own sunless tanning system, due to hit stores in April.

According to WWD, the line will be sold exclusively in Ulta stores and is priced between $12.99 and $19.99.

More from Simply Chic: What really happened during Kim Kardashian's vampire facial

"I think tanning has really been a way of life for all of us, living in California," Kim told WWD. "Especially, more recently, the need for sunless tan. When I travel, the one thing that makes me feel alive whether or not I have makeup on is a tan, especially in my face. When you travel, you can't just go lay out. I do like regular tanning because I have psoriasis, and the tanning beds are particularly good for that. Every time I put sunless tan before, it wouldn't be even — so we wanted a system that was really easy but yet is a full system."



More from Living: 26 ways to feel younger now

The self-tanning system features three steps to achieving a flawless tan—exfoliation, application of sunless tanning lotion or spray, and application of the Tan Extender with Bronzer to keep color fresh. 

"[We] came up with something that is still good for your skin and healthy for you; everything is paraben- and sulfate-free," Kourtney told WWD. "We love beauty and fashion, but making sure we're taking care of our bodies is crucial to us."


Tell us: Would you buy the Kardashian's sunless tanning products?

More from Simply Chic:
The first-ever Global Kids Fashion Week
Would you ever shave your head for a cause?
Color of the day: Passion flower

Bing: Kardashian product line


Photo: Ethan Miller/Getty Images

beauty tips and style advice
These travel-sized beauty products will do double-duty while you're on the road.

And before you ask, sorry, the $325 dress is SOLD OUT on Matches.com and DVF.com—you snooze, you loose.

Click through the slideshow to shop some of our spring favorites.

French braid? Been there. Fishtail? Done that. The newest styles are all about unexpected texture, major volume, and one man's wild imagination.

Long hair, don't care? Think again…

She dishes on the routine that keeps her looking polished, even when she's pulling up to the <i>Mad Men</i> set at 5 a.m. Plus, the fragrance that helps Christina get her Joan on.

For inspiration, we've rounded up gorgeous (and easy to replicate) wedding makeup looks from the red carpet.

With a few insider tricks, you can enjoy short hair 365 days of the year and have a gorgeous style on your wedding day. Wedding hairstyles for short hair do exist.

I'm beyond excited to finally ditch my winter coat and heavy layers, but I'm not so eager to ditch my tights. Let's just say my legs are not as smooth and bronzed as they were the last time I showed them off many, many months ago.

After a jam-packed week in New Zealand, Kate Middleton and Prince William finally enjoyed a day off, but as of last night (or this morning..? Ah, time change!) they're back on the road again.

Neatly sidestepping high fashion, the smiling, cheerful Kate Middleton is fast becoming the Duchess of Normcore.

This December, New Yorkers might notice something missing in the Christmas air.