Lady Gaga Lights Up With a Fiber Optic Wig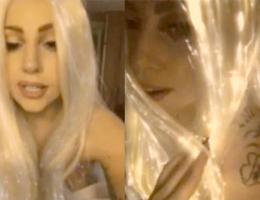 By Kate Sullivan
,
Allure magazine
Lady Gaga has unveiled her latest look: A peroxide blonde wig that lights up like a Christmas tree (or like the LED light dress that we fully expect her to wear with this). In a YouTube vid, the singer explained, "The wig is made out of a mixture of real hair and the finest fiber optics in existence; they move and feel like real hair." According to Gaga, it took more than six months to gestate this Haus of Gaga Artpop creation, "inspired by taking a Disney princess and putting her in a rave." Natch! (Incidentally, you can buy fiber optic extensions for raves; they're all over amazon.com and turn on via a hair clip.)

Related: 10 Commandments of Mascara
When the lights are off, the wig looks like any hair piece, Gaga's fiber optic strands are not obvious. The wig can be plugged into a generator and also into Gaga's lighting board onstage, so that the lighting director on her Born This Way Ball tour can control its glow.

Related: Find the Best Haircut for Your Face Shape
Honestly, I expect nothing less than fiber optic hair from Gaga at this point, but what did surprise me was how quickly a one-named star was to name-check everyone involved in the wig's conception: "This is a handmade wig by Frederic Aspiras," Gaga said in the video's opening. "And it was an innovation that myself, and [makeup artist] Tara [Savelo], and Frederic came up with, with our friend Chris [Vineyard]." Nice work, team.
More from Allure:
The 11 Hottest Haircuts Right Now
The 12 Best Eye Creams
10 Hairstyles That Make You Look 10 Years Younger
beauty tips and style advice
In order to cope with the intense feelings of jealousy I experienced when seeing Jennifer Garner's flawless hairstyle last week, I decided to contact the stylist responsible for the look, Kylee Heath, and find out what exactly she did to produce these glorious results.

Apparently, every celebrity in the world decided to dye her hair over the last few days—or at least Duchess Catherine, Sienna Miller, and Pamela Anderson did.

It was the chicest family night out ever in London yesterday, as Victoria Beckham hit the red carpet, along with her ADORABLE sons, Brooklyn, little fashionisto Romeo, and Cruz, to support the premiere of the soccer football documentary Class of '92, featuring superstar dad David. And she looked perfect as always—in Victoria Beckham, of course.

There will always be a special place in our hearts for Pez—the completely absurd and impractical oblong candy that children are somehow meant to be patient enough to dispense, one by one, from a creaky plastic spring-loaded drawer contraption—and a newly minted shoe designer Camilla Elphick, a Cordwainers College graduate, has tapped into our oral fixation.

When it comes to her latest hair change, it's pretty clear that Sienna Miller was thinking pink!

She's followed by Michael Kors and Ralph Lauren.