Lady Gaga Lights Up With a Fiber Optic Wig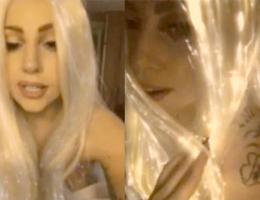 By Kate Sullivan
,
Allure magazine
Lady Gaga has unveiled her latest look: A peroxide blonde wig that lights up like a Christmas tree (or like the LED light dress that we fully expect her to wear with this). In a YouTube vid, the singer explained, "The wig is made out of a mixture of real hair and the finest fiber optics in existence; they move and feel like real hair." According to Gaga, it took more than six months to gestate this Haus of Gaga Artpop creation, "inspired by taking a Disney princess and putting her in a rave." Natch! (Incidentally, you can buy fiber optic extensions for raves; they're all over amazon.com and turn on via a hair clip.)

Related: 10 Commandments of Mascara
When the lights are off, the wig looks like any hair piece, Gaga's fiber optic strands are not obvious. The wig can be plugged into a generator and also into Gaga's lighting board onstage, so that the lighting director on her Born This Way Ball tour can control its glow.

Related: Find the Best Haircut for Your Face Shape
Honestly, I expect nothing less than fiber optic hair from Gaga at this point, but what did surprise me was how quickly a one-named star was to name-check everyone involved in the wig's conception: "This is a handmade wig by Frederic Aspiras," Gaga said in the video's opening. "And it was an innovation that myself, and [makeup artist] Tara [Savelo], and Frederic came up with, with our friend Chris [Vineyard]." Nice work, team.
More from Allure:
The 11 Hottest Haircuts Right Now
The 12 Best Eye Creams
10 Hairstyles That Make You Look 10 Years Younger
beauty tips and style advice
We put a slew of new formulas to the test, and these are the ones making us look younger and fresher.

From the coolest chestnut to the deepest mahogany, these stars show how to unleash your inner brunette bombshell.

In a girl's life, there are a select few occasions when it's considered completely appropriate to go all out with a truly spectacular dress. Her wedding day comes to mind, of course, and maybe her Sweet 16. Prom night, however, is certainly at the tip-top of that short list of special events.

When I was a teenager, I wouldn't be caught dead without my lip gloss, blush, eyeshadow and eyeliner at all times. Now, even though I'm older, I'll admit I still don't feel 100 percent confident leaving the house without at least some of my "face" on—plus, my obsession with beauty products doesn't encourage me to go makeup-free very often.

Good magazine covers grab your attention and make you want to look inside. Controversial covers and photo shoots, like the 14 that follow, often become a part of history.

For those of you on official Kate Middleton Outfit Watch, here's the latest.