Lady Gaga Lights Up With a Fiber Optic Wig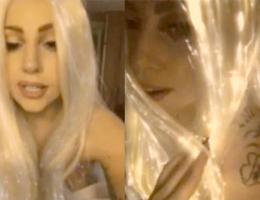 By Kate Sullivan
,
Allure magazine
Lady Gaga has unveiled her latest look: A peroxide blonde wig that lights up like a Christmas tree (or like the LED light dress that we fully expect her to wear with this). In a YouTube vid, the singer explained, "The wig is made out of a mixture of real hair and the finest fiber optics in existence; they move and feel like real hair." According to Gaga, it took more than six months to gestate this Haus of Gaga Artpop creation, "inspired by taking a Disney princess and putting her in a rave." Natch! (Incidentally, you can buy fiber optic extensions for raves; they're all over amazon.com and turn on via a hair clip.)

Related: 10 Commandments of Mascara
When the lights are off, the wig looks like any hair piece, Gaga's fiber optic strands are not obvious. The wig can be plugged into a generator and also into Gaga's lighting board onstage, so that the lighting director on her Born This Way Ball tour can control its glow.

Related: Find the Best Haircut for Your Face Shape
Honestly, I expect nothing less than fiber optic hair from Gaga at this point, but what did surprise me was how quickly a one-named star was to name-check everyone involved in the wig's conception: "This is a handmade wig by Frederic Aspiras," Gaga said in the video's opening. "And it was an innovation that myself, and [makeup artist] Tara [Savelo], and Frederic came up with, with our friend Chris [Vineyard]." Nice work, team.
More from Allure:
The 11 Hottest Haircuts Right Now
The 12 Best Eye Creams
10 Hairstyles That Make You Look 10 Years Younger
fashion: trends & must-haves for your wardrobe
Hard work, talent and perseverance are the three keys to professional success—but sometimes a really great haircut helps, too.

There's no miracle cure for acne, but the products and tips below come pretty darn close.

Beauty truth: You can't buy the best makeup and body potions stars use; their makeup pros are whipping up mystery formulas. And beauty sleuth Andrea Pomerantz Lustig learned 'em!

What can make a face softer but edgier at the same time? (Don't worry, this isn't some complicated riddle.) Bangs can enhance any face shape—if you wear them the right way, that is. We've rounded up five ideas with fringe benefits, along with hairstylist Nathaniel Hawkins's tips for pulling them off.

We all know we need moisturizer. The confusing part? Picking one that works for your skin—and your budget. Well, here's your cheat sheet: Using the Allure Beauty Product Finder, we found the ten best drugstore moisturizers for every skin type, all for under $20. So whether your skin is dry, acne-prone, or you've got dark spots or fine lines, we've got you—and your wallet—covered.

Growing pains? Totally unnecessary. Getting—and keeping—long, shiny, sexy hair has never been easier.