Viewers who watch reality beauty television are more likely to go tanning
Study finds higher percentage between watching certain shows and wanting to be tan.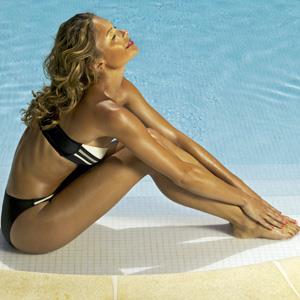 Does watching certain TV shows reveal whether or not you frequent the tanning bed? Maybe. A new study published by the Journal of the American Academy of Dermatology finds that individuals who watch reality beauty TV (shows like America's Next Top Model, for example) are more likely to visit tanning beds and lay in the sun.

The study surveyed 576 college students in their early 20's, reports Reuters Health. 61 percent of those students confirmed they watch reality TV beauty shows—and of that 61 percent, 13 percent say they had used a tanning bed in the last year and 43 percent had tanned outdoors for more than two hours at a time. When you compare those results to the fact that less than four percent of non-reality beauty TV watchers hit the tanning bed and 43 percent had tanned outside for more than two hours, leading researchers to believe that those types of shows encourage unhealthy views on tanning.

More from Living: What does your lingerie say about you?

"TV shows might not realize the message they're (promoting) by having all of these attractive, tanned people," study co-author Joshua Fogel, a health policy researcher at Brooklyn College, part of the City University of New York system," told Reuters. "It's very clear that people who are watching (these shows) view this as something positive to do," he said. "The alternative possibility is the people who are tanned in the first place like watching these shows," he added, perhaps because the characters look more like them.

More from Living: Looks guys love (and hate)

Tell us: Do you think reality beauty TV could be contributing to unhealthy views on being tan?

Bing: How reality TV affects society

Photo: Eden Studio Photo/Getty Images

More from Simply Chic:
Victoria's Secret models were paid HOW MUCH last year? Sigh...
Dolce & Gabbana launches perfume for infants
What your shoes say about you
beauty tips and style advice
Stunning wedding styles that create a statement.

Hue-changing dos we absolutely love.

In case you weren't already overwhelmed enough by the daunting task of jeans shopping (or really, clothes shopping in general), our friends over at Racked published a handy little infographic today comparing the sizing of a variety of different retailers that you've likely frequented at least a handful of times in your lifetime.

I attended the Abercrombie and Fitch holiday-season press preview yesterday, and in between checking out the cute gear that will hit stores this November, I picked up a little nugget of information I just have to share.

How to wear this cool-weather staple in the summer.

See how Miranda Kerr made a pair of Birkenstocks chic.

We love how a new nail polish has the ability to instantly change your look and your mood with a simple swipe. While happy lime greens and aquas are ruling the five million #nailpolish Instagrams this summer, there are a variety of great colors to choose from—whether you want an office-appropriate neutral or a fun going-out shade that'll give your LBD a punch of color.

You already know wearing white after Labor Day is cool. But menswear is reinventing itself rapidly, leaving some long-held mandates by the wayside, not to mention a bunch of men with a lot of questions. Sure, some style laws are truly inviolable. Showing a quarter-inch of cuff will always be crucial, but with designers and dandies flaunting so many former taboos it's hard to tell what's in play these days. So we thought we'd take this opportunity to let you know which rules no longer apply.

Put down the wrinkled button-down, step away from the Crocs, and open your closet. We need to talk about the new rules of casual.

Buying a brush is like getting a new smartphone: once you learn how to use it, it's indispensable.

Surfers are the epitome of cool, laid-back American style. And if we can't be them, at least we can copy their hair.

It's time for bridal beauty to loosen up. Hair doesn't have to be tightly wound, makeup perfectly contoured, and nails French manicured (on this last point, really, please don't). You can, in fact, look gorgeously and timelessly cool at your wedding. Here's how.