Couple discovers marriage isn't legal 48 years later
Almost half a century of accidental shacking up.
For those who believe that marriage is just a piece of paper, this could be a good argument.
Just two years short of their golden anniversary, Norma and Bob Clark discovered their marriage was never legally recognized.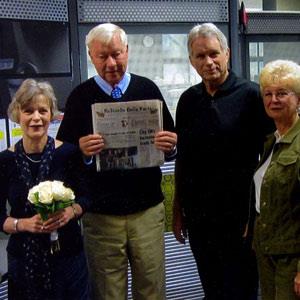 More on MSN Living
:
Strangest dating trends of 2012
Bob met Norma years ago, while they were students at Santa Fe State. Bob was studying to get his master's in sociology.
"I thought she was kind of cute," he said.
The two then married on August 29, 1964 in San Mateo County, California. But when they recently sent $20 to the Hall of Records to retrieve a copy of their marriage certificate, there was nothing to be found. Norma told the Redlands Daily Facts:
"I couldn't find it, and couldn't find it for a reason, because it wasn't there."
Apparently, the pastor who married the couple never turned in their marriage license to the county record office. Bob said he thought a trip to the county would clear things up, but his explanation wasn't enough.
"I just went in there thinking I could just do it, and she said, 'No, no, you have to have witnesses,'" Clark said. "Well, you know most people at our wedding are dead. If we had waited a couple more years, we would have been in trouble."
Since they had family in town for the holidays, the Clarks decided to give it another try. They remarried this month, and Norma's brother and sister served as witnesses in the wedding—again. The couple's son, Alexander, was also there to witness his parents exchange their vows. He said of the situation:
"My sister and I, we just kind of joked that we didn't have to throw them a 50th anniversary party anymore."
The silver lining? The Clarks made it nearly fifty years and were still excited to vow their lives together. They did, however, have a bit of advice for other married couples: make sure you actually have your marriage license.
Photo: Credit: Courtesy photo
More from The Heart Beat:
True love stories: Doctor diagnoses tumor, marries patient
Poll: the perfect man at every age
Man proposes in awesome amusement park photo
fashion: trends & must-haves for your wardrobe
When morning talk shows and local newspapers dole out their seasonal swimsuit shopping advice, I'm usually pretty disappointed by the lack of body types represented. What about the women who don't resemble fruit? (Or aren't boy-shaped—the third "one of these things is not like the other" category I've never quite understood. Couldn't they say "banana?" Or is that somehow more offensive than "apple" and "pear" shapes?)

Ready to refresh your hair and makeup for spring? Well, look no further for your latest batch of inspiration. These ladies are bringing the beauty brilliance with megawatt lipstick shades, sleek haircuts, and must-try hair colors. Get ready to play copycat.

Long, layered, medium or wavy – we're sharing our favorite hairstyles of 2013 with a new 'do each day. Stuck in a hair rut? Check back daily for snappy new looks that are sure to give your locks some beauty inspiration.

Step into spring with style in June Ambrose's new shoe line for HSN.

Revamp your corporate look with graphic prints and bold color.

If you have only five makeup tools in your kit, make sure these are them. They do much more than just look cute on your vanity!

Think all it can do is shellac everything down, helmet-head style? So wrong! A can of whatever's in your cabinet is your secret beauty weapon. Try it like this.

You may not get wrinkles on your hair, but it ages all the same. Grays, dullness, thinning strands, and frizz are all (unfortunately) part of the hair's aging process, which starts happening in your 30s. The good news is that you don't need Botox to fix these problems. Here are six tips for hair that's shiny, bouncy, healthy—and, yes, younger looking.

Our fashion-savvy FLOTUS shows us she is truly a master at mixing high- and low-end designs.

Get ready for summer with these cute and easy to DIY nail art designs.

Brides, it's your big day and you want to look special. Please, whatever you do, don't wear one of these wedding dresses. These are truly the worst.

Even if you're the best friend of all time, no bridesmaid should ever have to wear these worst-ever bridesmaid dresses. Lace, ruffles and satin overload!