A third of spouses admit to financial infidelity
Are you having an affair with your credit card debt?
Money can't buy you love, but once you find a partner, money is likely to become a topic of contention on more than one occasion.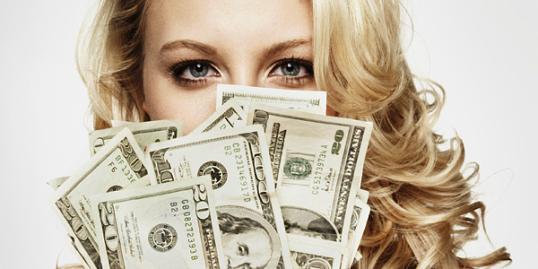 According to a recent study from the AARP, 34 percent of couples have hidden purchases from a spouse or partner, adding fuel to the fire.
Related: How to determine if he's marriage material

Research company ORC International led the survey, interviewing 1,263 adults over the age of 18. They found that older couples were more likely to be honest about their finances, while the 18 to 49 demographic had a little trouble with financial fidelity.
Dr. Taffy Wagner, CEO of Money Talk Matters, told Business Insider:
"Couples are all in love and want everything to be joint, but when they automatically put all of their money in one account and one person is managing it, a lot of the time the other person has no idea what is going on."
Related: How to get the ring you want
So even joint bank accounts might not prevent financial cheating.
Of respondents ages 18 to 49, 7 percent even admitted to keeping a secret bank account hidden from their spouse. When asked if they "know of someone" who has a secret bank account, that number jumped to 20 percent.
At 34 percent, hiding purchases was the most common money lie found in the survey. But 8 percent of those polled said they've lied about lending money to a family member. Six percent said they've hidden credit card debt. That number was significantly higher for the 18 to 49 crowd, with 10 percent admitting to hiding debt.
With those stats, it's no wonder that money continues to be a top cause of couples' arguments.
Photo: Plush Studios/Getty Images
More Sex & Love on MSN Living:
50 Dating Dos and Don'ts
Sweet, Fun and Cheap Date Ideas
The Dos and Don'ts of Dating More Than One Guy at a Time
24 Secrets of Successful Daters
The way I "hid money" was when I figured the checkbook, I would subtract $100 at the end of the checkbook register when the page was turned. It would sometimes take 3 months to get to the end of the register page, so $100 was not a lot AND it was a nice round number, easy to remember.  Whenever my spouse wrote a check, it was never noticed. I reconciled the statements each month.  This went on for years.  When we tried to save money, it always got spent.  I KNEW I would never spend this...and I didn't.   I learned early on to pay myself first. One day I decided to show what I had been doing.  He bought himself a truck.

If you feel you must hide or mislead  the person you love* you need to get out of the relationship. Both parties should have a complete understanding of what the financial priorities are and should abide by the agreement. If no agreement is agreed upon a limited number of exceptions can be made. If one person is constantly making the compromise *get out*you are being used. It all starts with money and will ultimately lead to deception and infidelity and heart break.

Yes I have with held financial information from my partner because I am the ONLY bread earner in the household, I have to make all the decisions because he doesn't want to hear the trivial information and we never agree on how to do things.  Whether it's the car or the toilet, he moto is always go the cheapest route. In my experience, that is trouble.  So I handle the finances, make the decisions, work, pay the bills and do all the purchasing that is necessary to make a home function.  In turn, he takes care of the house, yard, and pet when I am not there.  So with holding info from him is NOT being a wrong.  Oh yes, and we have been like this since he was no longer able to work - 2004. 
If you want to destroy your relationship, hid money.  I owned a small business with an old boyfriend for 13 years, nine of those we lived together.  I did part of the initial books and he finished them up.  He hid so much money from me and basically thought I was just too stupid to know what he was doing.  Once he spent $50,000.00 dollars on one of his "ideas" and I called him out on it.  He was shocked I had figured it out, but never stopped, still thinking I was too stupid to figure it out.  There were more than one reason I walked out the door, but I would say the money issue was what started the rest of the problems.  Hiding money you worked for, from the person that worked for it and treating them like they are to stupid to figure it out, is pure acid on your relationship.  You might think you are smarter than your spouse, but your spouse might be smarter than you think; so poor a little more acid on your marriage, but do not be shocked when they walk out the door. 



Are you sure you want to delete this comment?
beauty tips and style advice
We're sure this enigmatic purple shade will be everywhere next year, from fashion and beauty to home, and we're pumped for its impending takeover. We've rounded up some of our favorite celebrity looks in Radiant Orchid, including Jessica Paré, Kristen Bell, Amy Adams, and Krysten Ritter, to give you a preview of what you can expect to see in 2014. Commit Radiant Orchid to memory—you're going to be spotting much more of it in the coming months.

What do you wear to a holiday party? Whether you're heading to a family shindig or an after-work office soiree, crib these style tips and lessons learned from some of our favorite celebrity dos and don'ts of the festive season.

We caught up with the new mommy to find out the trick to keeping her makeup on point—even when she's not in front of the cameras.

Kristen Stewart is known for her casual style, both on and off the red carpet

You can rent a couture dress or a designer bag, but would you rent hair extensions?

To get the scoop on quick office party beauty tricks, we turned to Landy Dean, celebrity makeup artist at Marie Robinson salon. His simple tutorial requires only a handful of products, starting with the darkest, inkiest eyeliner you can find. Dean swears by the Nars Larger Than Life liners smudged over the waterline and lashline, topped off with a few coats of Maybelline The Falsies mascara. Before you dash off to apply product, there's one small step that involves removing makeup. "If your foundation and concealer have caked or creased, I recommend a quick removal with a cleansing towelette and a redo to avoid heavy looking skin," he cautions. For those who would prefer to go the easy route, apply a hydrating moisturizer using a stippling motion and a sponge. Finish the look with a dusting of BareMinerals Mineral Veil—"this will even out discolorations and give a reflective finish that still looks natural"—swap your work bag for a chic clutch, and get ready to ring in the season.

Here's something to brighten up your Tuesday afternoon: The brilliant minds at Moschino have always been masters at combining fashion and whimsical, quirky humor—and this season, they've gone and outdone themselves.

It's looking to be a winter wonderland out there today and that means extreme sweater weather.

Check out these mind-blowing runway photos.

Click to see 10 must-have hair tools to streamline your beauty routine.

See 9 of the prettiest holiday hair accessories for the holidays.

Here's how to choose the neckline style that looks best on you.