Models covered in manure for photo shoot
"Ladies of Manure" calendar is released.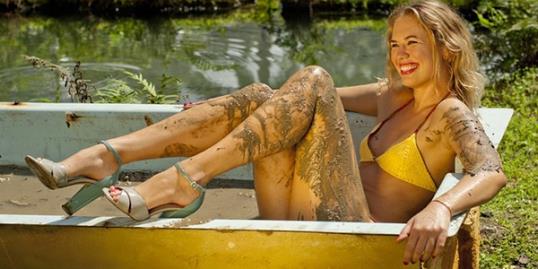 Happy 2013. And what better way to track the calendar year than with a calendar of scantily clad models to grace your wall. And this year, the models won't just be wearing bikinis—they'll be covered in poop, as well.

That's right. This year, a calendar has been released by the Fertile Earth Foundation featuring models covered in various forms of poo (worm, fish, etc). According to Buzzfeed, the 'Ladies of Manure' calendar was launched in an effort "to demystify defecation, encourage composting, and tell a story about manure and its importance."

More from Living: The craziest nail designs of all time

Although I wouldn't exactly be thrilled with the idea of covering ourselves in feces, these models apparently didn't have a problem with it. 

"I never thought it would be so easy to get girls naked and then so easy to get them covered in poop," said Lanette Sobel, executive director of Fertile Earth, who said many of the models in the calendar were already volunteers of the Fertile Earth Organization. 

More from Living: The country's coolest mobile fashion trucks

Sobel is aware of the fact that some people may find the images disturbing, she says that's really the whole point. "The whole idea is to get people to think," she says. "Whether they're disgusted or supportive, it's fine either way."

The calendar launches January 18th. 

Tell us: Would you buy this calendar?
Bing: Fertile Earth Foundation

Photo: Ben Thacker/Fertile Earth Foundation

More from Simply Chic:
The weirdest runway fashions of 2012
Red carpet moments of 2012
Hall of shame: Celeb fashion fails of 2012
beauty tips and style advice
These travel-sized beauty products will do double-duty while you're on the road.

And before you ask, sorry, the $325 dress is SOLD OUT on Matches.com and DVF.com—you snooze, you loose.

Click through the slideshow to shop some of our spring favorites.

French braid? Been there. Fishtail? Done that. The newest styles are all about unexpected texture, major volume, and one man's wild imagination.

Long hair, don't care? Think again…

She dishes on the routine that keeps her looking polished, even when she's pulling up to the <i>Mad Men</i> set at 5 a.m. Plus, the fragrance that helps Christina get her Joan on.

For inspiration, we've rounded up gorgeous (and easy to replicate) wedding makeup looks from the red carpet.

With a few insider tricks, you can enjoy short hair 365 days of the year and have a gorgeous style on your wedding day. Wedding hairstyles for short hair do exist.

I'm beyond excited to finally ditch my winter coat and heavy layers, but I'm not so eager to ditch my tights. Let's just say my legs are not as smooth and bronzed as they were the last time I showed them off many, many months ago.

After a jam-packed week in New Zealand, Kate Middleton and Prince William finally enjoyed a day off, but as of last night (or this morning..? Ah, time change!) they're back on the road again.

Neatly sidestepping high fashion, the smiling, cheerful Kate Middleton is fast becoming the Duchess of Normcore.

This December, New Yorkers might notice something missing in the Christmas air.