Golden Globes forecast
4 beauty trends I predict we'll be seeing this year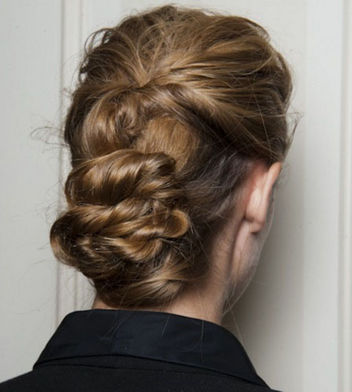 by Beth Shapouri

We're less than a week away from the Golden Globes, folks, can you believe it? The first big event of red carpet season! And I don't have a crystal ball or anything, but I have a feeling there are a few hair, makeup and nail trends we'll be spotting on this year's attendees. They are...

Trend 1: Twisted-up hairstyles (which I predict will be a big trend this year in general):

 A fresher idea than braids, don't you think?

More from Glamour: 10 Wardrobe Essentials Every Woman Should Own

Trend 2: Dark lipstick (like we saw on Megan Fox here):

Goth but still glam.

Trend 3: The heavy-metal eye:


Smoky eyes taken to another level are sexy and look extra-dramatic in high-def. This one is a no-brainer.

More from Glamour: 60 Winter Nail Polish Ideas

And trend 4: Glitter-tipped and gem-stone nails like Anne Hathaway wore recently:

Nail art is still huge, and if there's any time to sparkle it's at a big awards show.

Am I right? You'll have to tune in on Sunday to see. Oh, and check back on the blog that night, too! We'll have polls and pictures galore, as usual!
Photos: The Row, Getty Images


Bing: Golden Globes 2013 nominees
More from Glamour:

Cute Boots for Every Budget
10 Turn-Ons That Aren't About Looks
10 Hot Date-Night Outfits (According to Guys)
fashion: trends & must-haves for your wardrobe
Just like a good pair of shoes, the right hair accessory can change your entire mood (and look!). We rounded up some of our favorites from the spring 2013 runways.

You can make your eyes look younger, brighter — even more lifted — in minutes, using just your basic makeup. Find your issue here, then follow our how-to guide to learn the techniques. It's so easy, you won't believe your eyes.

It's one of those workhorse pieces that can make women look crisp, laid-back, professional, or dead sexy. Meet the one shirt dress you'll wear for life.

Toss your tweezers. Everything from brows (thick!) to your workout is taking a cue from the Flintstones. Yabba-dabba-doo!

Big event? Focus on the outfit, because we've got your hair all figured out, whether you've got two minutes to do it or 20.

If every morning seems like a Manic Monday, then you'll love these clever, minute-shaving beauty tips. Learn the secrets to spending less time getting gorgeous straight from pros!