Miley Cyrus says she learned everything she knows about fashion from Marc Jacobs
As controversial as her image currently is, Miley Cyrus isn't messing around when it comes to fashion and style.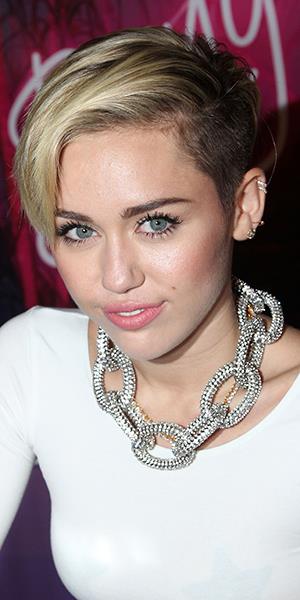 Believe it or not, Cyrus credits the evolution of her post-Hannah Montana look to none other than Marc Jacobs.

"I work a lot with Marc Jacobs," she tells Hunger TV. "He kind of brought me into fashion like when I was 16; that was when I started being around him and just learning from him. He kind of let me inspire some of his pieces, and now I feel like it's just having the right people around you."
More from Glamour: 25 celebrity hairstyles that make you want bangs

In fact, Cyrus draws an analogy between Jacobs' independent spirit and her controversial "Wrecking Ball" music video.
"There are parts of it that of course are for a mature audience, but there's something kind of immature about it because the party's so ridiculous," she explains.
"It has to be sexy and strong and that's what I feel like with fashion; I feel like Marc does that so well."

As for juxtaposing soft and sweet against licking machinery, Cyrus says that people shouldn't take things so literally—or seriously.
"There's definitely something amazing about being so ladylike yet being so punk and that's kind of more of what I am, even if I'm wearing things that aren't," she says. "I like having this punk feel about it even if it's, like, Louboutin. You've got to find the right designers that know how to mix."

More from Glamour: 8 hair color ideas to try this fall
Guess what other designers Cyrus has recently worked with: the Opening Ceremony crew at Kenzo!
"When I was in Paris working with Kenzo, that's something that they do really well there too," she says. "Like fashion and everything else, it doesn't need to be so serious. People take it too seriously; it's supposed to be self-expression and how you want people to see you.
"I read that 80 percent of what people think about you is made off the first 10 seconds they meet you and you look at someone and you say, 'are they competent, are they this, are they that?'" she says. "And for me if that's what people are looking at for the first 30 seconds they see me, they're going to think they know who I am—so I want you to take in everything and I want everything to be representing who I am."
More from Glamour:
10 wardrobe essentials every woman should own 
8 workout moves for a toned body in two weeks 
10 prettiest hair, nail and makeup looks for fall 2013 
10 things he's thinking when you're naked

What do you think about Miley Cyrus' fashion choices? How have you seen Marc Jacobs' and Kenzo's influences play out in her style evolution over the past year? Tell us in the comments, please!

She is really crazy about herself. She seems to think we are all inpressed by her and her fashion sense. I think that is what happens when you surround yourself with people who just tell you what they think you want to hear because they are all on the payroll.
She is just a barely out of her teens singer who thinks her drugs, sex and alcohol references are really cool.

I am sure Ms. Cyrus thinks she has a great sense of style and also thinks her style is comparable to Marc Jacobs.  Her clothes look totally slutty.  I think this is just another example that shows just how out of touch she is with the world in general.  Her conversations are full of ridiculous conclusions she has come to in her short life.  I think the media sources are really making her look like a complete silly idiot and again she is not aware of that.  She is being laughed at by most people and she can't see it or won't admit it. 
Are you sure you want to delete this comment?
beauty tips and style advice
This is why a short wedding dress makes sense.

The Queen is a handbag trendsetter, apparently.

You know winter is here when you pull off your clothes and find the insides lined with a thin coating of tiny dry skin particles. (Am I alone here, or do I have more serious dry skin issues than I thought?)

Yesterday I popped by the Clear Clinic, a dedicated acne treatment center that a lot of people (including a Glamour beauty blogger or two) swear have helped cure them of the dreaded spots.

The first thing I noticed about this photo of Keira Knightley at a London gala last night was her 90s-chic makeup, featuring matte pale foundation and lots of black eyeliner.

Take the health of your hair up a notch with these natural treatments

It's the stuff of pinups, old Hollywood glamour, and even science study after study says guys really go for it. But that classic Rita Hayworth red doesn't necessarily flatter every complexion. We rounded up the absolute best reds for every skin tone, so you can breeze through the sea of cherries, raspberries, and any other scarlet fruit.

It's finally tights season, that wonderful time of year where you can simultaneously hide your pale legs and still wear that Saint Laurent slip dress. But who says you have to stick to boring black stockings? Why not keep your look above cool and clean, and let your bottom half shine? From patterned polka dots to colorful camouflage, here are six options that will make a statement all on their own.

How many holiday parties do you all have this season?

Nicole Kidman plays Grace Kelly, the glamorous movie star turned princess, in Grace of Monaco (out in March).

What if they were covered in Swarovski crystals?

Forget spanx! These clever pieces use color blocks and patterns to help you look thinner. Click through for 15 pieces that will ensure you won't have to hit the gym post-Thanksgiving.