Rihanna's See-Through Top: Sassy or Trashy?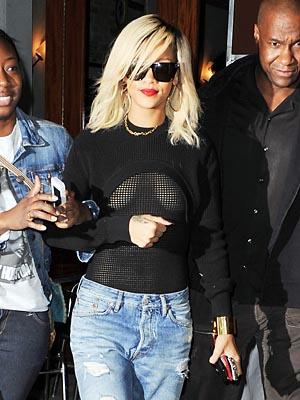 Rihanna is no stranger to making a fashion statement—she's always rocking a new and different look. But this week, she created quite a lot of buzz this week when she appeared to have left her house without an essential layer.

The 24-year-old left little to the imagination for her trip to New York Italian restaurant Da Silvano. When she debuted a see-through mesh top that exposed—well, everything. She paired the racy shirt with baggy ripped jeans and boots.

This certainly isn't the first time the singer has drawn attention to herself with her outfit, but her recent ensemble, which is dangerously close to wearing no top at all, is taking things to a whole new level.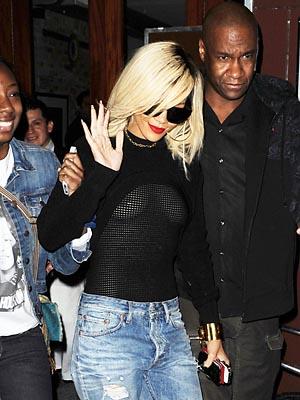 Then again, maybe she was just trying to make a new fashion statement. And if she had just worn a bra, her look would be no different than the current fashion trend of wearing dark bras with light-colored tops like Sara Jessica Parker.

Tell us on Facebook: Is Rihanna's look sassy or just plain trashy?
Photo courtesy DARIO ALEQUIN/INFPHOTO.COM
beauty tips and style advice
Monday's New Zealand itinerary brought Kate and William to the cricket field.

We put a slew of new formulas to the test, and these are the ones making us look younger and fresher.

From the coolest chestnut to the deepest mahogany, these stars show how to unleash your inner brunette bombshell.

In a girl's life, there are a select few occasions when it's considered completely appropriate to go all out with a truly spectacular dress. Her wedding day comes to mind, of course, and maybe her Sweet 16. Prom night, however, is certainly at the tip-top of that short list of special events.

When I was a teenager, I wouldn't be caught dead without my lip gloss, blush, eyeshadow and eyeliner at all times. Now, even though I'm older, I'll admit I still don't feel 100 percent confident leaving the house without at least some of my "face" on—plus, my obsession with beauty products doesn't encourage me to go makeup-free very often.

Good magazine covers grab your attention and make you want to look inside. Controversial covers and photo shoots, like the 14 that follow, often become a part of history.