Recycling Fur
Is it ever OK to wear fur - even if it's vintage?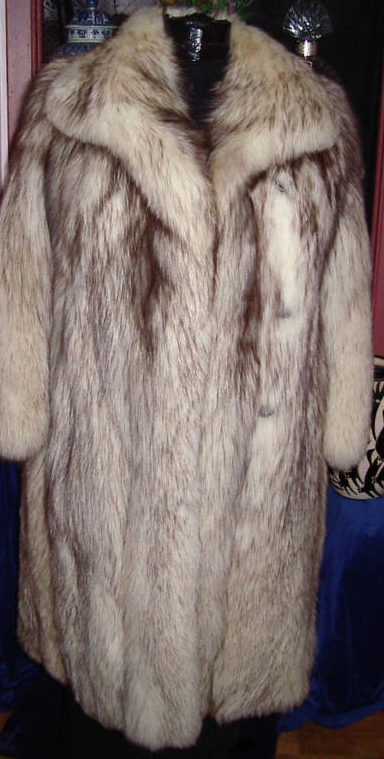 I have never been a fan of real fur.
Then, as I got older, the extremely cold winters started really getting to me, and it seemed no coat could keep me warm enough.
And one chilly day, I was talking to my friend Julie, a die-hard vegetarian and lover of animals, when she pulled out a fur coat. "Is that real fur?" I asked her, in shock. "Yes, it's vintage. It was my grandmother's," she said. "But still, it's fur," I insisted.
To that, Julie explained that she was not buying a new fur coat, but rather recycling something that had been around for years (who knows maybe it would have ended up in some landfill).
That was definitely a light bulb moment for me.
At that point, I started considering vintage fur in a different way. I did some research online, and I see there are other people out there who, like Julie, would never fathom buying a brand new fur, but would gladly wear their grandmother's fur or another vintage fur.
And I have to say, there is something to be said with how warm they are.
Tell me, what do you think about wearing vintage furs?

I am not a Peta advocate.  Some of the things they stand for are just, other things are simply cruel and arrestable.
Regarding recycled furs. remember that those animals gave their lives to keep the wearer warm.  By wearing it, you honor them.  I wore my mother's Russian Pony coat and my mother in law's Seal Skin coat for years.  Stranded in Truckee in a snow storm in a broken down car overnight, those two coats protected the lives of my daughters.  I still have some 1930's fox collars of my mother's that I will eventually design a coat with for my granddaughter who wants it.  If the fur is in good shape, I feel the animal deserves to be immortalized by wearing the fur.  It is more injustice to discard it.
Something done (killing for the pelt) cannot be undone.  They should be used and honored for what they have been made into.   If you do not wear it, then it should be donated to a shelter, some homeless person would be glad for the warmth. 

It makes sense that if the fur is vintage, then wear it.  But then PETA could spray it with paint (GM would not be happy...she may turn over in her grave.)  It's tricky.  If you have the nerve to wear it, wear it.  I have several faux furs and they are very warm, too.  Years ago I had a sable jacket.  I have to say it was the warmest one I've had.  I donated it to a charity auction and it benefited a lot of people.  Conscience and love of animals has changed my buying habits, and I would not ever buy another one.  If others want to, I don't let it bother me.  It will not change my life if someone likes fur.  To each her own.
I have to comment that this is BS.  Either you are in or you are out.  Vegan, Vintage, fur lover or not.  I have two fur coats. . .I have never been so warm in the coldest of weather.  But I love that someone who is "vegan" "lover of animals" has come up with the vintage
my-grandmother-owned​-this-fur-coat
and it's okay to wear. 
Are you sure you want to delete this comment?
beauty tips and style advice
Sunglasses: it may seem counterintuitive to invest in a wintertime accessory traditionally viewed as a sunny, warm-weather item. But spring is on the way and we're also currently being exposed to crazy amounts of UV rays—and then, of course, there's the reflective snow situation.

Some people look younger than they are, some look older. Even those with easy access to BOTOX and personal trainers. Can you guess the age of these celebrities?

Did anyone else hear wedding bells on the Oscars red carpet last night?

Then after the show, er, Oscars, it's the after party. Then after the party, it's the... Best Dressed List, of course. Nikki already picked her tops for the Academy Awards red carpet (did you vote yet?), so now it's time to see what the stars wore to the post-celebrations.

As I continue my personal campaign to swap out E!'s mani cam with a back-of-updo cam (and as a service to all the hardworking hairstylists who spent so much time creating beautiful hair looks for the 2014 Oscars), I'd like to point out that we miss a lot of gorgeous detail when we don't get the back view of a star's hair.

The bold new trend on the Oscars red carpet.

Trying new hairstyles is fun (have you picked up Allure Hair: The Ultimate How-To Hair Guide yet?).

When someone says "Julia Roberts," you think teeth. You think hair. But while you may not immediately think fashion, she has had a pretty consistent—and consistently pretty—style since her Mystic Pizza days: clean, classic, menswear-inspired looks that let her natural beauty—and rightly famous smile—take center stage. Here's how she has elevated that look over the years.

Lupita Nyong'o shows off the power of the pixie on the Oscars red carpet.

Walk a mile in a pair of SJP's stilettos? Well yes, we'd love to; thank you for asking.

Anti-aging doesn't have to take over your life. Here, expert tweaks to slow the clock.

We're at the tail end of a jam-packed awards season, with the grand finale—the Oscars, duh—just a few days away. We can't wait to see what our favorite nominees wear—we already know Jennifer Lawrence will step out in a breathtaking Dior, while we hope to see Lupita Nyong'o pick another brilliantly bold monochromatic gown. As for which designer she'll select—Gucci? Ralph Lauren?—that's anyone's guess.