Recycling Fur
Is it ever OK to wear fur - even if it's vintage?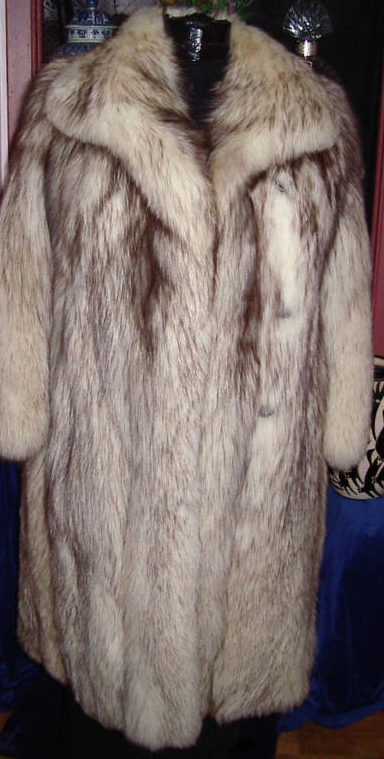 I have never been a fan of real fur.
Then, as I got older, the extremely cold winters started really getting to me, and it seemed no coat could keep me warm enough.
And one chilly day, I was talking to my friend Julie, a die-hard vegetarian and lover of animals, when she pulled out a fur coat. "Is that real fur?" I asked her, in shock. "Yes, it's vintage. It was my grandmother's," she said. "But still, it's fur," I insisted.
To that, Julie explained that she was not buying a new fur coat, but rather recycling something that had been around for years (who knows maybe it would have ended up in some landfill).
That was definitely a light bulb moment for me.
At that point, I started considering vintage fur in a different way. I did some research online, and I see there are other people out there who, like Julie, would never fathom buying a brand new fur, but would gladly wear their grandmother's fur or another vintage fur.
And I have to say, there is something to be said with how warm they are.
Tell me, what do you think about wearing vintage furs?

I am not a Peta advocate.  Some of the things they stand for are just, other things are simply cruel and arrestable.
Regarding recycled furs. remember that those animals gave their lives to keep the wearer warm.  By wearing it, you honor them.  I wore my mother's Russian Pony coat and my mother in law's Seal Skin coat for years.  Stranded in Truckee in a snow storm in a broken down car overnight, those two coats protected the lives of my daughters.  I still have some 1930's fox collars of my mother's that I will eventually design a coat with for my granddaughter who wants it.  If the fur is in good shape, I feel the animal deserves to be immortalized by wearing the fur.  It is more injustice to discard it.
Something done (killing for the pelt) cannot be undone.  They should be used and honored for what they have been made into.   If you do not wear it, then it should be donated to a shelter, some homeless person would be glad for the warmth. 

It makes sense that if the fur is vintage, then wear it.  But then PETA could spray it with paint (GM would not be happy...she may turn over in her grave.)  It's tricky.  If you have the nerve to wear it, wear it.  I have several faux furs and they are very warm, too.  Years ago I had a sable jacket.  I have to say it was the warmest one I've had.  I donated it to a charity auction and it benefited a lot of people.  Conscience and love of animals has changed my buying habits, and I would not ever buy another one.  If others want to, I don't let it bother me.  It will not change my life if someone likes fur.  To each her own.
I have to comment that this is BS.  Either you are in or you are out.  Vegan, Vintage, fur lover or not.  I have two fur coats. . .I have never been so warm in the coldest of weather.  But I love that someone who is "vegan" "lover of animals" has come up with the vintage
my-grandmother-owned​-this-fur-coat
and it's okay to wear. 
Are you sure you want to delete this comment?
beauty tips and style advice
Every year, we look to the biggest names in bridal beauty and fashion design to pinpoint the hottest bridal hair and makeup ideas – keeping in mind of course that this is a wedding (no crazy neon mascara here). This year, bridal beauty has gone extra natural and romantic -- think messy braids, wispy hair, natural eye makeup and more.

You've got the dress. You've got the venue, date, and invitations. The last thing you need to complete your wedding day? An amazing pair of shoes to wear as you walk down the aisle!

With the dress as the main focus, you want the hair to be understated. An updo does just that. But there's a difference between understated and boring. Adding simple accessories, like a pin or flower, is just enough decoration to the hair. Let these gorgeous pins serve as inspiration for finding a simple, yet understated, wedding hairstyle.

Just when we were getting used to seeing beards everywhere, it may be time for men who enjoy the attention of the opposite sex to invest in some shaving paraphernalia. In a new University of New South Wales study, researchers found that "when people are confronted by a succession of bearded men, clean-shaven men become [...]

If your arm aches just thinking about blow-drying, take heart: These easy hair-saving tips will cut down on your mirror time and deliver salon-level results.

From designer maxi dresses by Roberto Cavalli and Temperley London to contemporary finds by Alice + Olivia and Zimmermann, there's a dress for every kind of seaside bride.

Mom jeans are back this spring.

We combed our favorite online shopping haunts to find 20 stunning options for the unconventional bride who'd rather splurge on the perfect flowers and a signature cocktail than her aisle-bound gown. These gowns and frocks from Rae Francis, Black Halo Eve and Jill By Jill Stewart €"plus one epic jumpsuit by Rachel Zoe €"are the perfect antidote to the strapless fishtail option most brides seem to favor right now. You're certainly not basic, so why would your dress be?

We've rounded up 10 red carpet inspirations for long hair wedding hairstyles that don't scream "bridal," but are perfect for a walk down the aisle.

We're not in the habit of feeling sorry for supermodels. We reserve our sympathy for a less fortunate set, namely, everyone else on planet Earth.

How to love everything in your closet

Every season, wedding dress designers unveil their latest collections, and without fail, there are a handful of designs that give us pause. We're talking about beautifully designed dresses -- not meant for the fainthearted. For the Fall 2014 and Spring 2015 collections, these are the ones.