Recycling Fur
Is it ever OK to wear fur - even if it's vintage?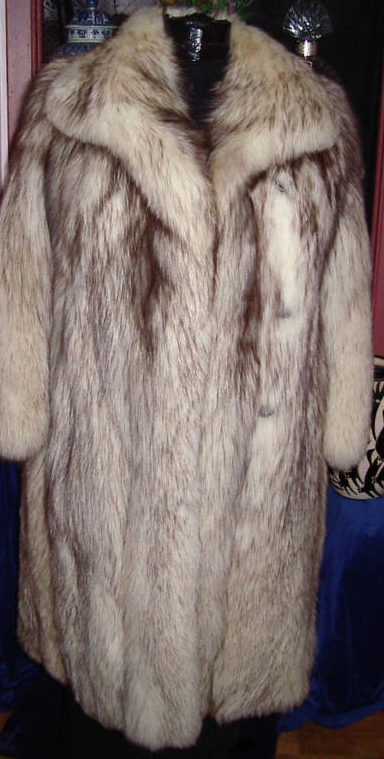 I have never been a fan of real fur.
Then, as I got older, the extremely cold winters started really getting to me, and it seemed no coat could keep me warm enough.
And one chilly day, I was talking to my friend Julie, a die-hard vegetarian and lover of animals, when she pulled out a fur coat. "Is that real fur?" I asked her, in shock. "Yes, it's vintage. It was my grandmother's," she said. "But still, it's fur," I insisted.
To that, Julie explained that she was not buying a new fur coat, but rather recycling something that had been around for years (who knows maybe it would have ended up in some landfill).
That was definitely a light bulb moment for me.
At that point, I started considering vintage fur in a different way. I did some research online, and I see there are other people out there who, like Julie, would never fathom buying a brand new fur, but would gladly wear their grandmother's fur or another vintage fur.
And I have to say, there is something to be said with how warm they are.
Tell me, what do you think about wearing vintage furs?

I am not a Peta advocate.  Some of the things they stand for are just, other things are simply cruel and arrestable.
Regarding recycled furs. remember that those animals gave their lives to keep the wearer warm.  By wearing it, you honor them.  I wore my mother's Russian Pony coat and my mother in law's Seal Skin coat for years.  Stranded in Truckee in a snow storm in a broken down car overnight, those two coats protected the lives of my daughters.  I still have some 1930's fox collars of my mother's that I will eventually design a coat with for my granddaughter who wants it.  If the fur is in good shape, I feel the animal deserves to be immortalized by wearing the fur.  It is more injustice to discard it.
Something done (killing for the pelt) cannot be undone.  They should be used and honored for what they have been made into.   If you do not wear it, then it should be donated to a shelter, some homeless person would be glad for the warmth. 

It makes sense that if the fur is vintage, then wear it.  But then PETA could spray it with paint (GM would not be happy...she may turn over in her grave.)  It's tricky.  If you have the nerve to wear it, wear it.  I have several faux furs and they are very warm, too.  Years ago I had a sable jacket.  I have to say it was the warmest one I've had.  I donated it to a charity auction and it benefited a lot of people.  Conscience and love of animals has changed my buying habits, and I would not ever buy another one.  If others want to, I don't let it bother me.  It will not change my life if someone likes fur.  To each her own.
I have to comment that this is BS.  Either you are in or you are out.  Vegan, Vintage, fur lover or not.  I have two fur coats. . .I have never been so warm in the coldest of weather.  But I love that someone who is "vegan" "lover of animals" has come up with the vintage
my-grandmother-owned​-this-fur-coat
and it's okay to wear. 
Are you sure you want to delete this comment?
beauty tips and style advice
Click through the slideshow to shop some of our spring favorites.

French braid? Been there. Fishtail? Done that. The newest styles are all about unexpected texture, major volume, and one man's wild imagination.

Long hair, don't care? Think again…

She dishes on the routine that keeps her looking polished, even when she's pulling up to the <i>Mad Men</i> set at 5 a.m. Plus, the fragrance that helps Christina get her Joan on.

For inspiration, we've rounded up gorgeous (and easy to replicate) wedding makeup looks from the red carpet.

With a few insider tricks, you can enjoy short hair 365 days of the year and have a gorgeous style on your wedding day. Wedding hairstyles for short hair do exist.

I'm beyond excited to finally ditch my winter coat and heavy layers, but I'm not so eager to ditch my tights. Let's just say my legs are not as smooth and bronzed as they were the last time I showed them off many, many months ago.

After a jam-packed week in New Zealand, Kate Middleton and Prince William finally enjoyed a day off, but as of last night (or this morning..? Ah, time change!) they're back on the road again.

These travel-sized beauty products will do double-duty while you're on the road.

Neatly sidestepping high fashion, the smiling, cheerful Kate Middleton is fast becoming the Duchess of Normcore.

This December, New Yorkers might notice something missing in the Christmas air.

When Madonna posted an image of herself wearing a full on Game of Thrones Khaleesi costume on Instagram last week we weren't exactly surprised—this is the woman who rolled into the Grammy Awards wearing a tuxedo and a grill earlier this winter, so why not celebrate the Jewish holiday of Purim with a leather corset and a pair of tiny dragons? Still, we were hypnotized by her white-blonde, braided Daenerys Targaryen hair. Functioning as a bleached out cultural weather vane of sorts, it tapped into multiple obsessions at once—the return of "Game of Thrones" to HBO, spring's new extreme hair lengths and, most notably, fashion's current platinum mania. Our own love of ice-blonde hair—which transforms any look from everyday to extraordinary—has been well documented of late, but last night's Game of Thrones premiere sent our platinum fever into overdrive. In celebration of fashion's favorite hair color, a look at the best platinum moments in history.