Recycling Fur
Is it ever OK to wear fur - even if it's vintage?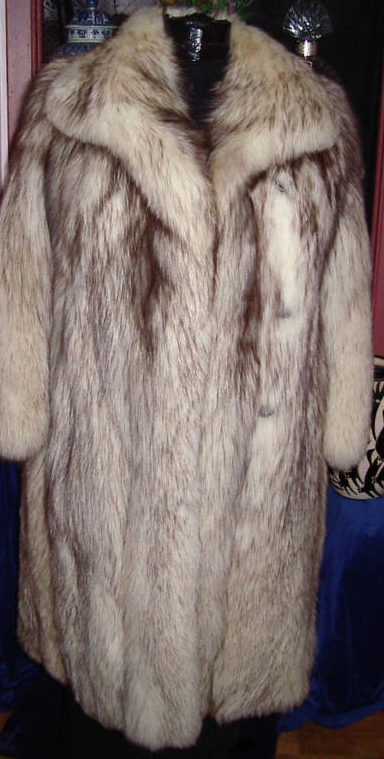 I have never been a fan of real fur.
Then, as I got older, the extremely cold winters started really getting to me, and it seemed no coat could keep me warm enough.
And one chilly day, I was talking to my friend Julie, a die-hard vegetarian and lover of animals, when she pulled out a fur coat. "Is that real fur?" I asked her, in shock. "Yes, it's vintage. It was my grandmother's," she said. "But still, it's fur," I insisted.
To that, Julie explained that she was not buying a new fur coat, but rather recycling something that had been around for years (who knows maybe it would have ended up in some landfill).
That was definitely a light bulb moment for me.
At that point, I started considering vintage fur in a different way. I did some research online, and I see there are other people out there who, like Julie, would never fathom buying a brand new fur, but would gladly wear their grandmother's fur or another vintage fur.
And I have to say, there is something to be said with how warm they are.
Tell me, what do you think about wearing vintage furs?

I am not a Peta advocate.  Some of the things they stand for are just, other things are simply cruel and arrestable.
Regarding recycled furs. remember that those animals gave their lives to keep the wearer warm.  By wearing it, you honor them.  I wore my mother's Russian Pony coat and my mother in law's Seal Skin coat for years.  Stranded in Truckee in a snow storm in a broken down car overnight, those two coats protected the lives of my daughters.  I still have some 1930's fox collars of my mother's that I will eventually design a coat with for my granddaughter who wants it.  If the fur is in good shape, I feel the animal deserves to be immortalized by wearing the fur.  It is more injustice to discard it.
Something done (killing for the pelt) cannot be undone.  They should be used and honored for what they have been made into.   If you do not wear it, then it should be donated to a shelter, some homeless person would be glad for the warmth. 

It makes sense that if the fur is vintage, then wear it.  But then PETA could spray it with paint (GM would not be happy...she may turn over in her grave.)  It's tricky.  If you have the nerve to wear it, wear it.  I have several faux furs and they are very warm, too.  Years ago I had a sable jacket.  I have to say it was the warmest one I've had.  I donated it to a charity auction and it benefited a lot of people.  Conscience and love of animals has changed my buying habits, and I would not ever buy another one.  If others want to, I don't let it bother me.  It will not change my life if someone likes fur.  To each her own.
I have to comment that this is BS.  Either you are in or you are out.  Vegan, Vintage, fur lover or not.  I have two fur coats. . .I have never been so warm in the coldest of weather.  But I love that someone who is "vegan" "lover of animals" has come up with the vintage
my-grandmother-owned​-this-fur-coat
and it's okay to wear. 
Are you sure you want to delete this comment?
beauty tips and style advice
Ask pretty much any celebrity hairstylist, and they'll tell you the long bob (a.k.a. the lob) is the chicest haircut of 2014. In addition to throwing around the word "cool" at least twice, they'll also say it's because the lob is versatile, easy to style, and timeless. Check out our seven favorite ways to wear it.

Controversial.... Or empowering?

These jeans aren't just distressed; they're destroyed — and all the cooler for it. They're also the perfect way to make a basic T-shirt feel totally wild.

Good news for your feet: Sneakers are everywhere this fall. Fashion insiders and celebs alike are sporting athletic shoes with their chicest outfits, making them an essential fall fashion trend. With an abundance of styles in stores right now, it might seem daunting to find the pair that's right for you. We handpicked the 35 best sneaker styles to try.

We're just going to say it: Ankle boots might be are our favorite type of boots. They're tough like classic motos when paired with skinny jeans or leather pants. But they also work in place of fussy heels with a flared skirt or cocktail dress for an unexpected downtown-cool vibe. And, let's be honest, the ankle height just feels more relaxed and comfortable. Never mind that booties take up way less room in your closet too. Wait. Do you know what that means? You can buy more than just one pair this fall—especially since ankle boots come in so many styles, shapes, colors, heel heights, and price points. So check out these 20 booties for fall.

Fall just gives us the warm fuzzies—and not because of the turning of the leaves, football games, or the excuse to eat pumpkin-flavored everything. We can finally wear our very best coats incorporating the newest fashion trends (and there are so many options out there). So make the most of this wonderful time—before the puffy-jacket-required winter rears its blustery head—with these 15 coat and jacket picks for all budgets.