Recycling Fur
Is it ever OK to wear fur - even if it's vintage?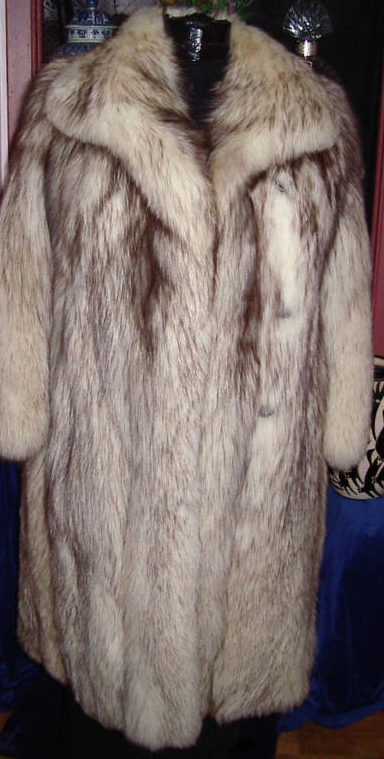 I have never been a fan of real fur.
Then, as I got older, the extremely cold winters started really getting to me, and it seemed no coat could keep me warm enough.
And one chilly day, I was talking to my friend Julie, a die-hard vegetarian and lover of animals, when she pulled out a fur coat. "Is that real fur?" I asked her, in shock. "Yes, it's vintage. It was my grandmother's," she said. "But still, it's fur," I insisted.
To that, Julie explained that she was not buying a new fur coat, but rather recycling something that had been around for years (who knows maybe it would have ended up in some landfill).
That was definitely a light bulb moment for me.
At that point, I started considering vintage fur in a different way. I did some research online, and I see there are other people out there who, like Julie, would never fathom buying a brand new fur, but would gladly wear their grandmother's fur or another vintage fur.
And I have to say, there is something to be said with how warm they are.
Tell me, what do you think about wearing vintage furs?

I am not a Peta advocate.  Some of the things they stand for are just, other things are simply cruel and arrestable.
Regarding recycled furs. remember that those animals gave their lives to keep the wearer warm.  By wearing it, you honor them.  I wore my mother's Russian Pony coat and my mother in law's Seal Skin coat for years.  Stranded in Truckee in a snow storm in a broken down car overnight, those two coats protected the lives of my daughters.  I still have some 1930's fox collars of my mother's that I will eventually design a coat with for my granddaughter who wants it.  If the fur is in good shape, I feel the animal deserves to be immortalized by wearing the fur.  It is more injustice to discard it.
Something done (killing for the pelt) cannot be undone.  They should be used and honored for what they have been made into.   If you do not wear it, then it should be donated to a shelter, some homeless person would be glad for the warmth. 

It makes sense that if the fur is vintage, then wear it.  But then PETA could spray it with paint (GM would not be happy...she may turn over in her grave.)  It's tricky.  If you have the nerve to wear it, wear it.  I have several faux furs and they are very warm, too.  Years ago I had a sable jacket.  I have to say it was the warmest one I've had.  I donated it to a charity auction and it benefited a lot of people.  Conscience and love of animals has changed my buying habits, and I would not ever buy another one.  If others want to, I don't let it bother me.  It will not change my life if someone likes fur.  To each her own.
I have to comment that this is BS.  Either you are in or you are out.  Vegan, Vintage, fur lover or not.  I have two fur coats. . .I have never been so warm in the coldest of weather.  But I love that someone who is "vegan" "lover of animals" has come up with the vintage
my-grandmother-owned​-this-fur-coat
and it's okay to wear. 
Are you sure you want to delete this comment?
beauty tips and style advice
The redeeming factor of summer, sadly, not being endless? New seasons require a different wardrobe, and there's no time like the present to start your fall shopping. With autumn creeping up, I already know the boots and sweaters I'll be heaving out of the stuffed containers under my bed that I think of fondly as my second closet…but there's always room for fresh blood. I quizzed Shopbop's fashion director, Elle Strauss, for help with getting the best strategy in place. Herewith, the 10 pieces she suggests picking up now (plus chic ideas for how to start incorporating them into your current closet).

These products are so great they've attained cult status among beauty insiders—yet you can find them just about anywhere without blowing your budget.

Those awesome back-to-school outfits are begging for some killer kicks! Strut down the hallway in fall's hottest shoe trends.

These stars don't sleep in a hyperbaric chamber (that we know of), yet they seem to look better with each passing year. That's because somewhere along the way, they discovered a few signature makeup tricks that make all the difference. Steal some of their game-changing moves.

Your closet update just got way easier. Sneakers, heels, boots, flats—we've got it all covered.

Dressing right gets tricky when summer turns to fall. It's too warm for tweed, but shorts just don't feel right anymore. Fortunately, Esquire's got it all figured out for you.