Are Thin Models Going Out of Style?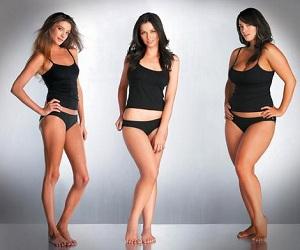 We've been dealing with the concept of fashion magazines airbrushing models to look thinner and prettier for years, but just when we thought that it was out of control, we find out that apparently, thin isn't in—at least like it used to be.
According to
Blisstree.com
, magazines are now airbrushing models to make them look heavier, after discovering that thin doesn't always sell.
"I have to airbrush clients' to make them appear bigger and more womanly before I submit photographs," a talent manager told
FOX411's Pop Tarts
column, according to the site. "Skinny doesn't sell."
Related:
Beauty Secrets Every Woman Must Know
The process has been dubbed as "reverse retouching," where models are being digitally enhanced to look larger and curvier to appeal to the magazines' audiences.
Related:
10 Wardrobe Essentials Every Woman Should Own
On one hand, it's great that the trend to use pin-thin models is fading, but on the other hand, why not use healthy, curvy models instead of digitally enhancing skinnier ones?
Tell us in the comments below: Do you think reverse retouching is a good thing?


Photo: Courtesy BlissTree
More from Living:

How to Wear Fall's Biggest Trends Now
27 Hairstyles to Try Right Now
In Honor of Taylor Swift's Red Album, Her Best Red Looks
beauty tips and style advice
OK, you're pushing 30 . . . don't panic! Even if you were a complete antiaging recluse in your 20s, there is still time to enter the next decade with endless grace and fewer wrinkles. And who better to steal skin care secrets from than the actresses who remain looking forever young? These Hollywood starlets may be in their 30s, but there's nary a dark spot in sight. Their beauty favorites range from drugstore classics to cult luxury elixirs and even a DIY recipe. With this shopping list under your belt, you can celebrate your 30s without a worry line in sight.

Instead of just slapping on five creams—then washing your face because, seriously, that stuff is heavy—follow the lead of the pros.

Forget about simple straightening--the flat iron is so much more versatile than that.

Assuming that you've had tons of practice doing your own makeup on a daily basis, attempting to do it yourself on your wedding day actually isn't that much more difficult. After all, no one knows your face better than you do, and chances are you have many of the tools and products that you need for the big day right at your fingertips—you just need to know how to use them.

There's a particular episode of 30 Rock ("Black Light Attack!", for all the fellow 30 Rock historians out there) in which Jane Krakowski's youth-obsessed character Jenna goes on a Gossip Girl audition. She thinks it's for the role of an Upper East Side high schooler, but as she learns in the middle of the tryout, it's for that of her mother instead. While Tina Fey's brilliant Liz Lemon later tries to talk Jenna off the cliff, she says, "You can try to fight getting older. You can be like Madonna, and cling to youth with your Gollum arms. Or you can be like Meryl Streep and embrace your age with elegance."

Save money and look great.