Are Thin Models Going Out of Style?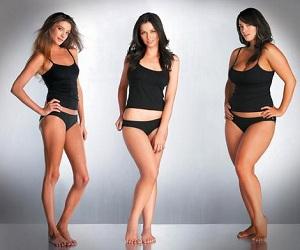 We've been dealing with the concept of fashion magazines airbrushing models to look thinner and prettier for years, but just when we thought that it was out of control, we find out that apparently, thin isn't in—at least like it used to be.
According to
Blisstree.com
, magazines are now airbrushing models to make them look heavier, after discovering that thin doesn't always sell.
"I have to airbrush clients' to make them appear bigger and more womanly before I submit photographs," a talent manager told
FOX411's Pop Tarts
column, according to the site. "Skinny doesn't sell."
Related:
Beauty Secrets Every Woman Must Know
The process has been dubbed as "reverse retouching," where models are being digitally enhanced to look larger and curvier to appeal to the magazines' audiences.
Related:
10 Wardrobe Essentials Every Woman Should Own
On one hand, it's great that the trend to use pin-thin models is fading, but on the other hand, why not use healthy, curvy models instead of digitally enhancing skinnier ones?
Tell us in the comments below: Do you think reverse retouching is a good thing?


Photo: Courtesy BlissTree
More from Living:

How to Wear Fall's Biggest Trends Now
27 Hairstyles to Try Right Now
In Honor of Taylor Swift's Red Album, Her Best Red Looks
beauty tips and style advice
In order to cope with the intense feelings of jealousy I experienced when seeing Jennifer Garner's flawless hairstyle last week, I decided to contact the stylist responsible for the look, Kylee Heath, and find out what exactly she did to produce these glorious results.

Apparently, every celebrity in the world decided to dye her hair over the last few days—or at least Duchess Catherine, Sienna Miller, and Pamela Anderson did.

It was the chicest family night out ever in London yesterday, as Victoria Beckham hit the red carpet, along with her ADORABLE sons, Brooklyn, little fashionisto Romeo, and Cruz, to support the premiere of the soccer football documentary Class of '92, featuring superstar dad David. And she looked perfect as always—in Victoria Beckham, of course.

There will always be a special place in our hearts for Pez—the completely absurd and impractical oblong candy that children are somehow meant to be patient enough to dispense, one by one, from a creaky plastic spring-loaded drawer contraption—and a newly minted shoe designer Camilla Elphick, a Cordwainers College graduate, has tapped into our oral fixation.

When it comes to her latest hair change, it's pretty clear that Sienna Miller was thinking pink!

She's followed by Michael Kors and Ralph Lauren.