How Becoming 'Straight Size' Changed This Model's Career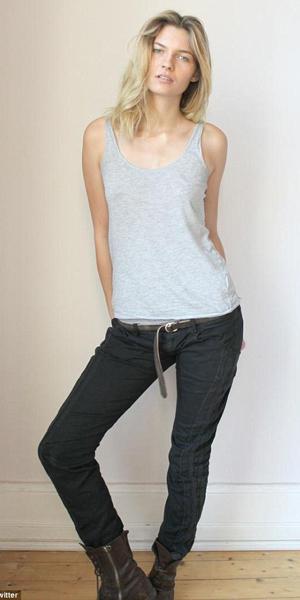 Karolin Wolter was making a career out of modeling, with her super-slim 116-pound, 5-foot-11-inch frame. But the pressure was more than she could take.

"I did really well, but even then my agents were telling me, 'You know Karolin, next season are the spring/summer shows, you have to be even skinnier,'" she wrote in an essay about her experience for I Love You magazine.
Related: The Style: 9 Fall Favorites to Try Now

"At the time I honestly thought it was totally fine to weigh less than 55 kg (121 lbs.). Now... I am shaking my head, I can't quite believe it. I am not surprised it completely f**ked with my mind."

Related: 10 Ways to Look and Feel More Polished

So Wolter decided to make a change. After several years of being told to lose even more weight to improve her career prospects, the model made the decision to put on some pounds and started branding herself as a plus-size model.
"When I realized I couldn't look in the mirror anymore, I knew something was wrong," she said. "Every day the burden became heavier. Work became exhausting, I was afraid of disappointing the client.
"[But] the actual struggle was when I wasn't at work. At home, before a big job, I was absolutely useless because of the unbelievable mental pressure." So she took some time off in 2011 to regroup, coming back to her agents at her normal body weight and telling them she wanted to work as a plus-size model. But she had trouble getting work, as many clients said she was "too skinny" to be plus size. Finally, her agency rebranded her as a "straight-size" model, and now she's never been happier. 

"I am no longer pressuring myself, I try to go with the flow while keeping my priorities straight. These days I enjoy working with smaller clients ... I have earned more in the last three months than ever before."

Wolter says she couldn't be happier that she decided to make the change. "It's not about the label, it's about being healthy and being comfortable in your own body. There just isn't any rule. It's not about how big you are, how small you are or what label you are given. It's about how you carry yourself. If you are comfortable with your body you can sell pretty much anything."

Tell us: What do you think about the pressure to be thin as a model?

Photo: Courtesy Twitter

More from Living:
10 Celebrities Who Refuse to Fix Their 'Flaws'
Man on the Street: 15 Biggest Beauty Turnoffs
7 Things Men Will Never Get About Beauty
fashion: trends & must-haves for your wardrobe
Step into spring with style in June Ambrose's new shoe line for HSN.

Revamp your corporate look with graphic prints and bold color.

You may not get wrinkles on your hair, but it ages all the same. Grays, dullness, thinning strands, and frizz are all (unfortunately) part of the hair's aging process, which starts happening in your 30s. The good news is that you don't need Botox to fix these problems. Here are six tips for hair that's shiny, bouncy, healthy—and, yes, younger looking.

Our fashion-savvy FLOTUS shows us she is truly a master at mixing high- and low-end designs.

Long, layered, medium or wavy – we're sharing our favorite hairstyles of 2013 with a new 'do each day. Stuck in a hair rut? Check back daily for snappy new looks that are sure to give your locks some beauty inspiration.

Get ready for summer with these cute and easy to DIY nail art designs.

Brides, it's your big day and you want to look special. Please, whatever you do, don't wear one of these wedding dresses. These are truly the worst.

Even if you're the best friend of all time, no bridesmaid should ever have to wear these worst-ever bridesmaid dresses. Lace, ruffles and satin overload!

As your face changes, so should your hair—the right cut can shave years from your appearance. And while there's no such thing as an age-appropriate length, there are age-appropriate styles. Here, the 30 most gorgeous hairstyles for every age, as seen on Mila Kunis, Jessica Biel, Jennifer Aniston, Diane Keaton, and more.

Stuck in a office-look-rut? Let some of history's most smartly dressed women inspire your everyday uniform.

Few spots are as fashionable as the Cannes Film Festival red carpet. Celebrity style stars pull out all the stops—because if you can't wear a fabulous dress at one of the film industry's biggest events, in one of the world's most glamorous locales, when can you? Here are 25 of the masterpieces we still can't stop staring at.

From demure dresses to covetable coats, the Duchess of Cambridge has a maternity wardrobe that would make any grown woman wish she could be a princess. Click through the gallery to see some of her most stylish looks while pregnant.