How Becoming 'Straight Size' Changed This Model's Career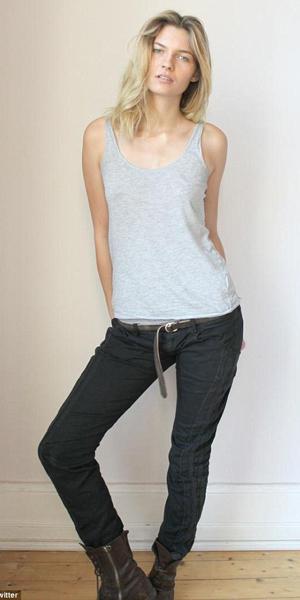 Karolin Wolter was making a career out of modeling, with her super-slim 116-pound, 5-foot-11-inch frame. But the pressure was more than she could take.

"I did really well, but even then my agents were telling me, 'You know Karolin, next season are the spring/summer shows, you have to be even skinnier,'" she wrote in an essay about her experience for I Love You magazine.
Related: The Style: 9 Fall Favorites to Try Now

"At the time I honestly thought it was totally fine to weigh less than 55 kg (121 lbs.). Now... I am shaking my head, I can't quite believe it. I am not surprised it completely f**ked with my mind."

Related: 10 Ways to Look and Feel More Polished

So Wolter decided to make a change. After several years of being told to lose even more weight to improve her career prospects, the model made the decision to put on some pounds and started branding herself as a plus-size model.
"When I realized I couldn't look in the mirror anymore, I knew something was wrong," she said. "Every day the burden became heavier. Work became exhausting, I was afraid of disappointing the client.
"[But] the actual struggle was when I wasn't at work. At home, before a big job, I was absolutely useless because of the unbelievable mental pressure." So she took some time off in 2011 to regroup, coming back to her agents at her normal body weight and telling them she wanted to work as a plus-size model. But she had trouble getting work, as many clients said she was "too skinny" to be plus size. Finally, her agency rebranded her as a "straight-size" model, and now she's never been happier. 

"I am no longer pressuring myself, I try to go with the flow while keeping my priorities straight. These days I enjoy working with smaller clients ... I have earned more in the last three months than ever before."

Wolter says she couldn't be happier that she decided to make the change. "It's not about the label, it's about being healthy and being comfortable in your own body. There just isn't any rule. It's not about how big you are, how small you are or what label you are given. It's about how you carry yourself. If you are comfortable with your body you can sell pretty much anything."

Tell us: What do you think about the pressure to be thin as a model?

Photo: Courtesy Twitter

More from Living:
10 Celebrities Who Refuse to Fix Their 'Flaws'
Man on the Street: 15 Biggest Beauty Turnoffs
7 Things Men Will Never Get About Beauty
beauty tips and style advice
Stunning wedding styles that create a statement.

Hue-changing dos we absolutely love.

In case you weren't already overwhelmed enough by the daunting task of jeans shopping (or really, clothes shopping in general), our friends over at Racked published a handy little infographic today comparing the sizing of a variety of different retailers that you've likely frequented at least a handful of times in your lifetime.

I attended the Abercrombie and Fitch holiday-season press preview yesterday, and in between checking out the cute gear that will hit stores this November, I picked up a little nugget of information I just have to share.

How to wear this cool-weather staple in the summer.

See how Miranda Kerr made a pair of Birkenstocks chic.

We love how a new nail polish has the ability to instantly change your look and your mood with a simple swipe. While happy lime greens and aquas are ruling the five million #nailpolish Instagrams this summer, there are a variety of great colors to choose from—whether you want an office-appropriate neutral or a fun going-out shade that'll give your LBD a punch of color.

You already know wearing white after Labor Day is cool. But menswear is reinventing itself rapidly, leaving some long-held mandates by the wayside, not to mention a bunch of men with a lot of questions. Sure, some style laws are truly inviolable. Showing a quarter-inch of cuff will always be crucial, but with designers and dandies flaunting so many former taboos it's hard to tell what's in play these days. So we thought we'd take this opportunity to let you know which rules no longer apply.

Put down the wrinkled button-down, step away from the Crocs, and open your closet. We need to talk about the new rules of casual.

Buying a brush is like getting a new smartphone: once you learn how to use it, it's indispensable.

Surfers are the epitome of cool, laid-back American style. And if we can't be them, at least we can copy their hair.

It's time for bridal beauty to loosen up. Hair doesn't have to be tightly wound, makeup perfectly contoured, and nails French manicured (on this last point, really, please don't). You can, in fact, look gorgeously and timelessly cool at your wedding. Here's how.