How Becoming 'Straight Size' Changed This Model's Career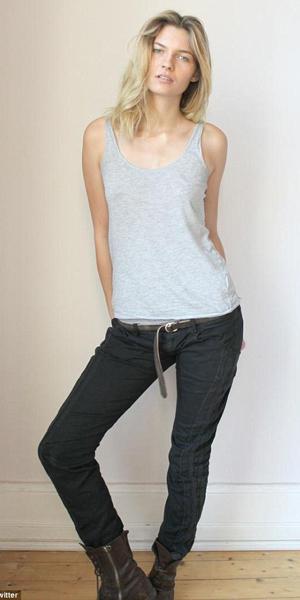 Karolin Wolter was making a career out of modeling, with her super-slim 116-pound, 5-foot-11-inch frame. But the pressure was more than she could take.

"I did really well, but even then my agents were telling me, 'You know Karolin, next season are the spring/summer shows, you have to be even skinnier,'" she wrote in an essay about her experience for I Love You magazine.
Related: The Style: 9 Fall Favorites to Try Now

"At the time I honestly thought it was totally fine to weigh less than 55 kg (121 lbs.). Now... I am shaking my head, I can't quite believe it. I am not surprised it completely f**ked with my mind."

Related: 10 Ways to Look and Feel More Polished

So Wolter decided to make a change. After several years of being told to lose even more weight to improve her career prospects, the model made the decision to put on some pounds and started branding herself as a plus-size model.
"When I realized I couldn't look in the mirror anymore, I knew something was wrong," she said. "Every day the burden became heavier. Work became exhausting, I was afraid of disappointing the client.
"[But] the actual struggle was when I wasn't at work. At home, before a big job, I was absolutely useless because of the unbelievable mental pressure." So she took some time off in 2011 to regroup, coming back to her agents at her normal body weight and telling them she wanted to work as a plus-size model. But she had trouble getting work, as many clients said she was "too skinny" to be plus size. Finally, her agency rebranded her as a "straight-size" model, and now she's never been happier. 

"I am no longer pressuring myself, I try to go with the flow while keeping my priorities straight. These days I enjoy working with smaller clients ... I have earned more in the last three months than ever before."

Wolter says she couldn't be happier that she decided to make the change. "It's not about the label, it's about being healthy and being comfortable in your own body. There just isn't any rule. It's not about how big you are, how small you are or what label you are given. It's about how you carry yourself. If you are comfortable with your body you can sell pretty much anything."

Tell us: What do you think about the pressure to be thin as a model?

Photo: Courtesy Twitter

More from Living:
10 Celebrities Who Refuse to Fix Their 'Flaws'
Man on the Street: 15 Biggest Beauty Turnoffs
7 Things Men Will Never Get About Beauty
beauty tips and style advice
Here's how to choose the neckline style that looks best on you.

This season, let your nails be as merry—and bright—as your mood.

Sure, a little black dress or le smoking is always on par for the party scene, but who says holiday dressing has to be so cut and dry? We have 15 ideas for switching it up this season—getting festive just got a whole lot more fun.

Super-fast (and easy) hair, makeup, and nail ideas that'll make you party-ready in minutes. Sorry, no more last-minute bailing because you're running late.

From straight and sleek to intricate braids and sky high topknots, some celebs just know how to do party hair

From a structured blazer to that awe-inducing statement clutch, Rachel Zoe shares her picks for December dressing with InStyle.com exclusively.

Simple style tricks to help your hair look better in an instant.

7 hairstyles to try this holiday season.

You know that classic nightmare where you walk into school or work completely naked? That's how I feel when I'm having a bad hair day. Like I don't want anyone to look at me and it takes everything I have not to immediately turn around and run back home.

Victoria Beckham will share her fashion story and give inside access to her brand via The Skype Collaboration Project in January 2014.

Just when we thought Pamela Anderson's sleek pixie marked her biggest hair makeover this year, the star ditched her trademark blonde hue.

Yes! Lupita Nyong'O shows us how.