Kate Middleton shows off baby bump
The Duchess of Cambridge shows off her bump during first public appearance of the year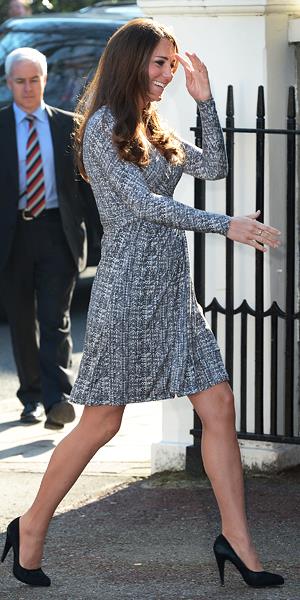 Finally, the moment the world has been waiting for. Kate Middleton showed off her ever-growing pregnant belly on Tuesday during her first public appearance since the announcement of the royal pregnancy. 

The New York Daily News reports that the Duchess showed off her mini bump at the Hope House in Clapham, a women's addiction treatment center, where she spoke about charity Action for Addiction.

And just like her non-pregnancy style, we're loving her look (as always). Middleton was glowing as she wore a gray Max Mara wrap dress, which ever so slightly revealed her little belly. This also marks the Duchess' first public appearance of 2013. 

We can't wait to see what she wears next.

Tell us: Do you like Kate's maternity style?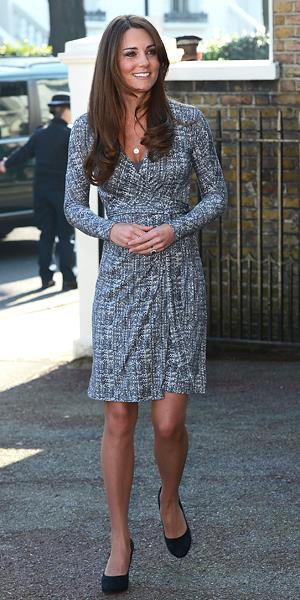 Photos: James Whatling/Splash News/Corbis

Bing: Kate and William latest news

More from Simply Chic:
Blondes may have more fun, but brunettes are more likely to succeed at work
Valentino Spring 2013 Couture Show
Women look older at 3:30 p.m. on Wednesdays
beauty tips and style advice
When it comes to lounging on the beach in the buff, turns out that Germans and Austrians are the most comfortable with their birthday suits, according to a worldwide survey of beachgoing habits around the world.

Chic time-tested shades you'll love for this summer.

Our top picks for staying cool this summer.

Does makeup make you feel more or less like yourself? These women — some makeup junkies, some who never touch the stuff — were brave enough to be photographed with half their faces made up by a pro and half their faces totally bare.

Chic ensembles for every woman.

At almost every age, more men report being satisfied with looks than women.